Description
This is not an event.
This is a Crypto Trading Software Early bird access sale that was offered on April 25th at this event:
"Crypto & Supply Chain on Blockchain" in Manhattan, NYC
This early acesses promotion is limited to 25 subscriptions.
Update: 11 subscriptions remaining.
-----
RoninAi: Opening New Frontiers For Crypto Investors
Machine learning and Ai empowered way to achieve low risk/high return investment on your portfolio.
The tool's software is based on AxionV: An Ai crypto hedgefund that uses machine learning algorithms with algorithmic trading track record and experience.




" AxionV, which caters only to serious investors, are redesigning their machine learning AI algorithms for public use as a SAAS crypto trading tool for investors of all skill levels. Doing so would open up an entirely new demographic in a smart move that makes creative use of the AI signals and trading strategies they already have in place. " - Bitcoinist
About Peter Borovykh and the Team behind RoninAi:
Peter Borovykh made his name in finance and later became fascinated with the digital applications of blockchain in his field. He is a quant who has created his own groundbreaking algorithmic trading strategies based on quantifying the market sentiment and leveraging the emotion of market participants.
Peter is a renowned visionary on blockchain and its future possibilities and has been featured in numerous publications such as Forbes, Business Insider, MSN, Future Trends, Yahoo Finance, Bitcoinist, Fortune, Inside Bitcoins, and many others. Peter has spoken at conferences on blockchain and crypto markets around the globe. He is an author of the "Blockchain Applications in Finance" the second edition of the book just came out this April.



"When you are investing your money into crypto, you need to make sure that you are making the right and informed decision every time you want to buy, sell or hold."
- Peter Borovykh, AxionV Crypto Hedgefund
From AxionV Crypto Hedgefund To You: RoninAi
Based on AxionV crypto hedgefund, Ronin Trading Ai quant team led by Peter Borovykh and custom made for crypto investors and traders. It is an essential crypto investor software that uses machine learning algorithms to capture financial profits in the volatile crypto market.
---
Recent press / articles:


How does RoninAi allow help you make smarter and better investment decisions?
Make Every Trade Count
Backed by vast amounts of historical data and computational power, RoninAi can make precise and complex decisions, assimilating myriad of variables every moment.
Spotting Hidden Crypto Patterns
Ai finds patterns in terabytes of data streams that would give any human cognitive data overload, creating logical and decisive strategies with low risk and higher returns from identifying hidden trends within an ocean of information.
Uncover The Next Breakout Token
The near-unlimited computational power of machine intelligence outperforms the speed and consistency of human decision making. Adaptive Ai indicators breaking through the noise of the crowd giving you the edge at every turn.
------
"This is an all in one solution for current crypto problems. Any Hodler knows, that trades with even tiny portion of their portfolio can give great returns. The difficulty is to make those trades and know when it is right time to rebalance your holdings." - Stephen Cho, Crypto Investor

RoninAi was able to get triple ROI in Q1 2018 for investors, and average investor only had to make 2 trades a month.
When crypto is shooting up, HODLing (HODL definition: sitting on crypto investment without touching it) is profitable. Instead of constantly watching the markets, analyzing news, placing trades and stressing out, if the simple HODLing technique produces above average returns, why bother? Here is why:

"HODLers can't just sit idle: To maximize risk-adjusted returns and maintain a profitable portfolio, they need to systematically rebalance their portfolio over time. As with all investments, having a disciplined, rules-based approach is important in crypto."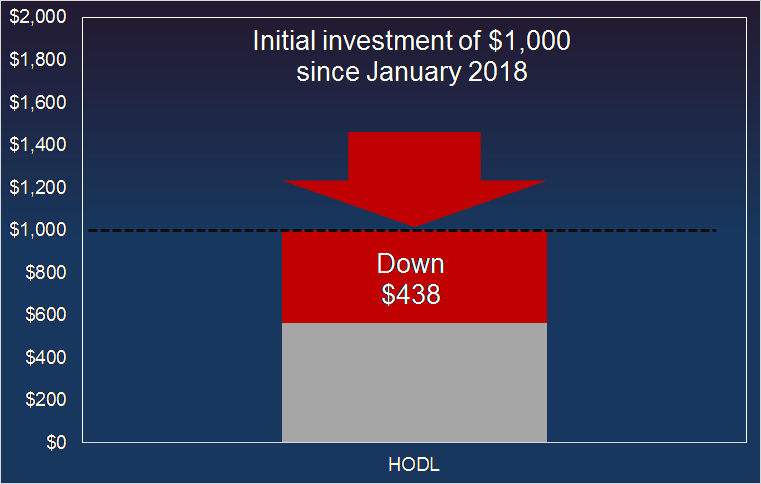 The problem with just Hodling is that when the market changes like in Q1 of 2018, you lose out on a lot of potential gains. With the introduction of new financial instruments introduced by Wall Street, the crypto market has seen substantial and extended downsides. The markets will never be the same and you would miss out on many great opportunities through hodling while not fully taking advantage of being the early adopter in the space.
What if you used RSI trading strategy instead of HODL?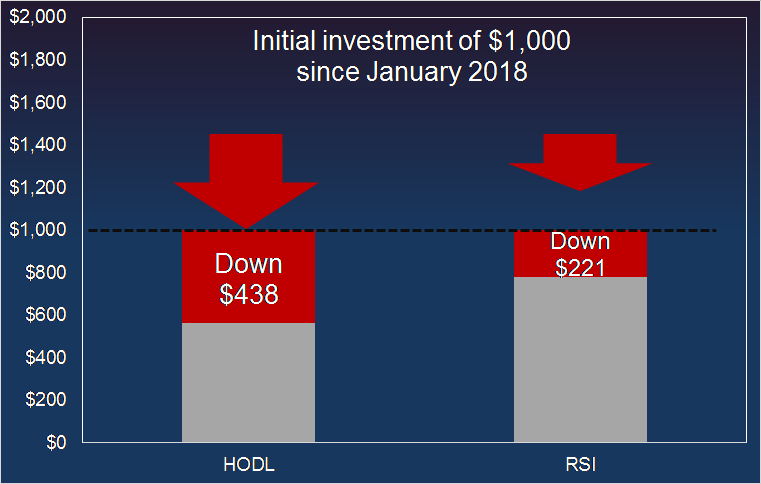 While the HODL strategy is losing since January this year, AI machine learning strategies were making money. How? AI saw hidden patterns not identifiable by even the most mathematical humans and made money when crypto bounced back from the lows while keeping still when crypto was dropping. In short, Ronin AI strategy did not lose money when the market was declining while taking full advantage when it was recovering even if recovery lasts a few days.

On average HODLers lost 40% since January, while RoninAI was up 60%.
In plain English, had you had access to our AI analytics you would have been sitting on three times your money right now.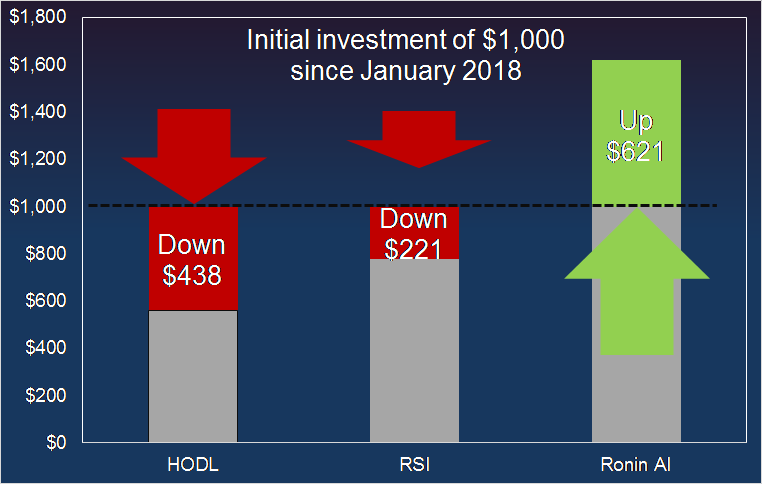 Swing trading, high frequency and algorithmic trading - you would say. Nope. Quite the opposite. While RoninAI has a range of wide range of trading strategies (intra day, swing, arbitrage,etc) in it's arsenal, the returns mentioned above would have been achieved by putting a two trades a month. One, Two, Done.

----
"The opportunities on the quant side are very appealing, especially if you have a team that is strong on both crypto, quantitative trading, and machine learning. You can do arbitrage, long/short, etc."
- Paul Veradittakit, Pantera Capital, one of the top 10 crypto hedgefunds
AI is great for its ability to see through market noise and identify hidden market patterns that result in profits. What is most striking, is that AI/machine learning is self evolving trading intelligence by learning from the market.

There are so many variables and complexities that require tools and calculations that are not available to the average crypto trader.
"There's just so much confusing information out there, honestly I've mostly just been somewhat educated guesses and hoping for the best… not an ideal plan. This is going to change the way people like me trade crypto. Lowest risk and maximized gains identified through machine learning." - Andrew Walker, Crypto Trader
RoninAi was created to help you find the correct crypto path.
You do not need to be part of JP Morgan Chase or AxionV Crypto Hedge Fund, to have cutting edge tools for making the most effective decisions when it comes to trading crypto markets.
It's not about quantity of trade, it's about the quality of trades.
"One wrong trade can mean a loss of staggering amounts of money in the volatile world of crypto trading." - Vanessa Moore, Crypto Investor
What we all need is personalized Ai crypto advisor next to you. Who can guide and pinpoint right or wrong trades.


---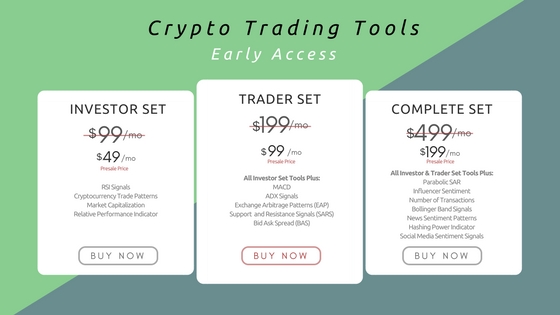 ____________________________

_______________________________


_____________________________
This price is evergreen. When you get it at pre-registration price, you can forever keep it at that price. No surprise increases.
What Ronin Ai Crypto Trading Signals Are Based On:
Cryptocurrency Trend Patterns
Generate additional profits from shorter-term price swings while taking advantage of longer-term market cycles
Exchange Arbitrage Patterns
Riskless opportunities to generate fast profits by analyzing price discrepancies from global crypto exchanges
RSI Trading Signals
Relative Strength Index (RSI) gives the best opportunity to buy when the price is very low and sell at the market top
ADX Signals
Average Directional Index (ADX) is a great tool to confirm positive or negative future direction of the market
Moving Average indicator
Moving Average filters out the "noise" from unimportant price moves to focus on the true long-term trend
Bollinger Bands Signals
Bollinger Bands determines the price breakout of the existing trading pattern
Bid-Ask Spread Indicator
Bid-ask spread is a great indicator of shorter-term price movements allowing to lock in fast profits
Hashing Power Indicator
Increasing hashing power of a blockchain network typically leads to higher price of the token
Market capitalization
Preserve your capital by partially or fully closing a crypto position after aggressive increase in market capitalization
Social media sentiment Signals
Majority of crypto-related posts in social media translate valuable opinions and insights of crypto investors regarding the direction of the market
News sentiment Patterns
Scientific analysis of crypto-related news detects hidden messages that influence the longer-term price direction of cryptocurrencies
Influencer sentiment
Statistical analysis of interviews, presentations, and quotes of the top crypto influencers easily identify unsaid yet important insights that impact prices of cryptocurrencies
Relative performance Indicator
Relative performance of a given cryptocurrency to the overall crypto market consistently presents opportunities to generate profit from price discrepancies
Support and resistance Signals
Support and resistance present key levels to buy or sell a given cryptocurrency with highest profit potential
Number of transactions
Generate profit by accumulating long (buying) position after a given blockchain network shows an increasing number of total transactions
Parabolic SAR
Generate profits from correct portfolio positioning due to proper identification of changes in market trends
-----
This is a pre-registry for discounted early bird access, the tool will go on official sale in early May at regular price and will be launched in the summer of 2018.
You can can cancel anytime. No mandatory cancelation period.

You will be charged only the current amount and subscription won't start until you login first time into your account (software launches in the summer of 2018).
The time of service will be counted down from when the product launches in the summer. For example, when you buy a year subscription now it will start counting down only when you login and get access to the actual tools