Description
Hello Hong Kongers
We present to you Cryptocurrencies, Tokens and ICOs meetup in Hong Kong with 6 high profile founders / inventors from Europe and USA.
Date : 8 September 2017
Time : 6:00 pm to 9:00pm
Agenda:
6:00pm Hong Kong time : Introduction
6:15pm to 7:45pm - Talks by 4 Innovative Global Blockchain Companies
7:45pm - Q & A
8:30pm - Refreshments & Networking
Venue : TBC
We Work 33 Lockhart Road Wanchai, Hong Kong
This event is brought to you by DGCAMP - from Himalaya Labs
We are mighty thrilled to be presenting Himalaya ICO - DGCAMP in Paris on 5 Sep 2017 for the blockchain cryptocurrency community.
Read more on our ground-breaking innovation DGCAMP that will break the bank!
https://medium.com/@misskhan/what-is-dgcamp-2a6fae4cf699
Two years since invention, Ethereum has already disrupted one industry big time. Venture Capital and traditional equity funding. Now for those naysayers who say tokens are Ethereum's killer app, we will prove them wrong!
Here's yet another disruptive solution
Ladies and Gentlemen - presenting DGCAMP to you!
DGCAMP is potentially one of the biggest real world applications for Blockchain. DGCAMP takes direct aim at investment banks and intermediaries. DGCAMP can raise capital for anyone without the need for investment banks and intermediaries. DGCAMP envisages a smart contract architecture replacing the manual processes involved in investment banking, in the issuance of corporate equity and debt securities — processes characterised by opacity and high fees. (Read our preliminary paper on http://himalayalabs.com/Himalaya-Executive-Summary2.pdf)
DGCAMP's vision is made possible by Ethereum Smart Contracts, as envisioned by Vitalik Buterin, inventor and Chief Scientist, Ethereum.
"A smart contract is a mechanism involving digital assets and two or more parties, where some or all of the parties put assets in and assets are automatically redistributed among those parties according to a formula based on certain data that is not known at the time the contract is initiated." — Vitalik Buterin , Founder Ethereum — May 2014
"Intermediaries in complex markets thrive on "the theory of opacity" and deliberately propagate the theory to further their own interests. The theory simply states that opacity of a process attracts intermediaries, and the more the opacity of a system or process, the more the intermediary can take away from the buyer or seller surplus. DGCAMP aims to do away with opacity in capital markets." - Arifa Khan, Founder Himalaya Labs — July 2017
Decentralised Global Capital Markets Platform ( DGCAMP ) is a new-age architecture where investors of capital and seekers of capital can interact freely, trustlessly and with minimum friction. The platform can operate with and without intermediaries.
DGCAMP — A definition:

DGCAMP is a blockchain and smart-contract driven platform where issuers (public and private firms, governments, non-profit foundations) can access a broad class of primary market investors (both institutional and retail), complete a variety of automated transactions and processes (such as book building, auctions, syndications, dividend distributions) and can issue a broad array of digital assets to investors. Investors of every type, jurisdiction and financial status can use the platform to learn about investment opportunities across the globe, their regulatory aspects, risks and expected returns, to access due diligence reports, and to invest directly without having to go through intermediaries. A secondary market layer with buyers, sellers, arbitrageurs can easily complement this system.
The system can first be envisaged as a single-country system and then extended to a multi-country global marketplace.
Capital allocation will be made in a cryptographically secure, quick, efficient, trustless way.
Benefits of DGCAMP:
Disintermediation of Investment Banking by a Digital Asset Issuance Platform:

A Smart Contract Architecture can replace everything an investment bank does in securities issuance — book building, IPO pricing, algorithm-based allotment of digitised assets to various subscribers, accepting payments and issuing digital securities, custody of digitised assets

Cost saving, for example: Taking Away IPO fees of 7–10%

De-risking of issuance process : Eliminating counter-party and settlement risks

Post-issue management of investor base and performance reporting

Digital coupon and dividend distribution

Global Open Access Trust-less Platform for direct interaction between Investors and Capital-seekers

Global efficient capital flows between countries

Potential App Market Place for Asset Management Industry and intermediaries to build on our Core Platform

Reputation scoring of investors and issuers enabled over time

Potential platform for independent service providers to sell Research, Due Diligence, Legal and Regulatory Products

Decentralisation of Access to Capital!

Decentralisation of Innovation!

DGCAMP serves as a substitute to the current manually-intensive, time-bound and costly processes involved in the issuance of real world securities for corporates, governments, and non-profits.
Come Ethereum lovers, let's break the bank!
About Arifa Khan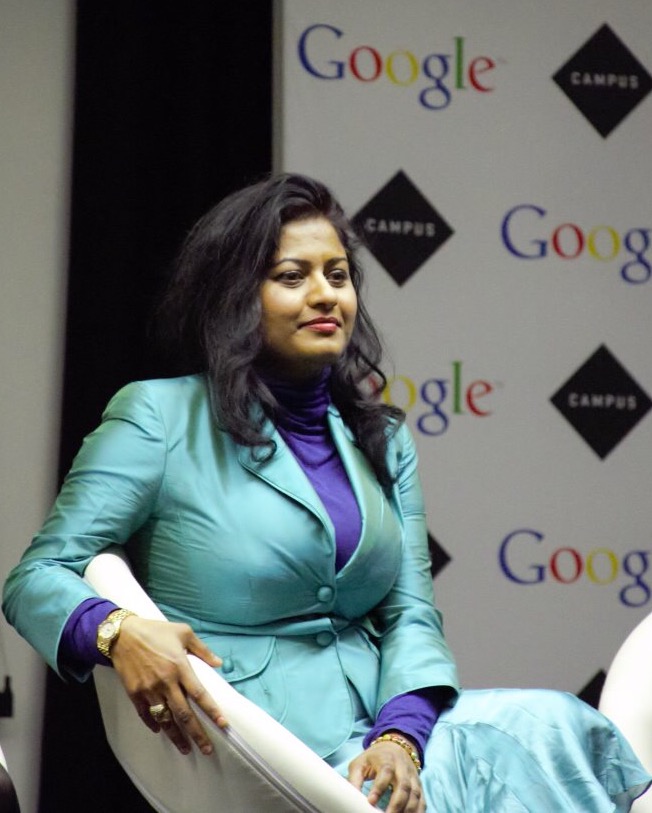 Arifa is a London based ex investment banker with stints in Financial Sponsors Group at Credit Suisse and UBS. She has a B.Tech from IIT Madras, and an MBA with Finance specialisation from Wharton School of Business, University of Pennsylvania. She has been focusing on blockchain research since 2015. She is the architect of Europe-India Conclave Series and has featured Vitalik Buterin at Ethereum India Summit May 2017. She is currently also building the Ethereum community in India and Middle East as India Partner of the Ethereum Foundation. Arifa is inspired by the vision of crypto founders Satoshi and Vitalik. Vitalik said in a 2015 blog before he realised the full impact of what he had created "there is no [Blockchain] killer app, and the list of applications has a very very long tail — basically, just about every kind of software imaginable". Arifa wants to contribute to realising the vision of the crypto founders, and to build an architecture for big real world use-cases and explore intersection of futuristic technologies like AI, blockchain etc.
See youtube video of Arifa Khan introducing Vitalik to India.
https://www.youtube.com/watch?v=G3vQenZgIS0
DGCAMP is supported by talent from across the globe constituting cryptographers, mathematicians, blockchain and capital markets pioneers. Full team will be announced shortly.
A project of Himalaya Labs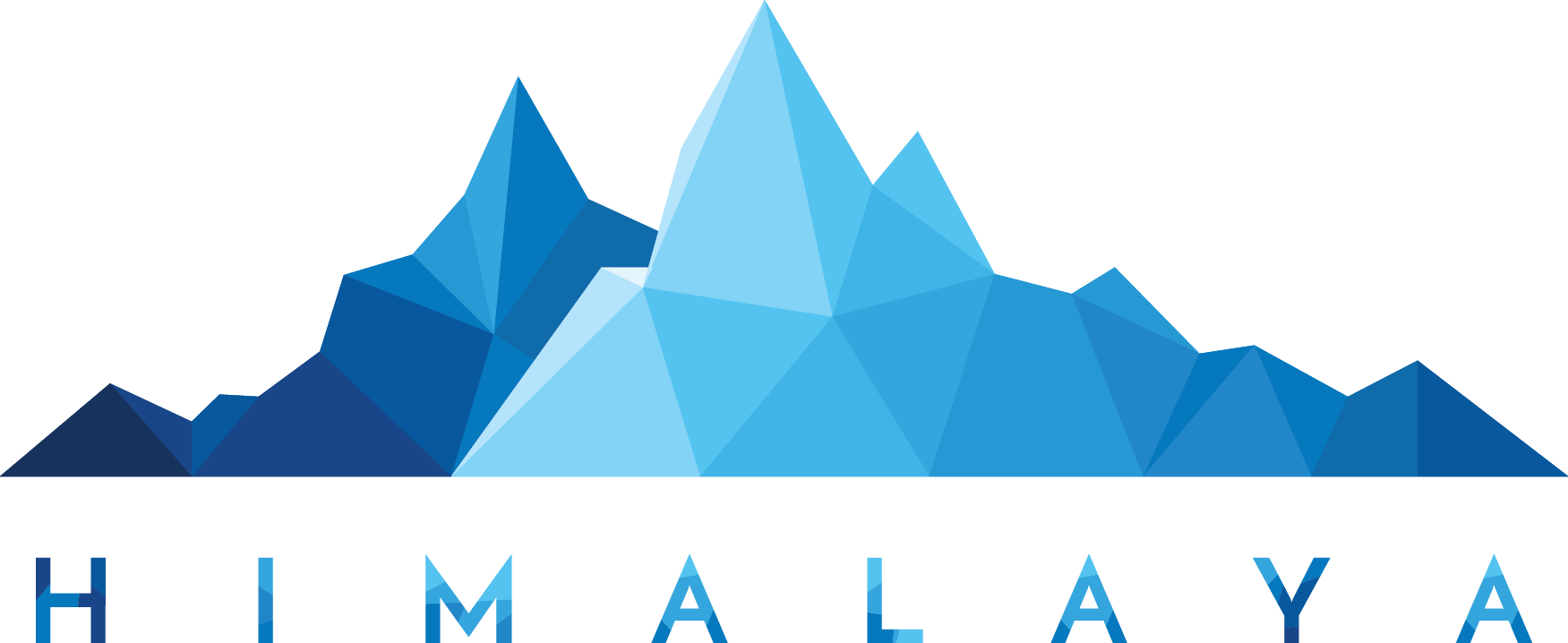 Read our preliminary paper here. White Paper is coming soon!
Watch out for Capital Coin!
Himalaya ICO coming soon!
Presenting Disruptive Blockchain Solutions: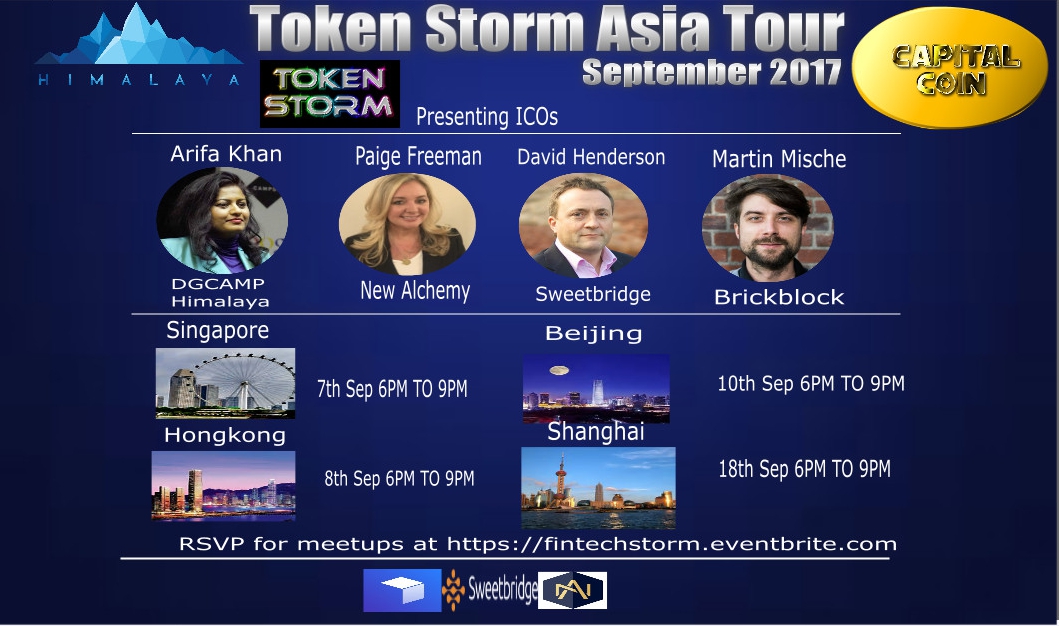 Brickblock
At present, the crypto-economy is possibly one of the most volatile economies. Investors can make 10x gains in one month only to lose it all the next month. Thus far, there have only been a limited number of ways to diversify crypto-portfolios to mitigate these risks.
Real diversification, across multiple asset classes, is essential for a well-balanced portfolio. Brickblock introduces the first platform where users can seamlessly invest in real estate funds (REFs), exchange-traded funds (ETFs), passive coin-traded funds (CTF) and active coin managed funds (CMFs) through a streamlined process and with significantly lower costs than traditional investing.
Each fund on the Brickblock platform has its own denomination and its own "proof-of-asset" (PoA) token which, via established token exchange platforms, can be traded simpler, faster and cheaper than on conventional stock markets. Our asset-backed PoA tokens empower investors to hedge the risk of cryptocurrencies in real assets without needing to convert their cryptocurrency into a fiat currency. All dividends and coupons are automatically transferred to token-holders through self-executing smart contracts on the Ethereum network.
Brickblock's infrastructure will be implemented as a decentralized application (Dapp) and run on the Ethereum network. Broker-dealers and fund managers will be able to list their investment opportunities on the platform, after being thoroughly verified by Brickblock through e.g. proof of residence, credit reports and criminal record. Based on their personal risk/reward ratio, investors can then select an investment from the offered funds to add to their diversified portfolio.
Martin Mischke, Co-Founder Brickblock
Martin founded Europe's Bitcoin Startup Incubator Bitcoins Berlin in 2012. Several Bitcoin start-ups emerged from the incubator such as Gold4BTC, one of the biggest providers for Gold in exchange for bitcoin. This was the first of many serial VC projects that Martin invested in.
Martin is a business angel, venture capitalist and advisor for multiple start-ups. He is also the ex-CFO and co-founder of Bitwala, the German start-up utilises digital currency to offer a much faster and cheaper blockchain-based payment service provider for remittance and international payments.
In 2016 Martin co-founds Transistor co-working, Germany's largest Fintech co-working space, which also accepts Bitcoin.
In the beginning of 2016 Brickblock co-founders Martin and Jakob started to think about how this modern technology could be applied to the world of investing. Their initial focus was on simplifying the process of investing in real estate.
As they continued to develop the project, they expanded the platform to include four investment options – real estate funds, exchange-traded funds, passive coin-traded funds and active coin-managed funds.
Sweetbridge
Sweet bridge is a visionary and far reaching business case for Blockchain in the Supply Chain.

A protocol that allows anyone to receive low cost loans on everything from crypto assets to the supply chain receivables / inventory and equipment without a the need for a counter party, bank or credit card network.

A legal ecosystem for digitizing real world assets on the blockchain; equipment, inventory, real estate, and receivables assets.
Scott Nelson Chairman & CEO
Scott has more than 35 years of experience in applying technologies to the Logistics industry having worked for both buyers and sellers of services. He is a successful entrepreneur who served as CEO of Trax Technologies, Inc. for 22 years from 1993-2015. He was the founder of Trax, a global logistics analytics and freight audit & payment firm. Under his leadership, Trax evolved from a small logistics consulting and software development firm into a global SaaS and managed services company with operations on four continents.
During his tenure, Trax was known for the quality of its team and culture that
attracted, motivated and kept great talent. Trax grew into a market leader with more than 250 employees. They attracted some of the largest and most respected companies in the world as customers. They successfully raised two rounds of venture capital funding before a successful sale to a private
equity firm in 2015.
Scott is a visionary leader who has been able to see the implications of technologies on logistics before the marketing hype cycle. During his career he has helped customers improve their bottom line by hundreds of millions of dollars.
David Henderson CFO
David has spent 10 years in Finance, Audit and Accounting working as a qualified accountant followed by 20 years at the intersection of Logistics, Control and Technology with TRAX. He has managed a logistics budget and run very successful procurement & consulting exercises internationally.
David has lived and worked in Europe, South America, Africa, USA, and consulted for some of the world's largest companies as well as for SMEs. Working in developed and emerging markets, he developed broad business experience and focus on improving profitability. Always seeing the big picture and delivering results diplomatically, he never loses sight of the bottom line. This includes
extensive experience in risk management and the leadership of business process reengineering in global enterprises. David has a passion for automation, mobile and internet technology as well as international business and culture.
David received his B.A. degree in Computer Science and Accountancy from Heriot-Watt University and an C.A. in Accounting and Finance from Institute of Chartered Accountants of Scotland.
New Alchemy , USA

New Alchemy is a premier blockchain consulting and investment group with a distinguished expertise in cryptocurrency and commerce. The experienced team blends unbeatable blockchain skill with practical business know-how to implement clients' groundbreaking products and services.
Ms Paige Freeman
Ms Paige Freeman is Director of Strategic Partnerships at New Alchemy, San Fransisco, California She is the founding member and first executive hired as Vice President of Sales at BitPay, the world's leading payment processor for bitcoin recognized by Bloomberg, CNN, Wall Street Journal, CNBC and many other news organizations. She successfully managed all sales and increased the merchant base to 35,000+ merchants with over $100 million in bitcoin transactions.
She created brand awareness for Bitpay in the Bay Area and opened the first office in San Francisco for West Coast Sales and Engineering. Bitpay raised $30 million in Series A funding from PayPal founder Peter Thiel's Founders Fund, Jerry Yang's AME Cloud Ventures, Virgin Galactic's Sir Richard Branson, and pivoted from payment processing to open-source, blockchain projects.
See you 7 September in Singapore!
Join us on one of the dates on our Token Storm Global Tour:
If you want to organise our talks in UAE 2-5 Sep, Singapore 7 Sep, Hongkong 8 Sep, Beijing 10 Sep, Shanghai 18 Sep and rest of Asia, Berlin 20 Sep, Kiev 21 Sep, Brussels 27 Sep, Paris 28 Sep, Zurich 29 Sep, drop us a note. team@himalayalabs.com
RSVP for one of our meetups. http://fintechstorm.eventbrite.com