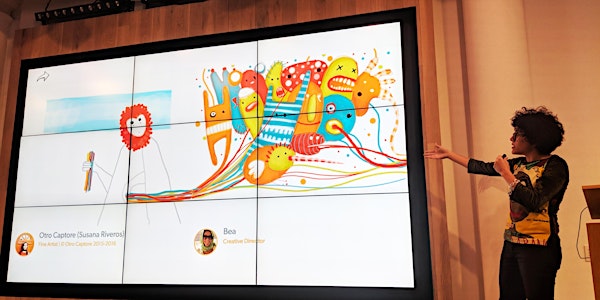 CryptoCreative Symposium at Creative Tech Week
When and where
Location
DCTV Independent Media Arts Center 87 Lafayette Street New York, NY 10013
Refund Policy
Refunds up to 30 days before event
Description
CryptoCreative at Creative Tech Week
A Symposium Exploring Blockchain's Impact on Creativity and the Arts
On Thursday May 10 from 2pm to 9pm, join us in Tribeca for a symposium featuring the entrepreneurs, developers, artists, curators, and creatives pioneering Blockchain's impact on creativity and the arts. Come meet and network with the creative minds at the forefront of Blockchain creativity and enjoy delectable refreshments and beverages, plus performances and art exhibits 7-11:30pm. 21+. Evening-only passes are available!
Participate in a deep-dive conversation about the following topics:
Definition of therms like Blockchain, Tokens, DApps and SmartContracts for those new to the space
Exploration of what decentralized and distributed mean for the Blockchain
How SmartContracts Help Track Provenance, IP and Royalties for Online Content, Art and Music
Design, Arts and Music Startups Organizing Around Innovations in the Blockchain
Exploring High-Stakes Online Trading and Live Auctions of Proveably Rare Art, GIFs and JPGs
How Musicians and Artists are Tokenizing to Generate Revenues
Art Installations Using Ethereum, BitCoin and CryptoCurrency
2pm-2:15pm Registration
3:00-3:45
Panel: Open, Distributed, Decentralized, Unstable: The Philosophy and Politics of the Blockchain.
Moderator: Scott Draves,
electricsheep.org
. With Karen Ottoni, Ecosystem Manager,
Hyperledger
; Matthew Schutte, Director of Communications,
Holo
; and Saraswathi
Subbaraman
, Project Lead,
Circles UBI
3:45-4:15 BREAK
6-7:00 BREAK
7:00-8:00
Panel: Trading Dank Rares.
8:00-9:00pm
Panel: Tokenization for Musicians and Artists.
Moderator:
Dennis Adamo
,
CelestialTech.io
. With Paul Miller aka DJ Spooky, DJ Pepe
J-Scrilla Ventura
,
Casey Pearl
,
Tatiana Moroz
,
Jonathan Mann
, and G. Thomas Esmay,
SingularDTV
.
9pm-Midnight
Plus performances from the international collective
ScarabX
.
Casey Pearl
Casey Pearl is an independent artist from London and the world's first female crypto-artist. When performing, Casey Pearl has a striking and energising presence. Her voice is powerful yet so full of feeling, depth and heart that audiences are drawn in, joining her as she immerses herself every time. Casey Pearl has launched her own ERC20 cryptocurrency, the PEARL Token, through Tokit. This new paradigm will enable her to directly manage her own intellectual property rights, revenues, and royalties.
Tatiana Moroz
Tatiana Moroz is an American folk singer-songwriter, liberty activist, and peaceful revolutionary, Tatiana Moroz is pioneering creative autonomy and freedom as the creator of the world's first artist cryptocurrency Tatiana Coin. Tatiana merges music with modern technology to encourage social awareness. She helps renew the power of songwriters to unite our communities. Her inspiring 3rd album "Keep The Faith" was released in 2017.
Jonathan Mann
Jonathan Mann holds the Guinness World Record for Most Consecutive Songs - it will be ten years on January 1st, 2019. He's working on releasing the entirety of Song A Day on the blockchain.
DJ Pepe
Gorilla Glue, the new mixtape from underground DJ/Producer DJ J-Scrilla, is a seamless blend of funk, soul, and electro played at a slowed down speed with scratching, mixing, and remixes sprinkled throughout. According to DJ J-Scrilla, "all the music on the project comes from 45″ vinyl records that are slowed to a 33 RPM speed, making them sound like they are moving through glue," hence the title. The title also has a triple meaning, as it is also referencing a medicinal strain of marijuana called "Gorilla Glue" that's recently developed a following within the cannibus culture and it's a seamless mix of all genres of music mixed like no other.
Scarab X
- Myriam Louise Taleb is an multi-media Artist who through her video, photography and performance art work is able to start a conversation on the ideas of community, the other and her place within a global community.
- Keegan Shiner uses satire and the performance of authority to explore issues of ethnocentrism, complacency and American exceptionalism. Website:
http://keeganshiner.com/
- Martina Lundstrom grew up in Sweden. After raising three children in the US and working as a non-figurative painter, she found performance to be another way to communicate with an audience She has performed at Thomas Young Gallery and at the Cyclorama at Boston Center for the Arts.
- Thalia Berard is an interdisciplinary artist working in animation, drawing, and performance, as well as the lesser known fine art mediums ---- baking and ice hockey. She is interested in working with the body in endurance and dance, and enjoys drawing architectural plans of her mental palace. Website:
https://www.thaliaberard.com/
Please note: You can also buy a full Creative Tech Week Hub Package at this Eventbrite location, entitling you to attend the Arts Hub and Performances (details coming soon), VR Night (Weds May 9th at DCTV, the CTW2018 Conference on Friday May 11 at the NYIT Auditorium on Broadway, and CryptoCreative.