Description
Cryptocurrency exchanges are systems that allow customers to trade cryptocurrencies or digital currencies for other assets, such as fiat money, or different digital currencies. They can be market makers that typically take the bid/ask spreads as transaction commissions for their services or simply charge fees as a matching platform. Most wallets also have integrated exchange functions.
As the majority of digital currency exchanges operate outside of Western countries, they avoid regulatory oversight and complicating prosecutions, but most handle Western fiat currencies, sometimes maintaining bank accounts in several countries to facilitate deposits in various national currencies. Cryptocurrency exchanges may accept credit card payments, wire transfers, postal money orders, cryptocurrency or other forms of payment in exchange for digital currencies. They can send cryptocurrency to your personal cryptocurrency wallet. Some exchanges can convert digital currency balances into anonymous prepaid cards which can be used to withdraw funds from ATMs worldwide.
The top 20 exchanges account for 95% of all bitcoin trading volume: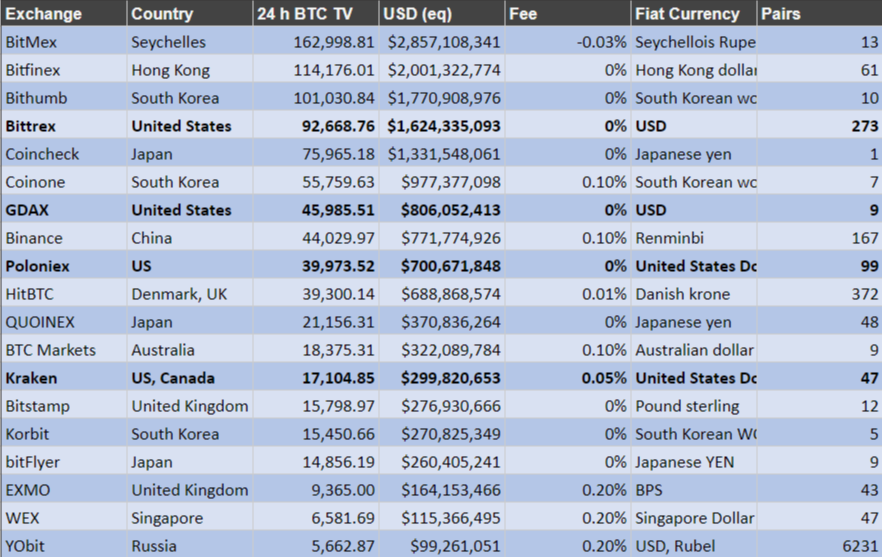 With the price of Bitcoin reaching $10,000 and the news of more than 100 VCs creating funds just for investing in crypto and that institutional financing is about to jump into the game to the tune of $10B it's no wonder everyone wants to know... Where do I buy Bitcoin???
Well, if your a n00b or an expert trader you will want to come to this meetup to hear from 3 different insiders who take on 3 different exchanges each. Find out the strengths and weakness of the top crypto trading platforms and learn about a couple new ones that may provide a solution that's just right for you.
All crypto trading platforms are not the same, just as all cryptocurrencies are not the same. Come learn the basics and more. Find out what crypto platforms are best suited for your needs and begin investing in crypto immediately. Just think... When people realize you can hold your crypto in an insured account and use a Bitcoin debit card that's accepted whereever Visa and Mastercard are accepted... how many people do you think will at least explore investing in it? Come network with a group of professionals who range from the just curious to people who have been investing, trading and mining in cryptocurrencies for 5 years!
We know this will be a standing room only event so the first 100 people who pay will be guaranteed seating in the theater, while the procrastinators may be standing or in the overflow room to watch via closed circuit video. Yes, there will be food, beverages, some door prizes and some great networking with some of the best minds working in Blockchain and Crypto in Southern California. You don't want to miss out! (Blatant FOMO attempt.) More info coming soon!