Sales Have Ended
Ticket sales have ended
Congratulations! You are one step closer to becoming a successful ICO founder! Read our white paper at http://wolfgangflatow.com/himalaya/ Drop us a line at team@himalayalabs.com
Sales Have Ended
Ticket sales have ended
Congratulations! You are one step closer to becoming a successful ICO founder! Read our white paper at http://wolfgangflatow.com/himalaya/ Drop us a line at team@himalayalabs.com
Description
Register today for
Practical Workshop - "Launch a Successful ICO in 3 Months" (Initial Coin Offering / Token sale)
http://cryptosummitdubai2018.eventbrite.com
In continued tradition of our stupendously successful Fintech Storm Series
Venue : Ramada Plaza Jumeirah, Dubai TBC
Full Day Workshop 6 Sep 2018
Launch a Successful ICO in 3 Months
Fintech Storm & Token Storm presents
A Full Day Practical Workshop for Founders, Innovators, ICO Marketers, Developers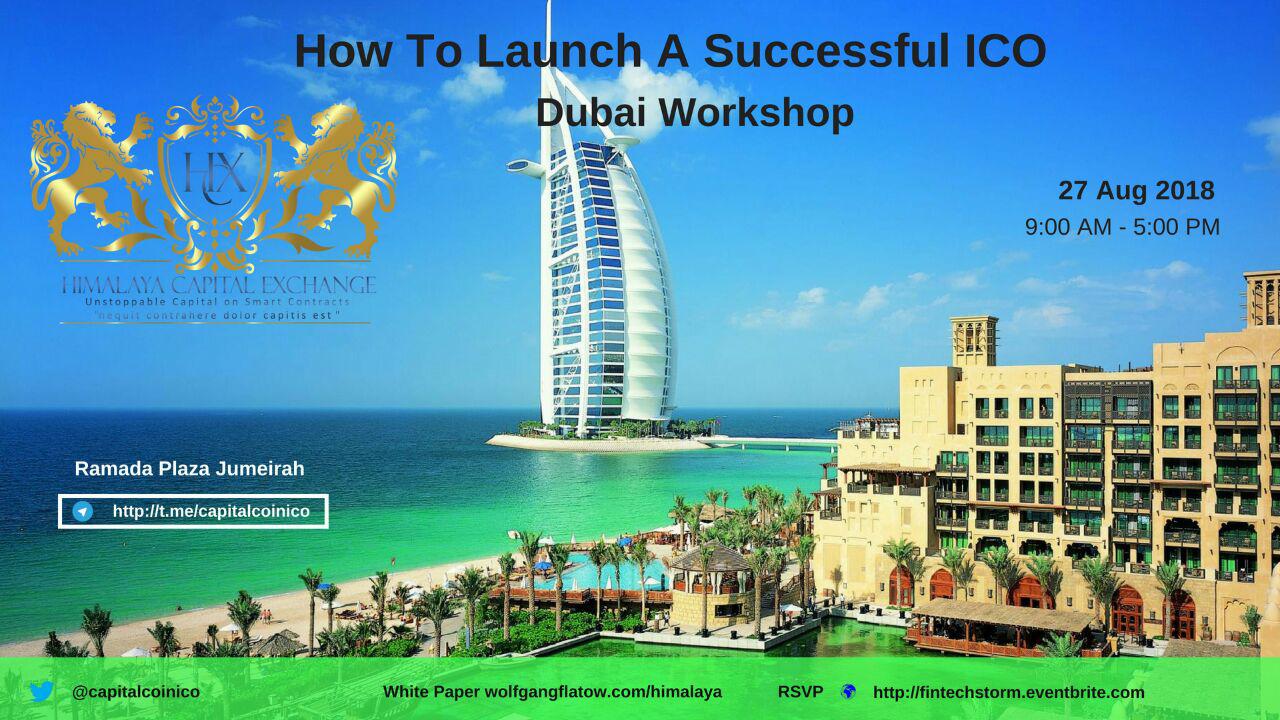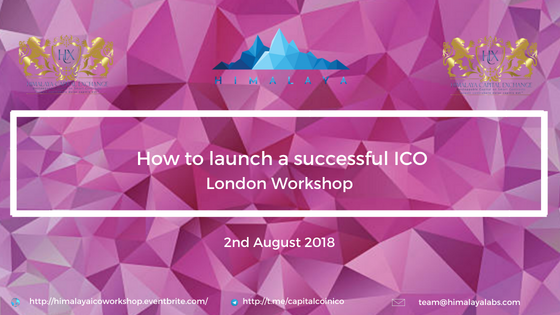 6 Sep 2018 Dubai
Enlightening, Insightful , Inspirational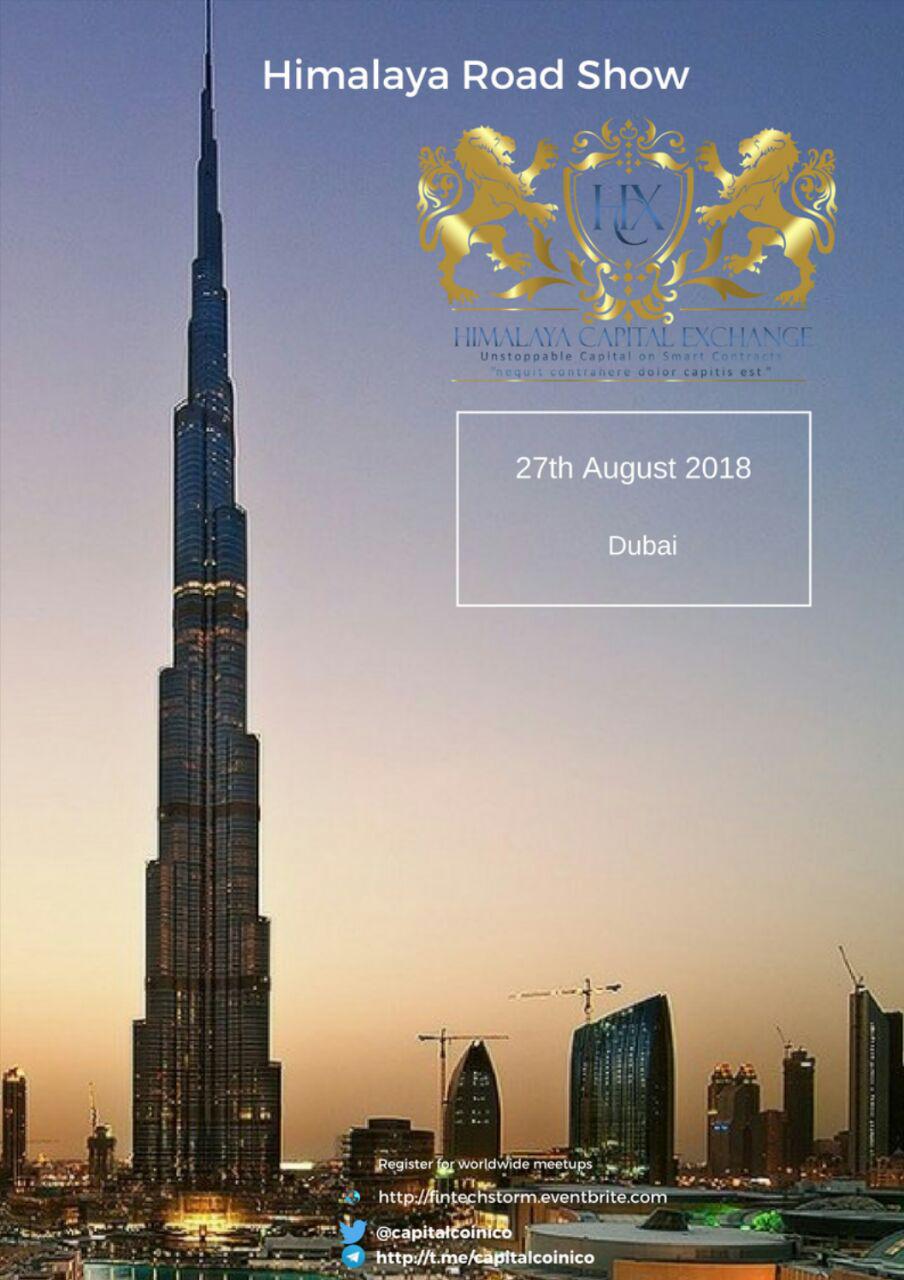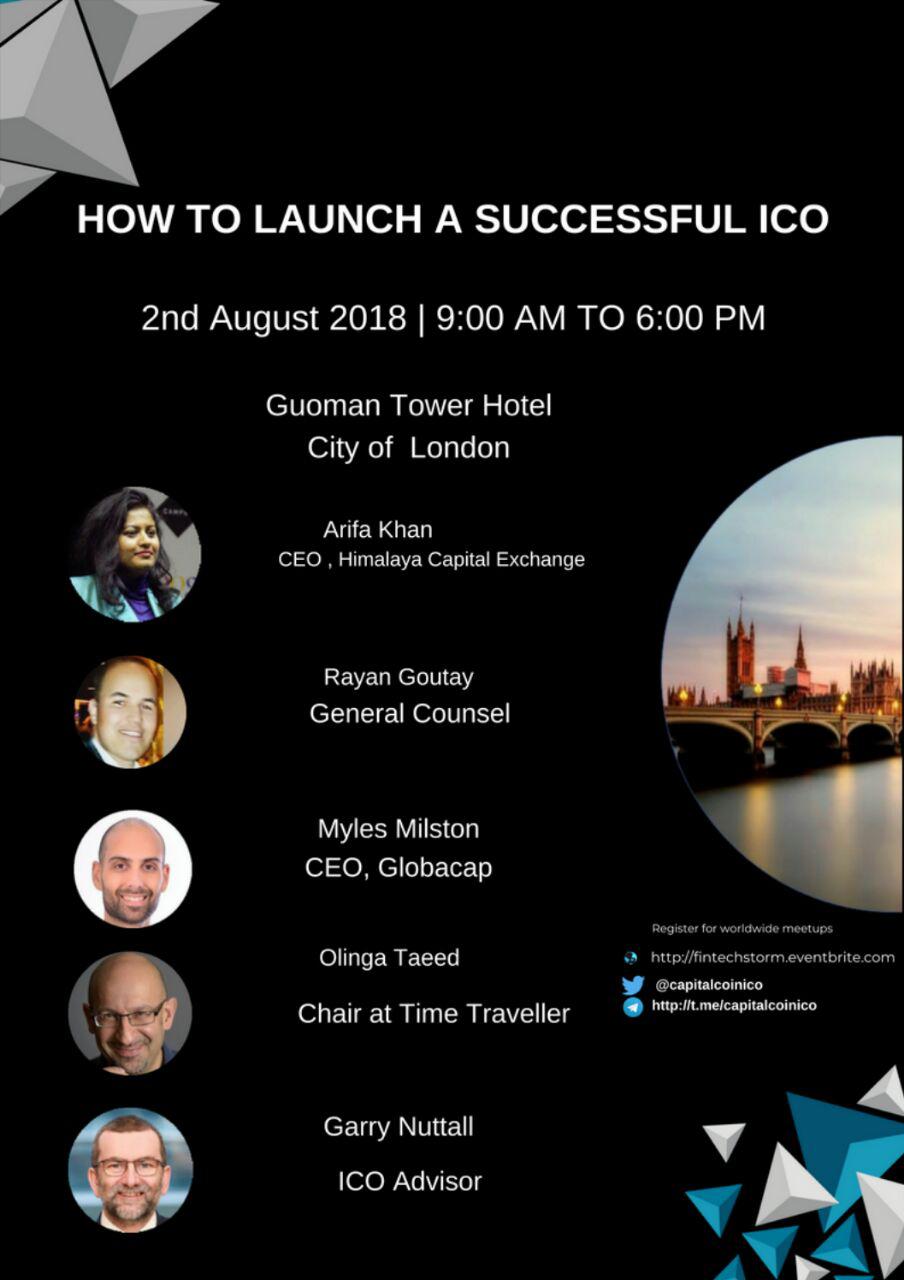 What will you do this summer to boost your crypto economy skills ?
We have been around the globe in thae past few months from Mexico City, Davos , Paris , London , Singapore, Hongkong, Shanghai, Shenzhen, Dubai, Seoul, hobnobbing with the geniuses of cryptocurrencies and cryptoeconomics.
We have great news for you!
We have brought together the best of founders and technical wizards in Blockchain to give you a taste of their scuess strategies in ICOs.
So you reckon crypto is Big!
You have released your landmark white paper, or just about to. (This can take a lifetime or 6 months to a year depending on how profound is your innovation)
You have attended plenty conferences, seminars and meetups on Crypto.
You know all about how Crypto is revolutionising the world.
You know the billions of dollars already chasing the crypto ventures, and billions more to come from mainstreet institutional investors once Wall Street finally wakes up to it.
But, you are not sure how to launch a successful ICO.
You are faced with quotes of a few bitcoin for being featured in some crypto press releases, and a million dollar budget to do the marketing.
Help is here.
Learn the tricks from the best before you spend that million dollar marketing budget.
Learn what is essential. How to create a kick ass ICO.
You have had enough of theory, and now you want deep practical knowledge so you can launch your ICO with confidence!
You have come to the right place!
Fintech Storm is committed to excellence in knowledge-sharing, training, networking and building the eco-system of next generation wealth-creators around the globe!
We have recognised Blockchain & Crypto as the next big thing that will create the most employment and highest paying jobs of the next decade and chosen Blockchain & Cryptocurrencies as one of our focus areas for training in Europe & Asia.
Register here:
http://cryptosummitdubai2018.eventbrite.com
6 Sep 2018
Lunch: 1:00pm - 2:00pm
Venue: Ramada Plaza Jumeirah Dubai (TBC)
Agenda Topics
1. How to launch a successful ICO in 2 Months
Speakers from Himalaya Labs, Pillar, Iconiq Labs, Seratio Token
2. Where to set up your ICO - Regulation on ICOs, Cryptocurrencies in UK and jurisdictions around the world
Speaker Rayan Goutay , Regulatory & legal expert on crypto
3. Do you want to issue a utility token or a security token ?
Speaker Myles Milston, CEO Globacap
4. How to do a smart contract audit for your ICO?
Speaker Or Daniel Barmatz - CTO Iconiq Lab
5. How to do a rating or review of your token ?
Speakers from ICO Rating & Himalaya Labs
6. How to build successful PR & marketing campaigns for your token sale and grow your telegram channel ?
Speakers - ICO advisers
7. Don't know anything about blockchain? You can still benefit from crypto revolution and fundraise on blockchain. Learn how to launch a Security Token , bypassing investment banks and traditional stock exchanges
Speaker - Arifa Khan, CEO Himalaya Labs
Workshop Guest Speaker, Ms Arifa Khan, Founder Fintech Storm and Himalaya Labs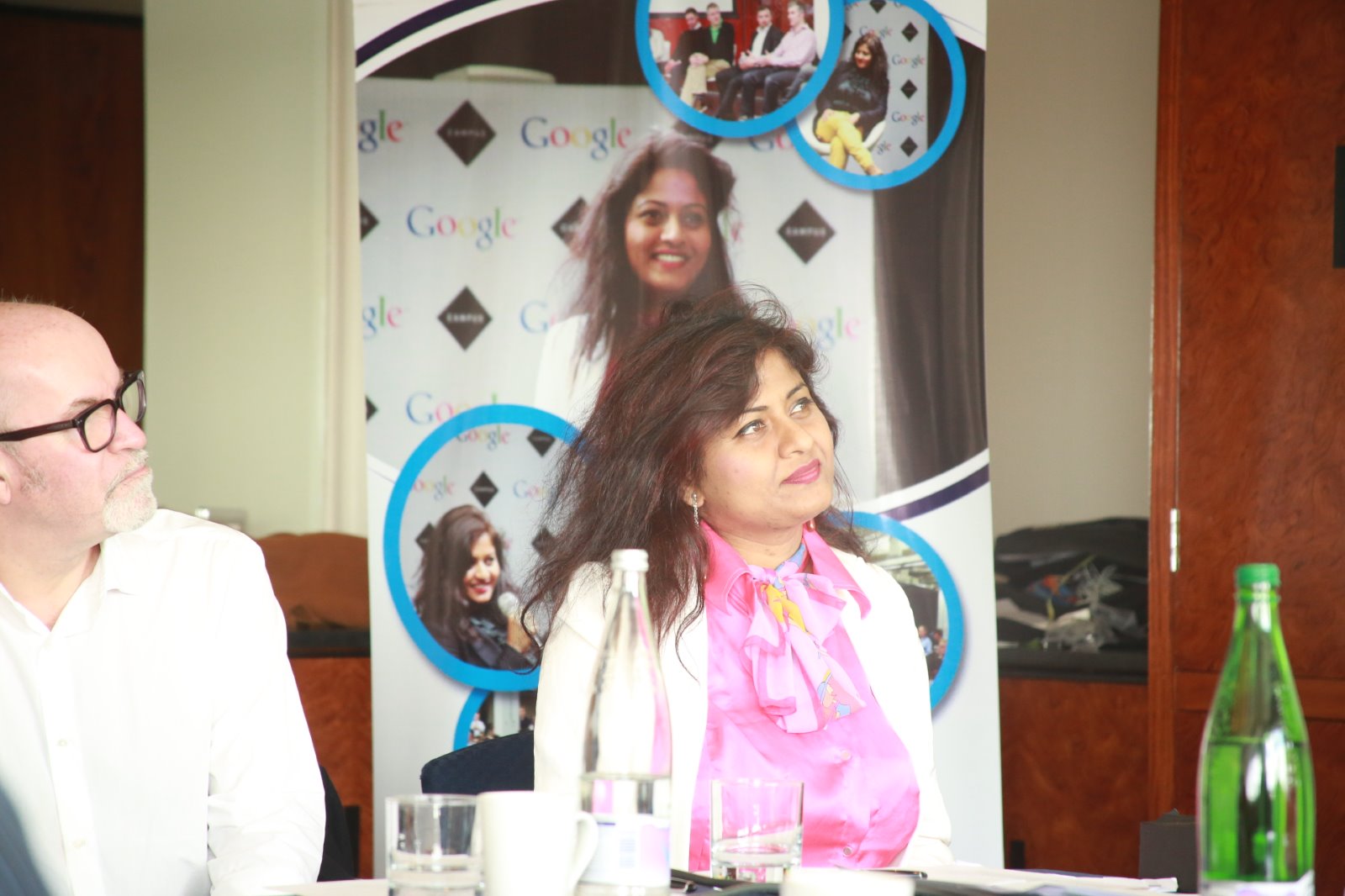 Arifa Khan is listed in Fintech top 100 infuencers list by Lattice80 2018. She is the India Partner of Ethereum.
Arifa Khan is a London based Fintech & Crypto expert, a seasoned Banking & finance, strategy and operations executive, with over 15 years experience in Investment banking, Leveraged Finance/ Financial Sponsors Coverage/ Debt Products & Credit/ Fintech, Blockchain & Crypto. She is an ex investment banker with Credit Suisse & UBS, and is now creating a decentralised platform for Initial Security Token Offerings - a next generation stock exchange where companies can raise capital without paying investment banking fees.
Arifa has an MBA from The Wharton School of Business, USA. She is also mathematically gifted, and has a B.Tech from IIT Madras in Chem Engg. She is a Fintech evangelist. Here is what Londoners say: (http://www.haggerston-times.com/fintech-start-up-storm-discusses-online-payments-asks-if-banks-are-losing-ground-in-the-battle-for-financial-services/)
Arifa's latest project is Himalaya Capital Exchange ICO.
Arifa is Member WhartonUK Club Committee, Founder Europe-India Conclave Series, speaker at crypto conferences worldwide. http://capitalexchange.tech
Himalaya Vision - Unstoppable Capital on smart contracts
Read the latest Press Release on Himalaya Crypto Summit
https://www.einpresswire.com/article/446787661/india-s-first-ever-cryptocurrency-fair-the-himalaya-crypto-summit-arrives-at-mumbai-for-blockchain-india-week-2018
https://www.einpresswire.com/article/457212232/himalaya-capital-exchange-symphony-icos-kick-off-europe-roadshow-in-london-paris-zurich-berlin-aug-2018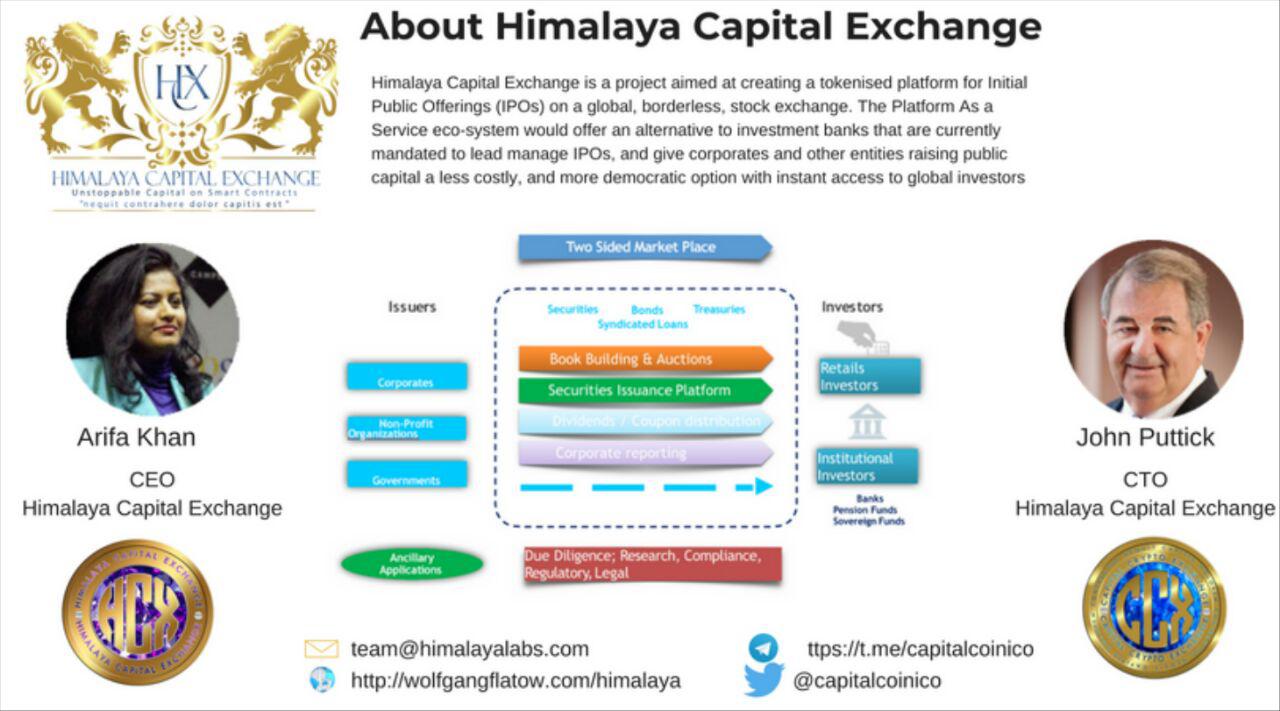 Which companies should showcase at this Forum?
Any company that wants to attract top notch developer talent
Any company that supports the Blockchain eco-system
Any company that wants to adopt the latest and cutting-edge technology & innovation
Any company that wants to get exposure in European and Indian fintech ecosystem through Fintech Storm's vast networks
A company that wants a platform for dialog with the community of smart contract developers, founders
Who Should Attend?
Anyone who is interested to learn :
More about the Crypto economy, ICOs, Cryptocurrencies & Token offerings
The latest advances in worldwide regulation on crypto economy
How can cryptocurrencies solve real word probelms
How to launch your ICO successfully
How to find the best service providers to amrket your ICO
What do the investors need to know before subscribing to your ICO / Token sale
How to grow your telegram channel
How to get your smart contract audit
How to keep your channels and subscribers happy
Once your ICO is completed, what next?
Typical attendee profile
• Crypto Founders & Entrepreneurs
• Bitcoin & Blockchain companies that want to showcase at this event
• Developers
• Startups looking to hire Blockchain talent
• Academic Researchers
• IT professionals and Companies
• Strategy Consultants
• Accountants
• Legal Professionals
• Financial Professionals, IFA's
• Insurance Professionals
• Brokers, Financial Market Participants
• Journalists
We are committed to creating and connecting the Blockchain & Crypto Inventor Community in Europe, Asia
Here are some images of our recent workshops in London. Enjoy!
Come join the Blockchain Revolution !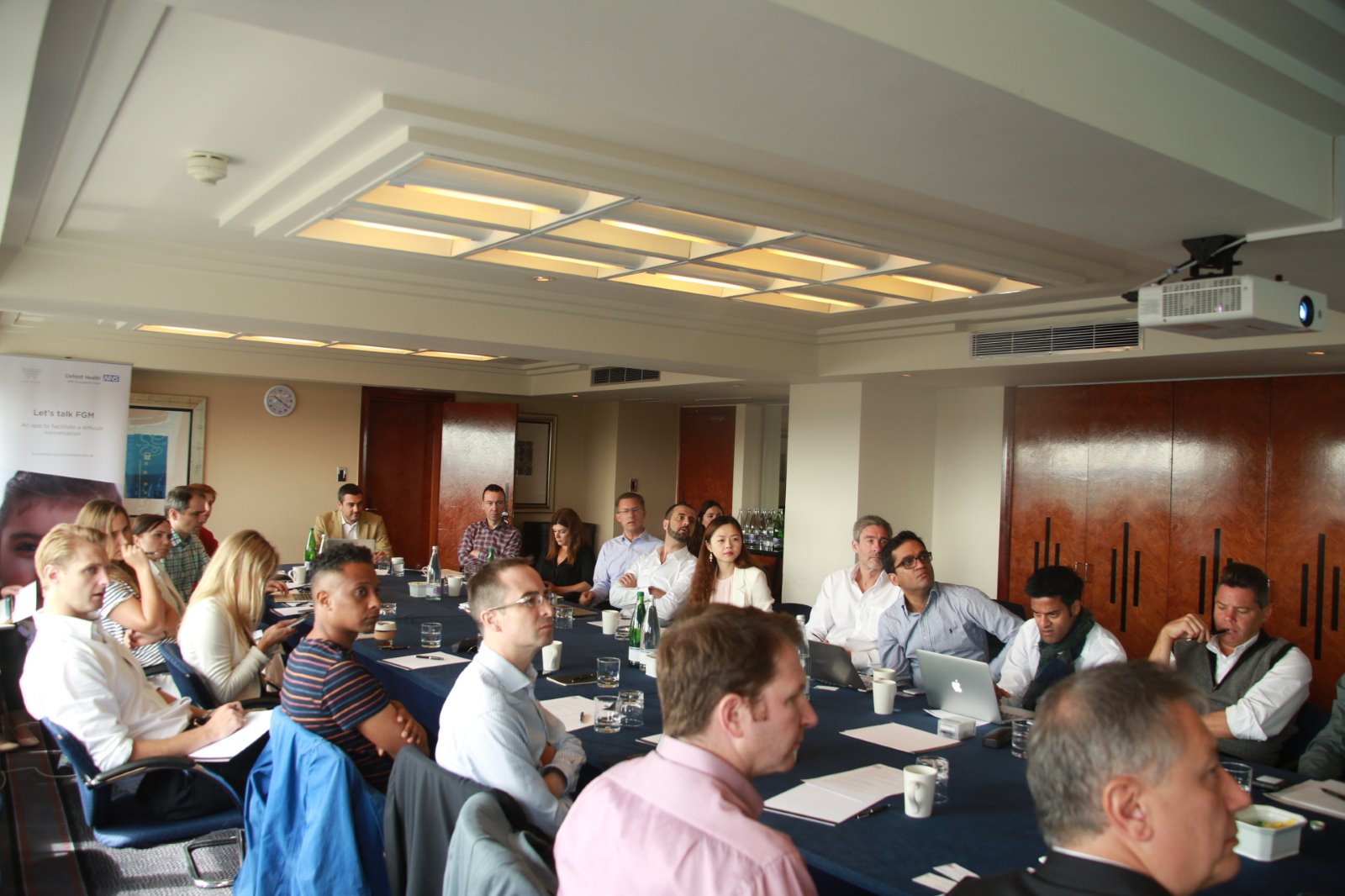 How to stay updated with Fintech Storm future events?
Signup for one of our events or see past events : http://fintechstorm.eventbrite.com
Join our telegram channels
http://t.me/capitalcoinico
http://t.me/capitalcoinsummit
Sponsor our global events to reach 10000 + crypto enthusiasts carefully cultivated with engaging meetups over past 2 years. Join the below meetups today. Get in touch with us if you are planning a roadshow in the below cities:
Join our Meetup groups in London , Europe, India , Asia
London: https://www.meetup.com/Blockchain-SmartContract-Innovators/
Bangalore: https://www.meetup.com/India-Ethereum-Community-DLT-Smart-Contracts-Bangalore/
Dubai : https://www.meetup.com/Ethereum-Dubai/
Mumbai: https://www.meetup.com/Ethereum-India-Community-DLT-Smart-Contracts-Mumbai/
Chennai: https://www.meetup.com/Ethereum-Chennai/
London: https://www.meetup.com/Mobile-payments/
Mumbai: https://www.meetup.com/Fintechstormindia/
Hong Kong: https://www.meetup.com/Cryptoeconomy-Hongkong-Meetup/
Shanghai: https://www.meetup.com/Shanghai-CryptoCurrencies-Tokens-ICOs-Meetup/
Singapore : https://www.meetup.com/meetup-group-ohEvLZfS/
Dubai: https://www.meetup.com/Dubai-Cryptocurrencies-Tokens-ICOs-Meetup/
Delhi: https://www.meetup.com/Ethereum-for-Enterprises/
http://facebook.com/fintechstorm
http://facebook.com/capitalcoin11
@fintechstorm
@capitalcoinico
Anyone interested in learning more about speaking, sponsorship opportunities can contact team@himalayalabs.com or ping us on our telegram channel http://t.me/capitalcoinico
2 August 2018 London
Enlightening, Inspirational, Insightful
Join our Global ICO Roadshow in August September 2018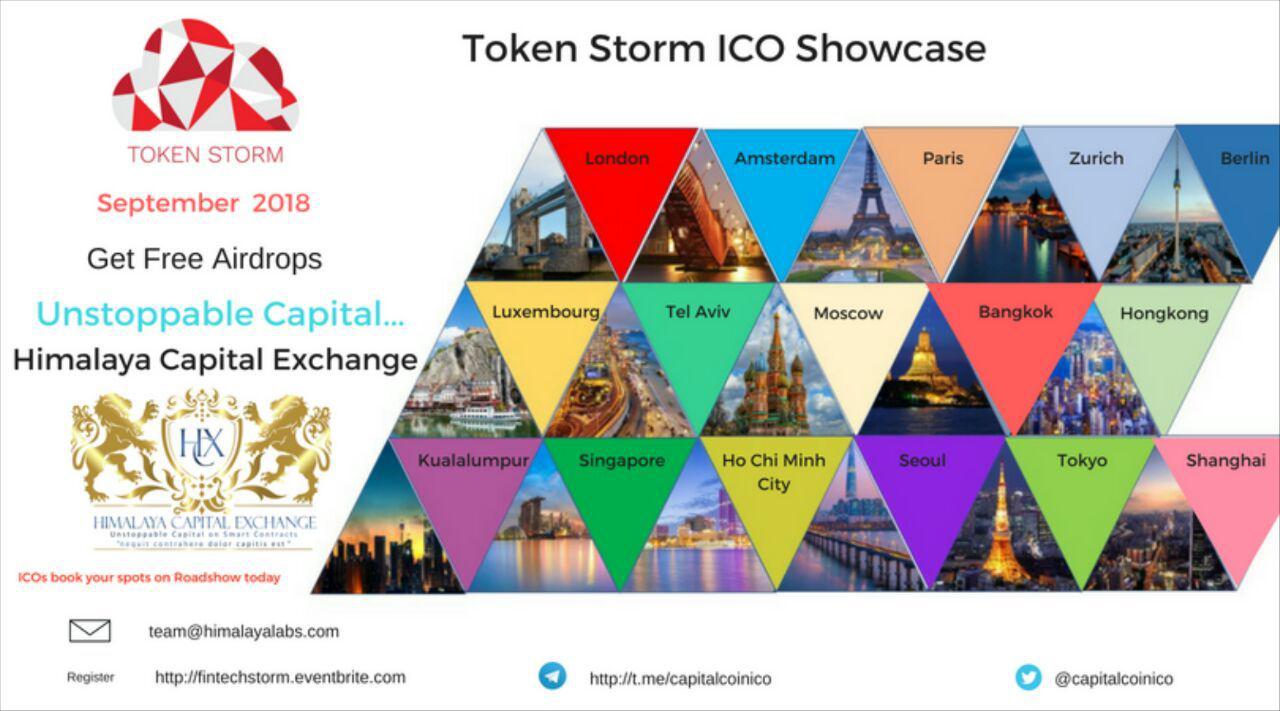 RSVP for any of our worldwide meetups here : http://fintechsorm.eventbrite.com
Watch a 3 Minute Video on our Roadshow
https://www.youtube.com/watch?v=Ni1-ri7JMVg&t=23s