Description
CRYPTO MINING FORUM (CMF) California
Date: August 31, 2019
Venue: Shenzhen Bay Innovation Center, Santa Clara
Ticket: Free (Limited)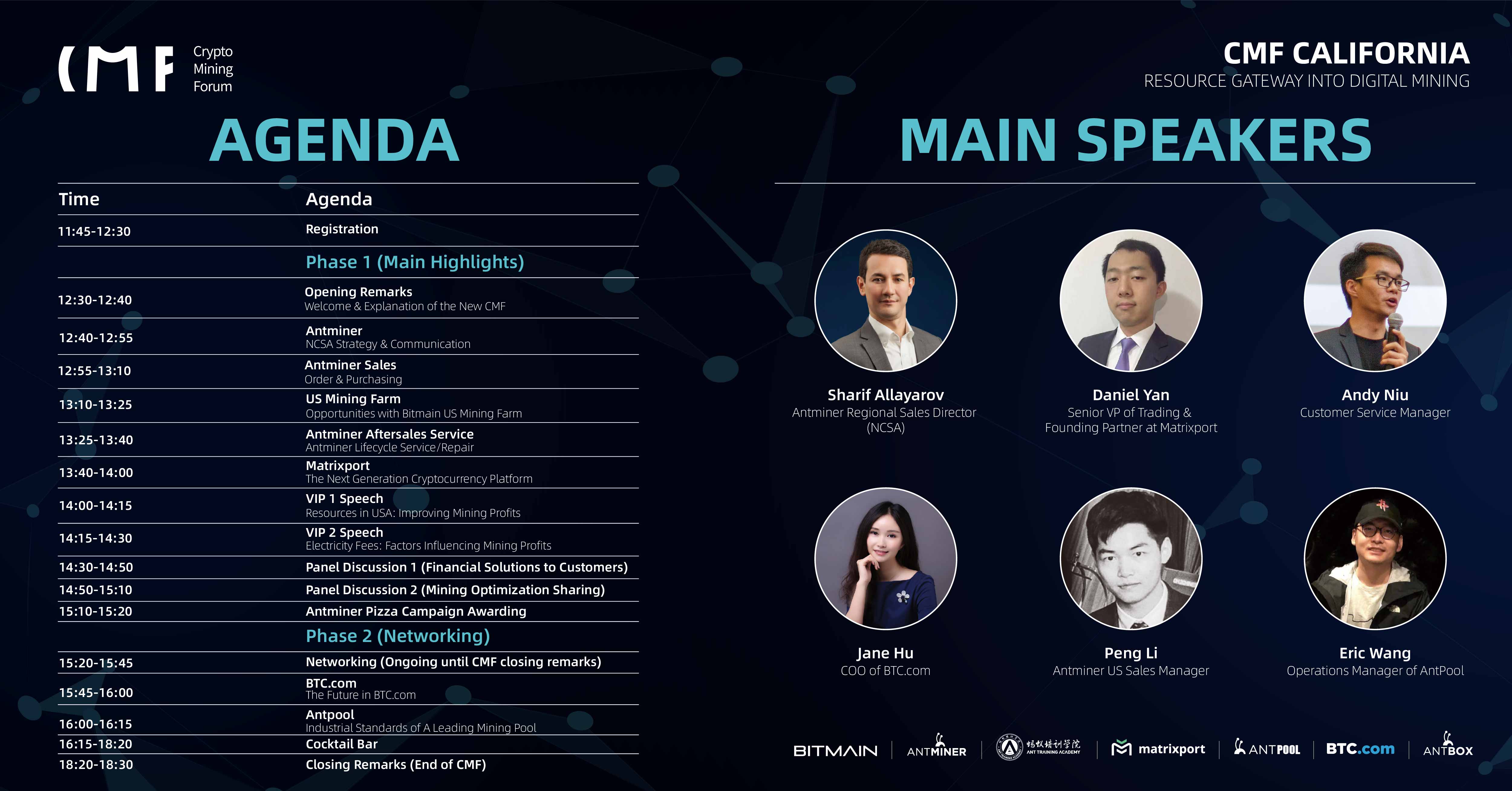 Introduction:
The main purpose of the Crypto Mining Forum (CMF) is to create a platform for sharing resources, networking, investment opportunities, and informing the community of Bitmain's latest products and roadmap in the North Central South America (NCSA) Region, so as to create a avenue where the community can come and share their ideas.
CMF will provide attendees the opportunity to speak and share their ideas, start partnerships, and discover new resources from Bitmain and other participants.
Topics and activities will include financial services, resource sharing, miner repair center, mining optimization, networking, panel discussions, and more! If you are curious to learn or further your experience and involvement in digital mining, then this is the event to attend!
RESOURCE GATEWAY INTO DIGITAL MINING.
Phase 1: MAIN EVENT
Attendees will discover Bitmain's Antminer brand's strategy into the NCSA region, the latest mining hardware, new solutions, and financial services to expand mining operations, and development of repair centers and co-hosting initiatives.
(Selected attendees will be invited to participate in presenting their ideas/investment plans and to join in the panel discussion)
Part 2: NETWORKING EVENT
The CMF event will open an exhibition section that showcases NEW Bitmain brands + Financial Services & Solutions.
There will be a special booth (Resource Sign-up), which will allow attendees to register their information that will later be used as resources in connecting customers together.
MEET. CONNECT. INVEST.
Previous CMF Events:
1st Stop: Miami 2018
https://www.youtube.com/watch?v=1cu3yWxKC60&t=33s
2nd Stop: Toronto 2018
https://www.youtube.com/watch?v=Flh8SMwAW18
3rd Stop: Kuala Lumpur 2018
https://www.youtube.com/watch?v=ocsyPqjqANY
4th Stop: Santa Clara, California! Become part of the next CMF event!
For further questions, kindly contact sales.ncsa@bitmain.com