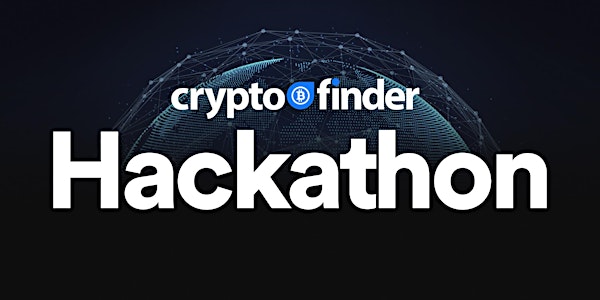 Crypto Finder Hackathon
When and where
Location
Level 2 99 York Street Sydney, NSW 2000 Australia
Description
Crypto Finder is launching its first ever blockchain hackathon, FREE and open to all coders and blockchain enthusiasts! We want to leverage blockchain technology to help people make even better decisions on Finder.
It's reported there are 2 billion people in the world who don't have a bank account. Blockchain technology could be the key to allowing more people access to banking products. It has the potential to improve people's lives, increase financial literacy and reduce poverty.
If you have an idea or want to be involved in an amazing project that can make a difference in people's lives, join us on Saturday February 24-25, 2018. The hackathon runs from 9am Saturday, February 24 and projects will be presented at 2pm, Sunday February 25. Venue will be open from 8am-10pm Saturday and 8am-7pm Sunday, with drinks following the event.
There will be first prize of 5 Ethereum (ETH) (worth approximately $5,500), 2nd prize 2.5 Ethereum (ETH) (worth approximately $2,750) and a 3rd prize of 1 Ethereum (ETH) (worth approximately $1,100).
Entry is free and there will be free meals, drinks, refreshments and snacks provided throughout the event.
See below for Ts&Cs. More details about the event, rules, criteria and FAQs here: https://www.finder.com.au/crypto-finder-blockchain-hackathon
By registering you are agreeing to abide by the terms and conditions of the event. In particular, you're confirming that your work will be your own and that you will not illegally use, present or infringe any other entity's intellectual property.
For further enquiries or sponsorship, please contact Michelle Hutchison, michelle@finder.com, +61403 192 994
Crypto Finder Blockchain Hackathon 24 to 25 February 2018 - Terms & Conditions - Game of Skill, Non-trade Promotion
By attending or registering for the 'Crypto Finder Hackathon' (Hackathon), a participant in the Hackathon (the Participant, you) agrees to abide by these terms and conditions. The Hackathon is facilitated by [Hive Empire Pty Ltd trading as finder.com.au (Finder, Crypto Finder)] of 99 York Street, Sydney NSW 2000 (we, us, our, Finder or the Company).

We may update the terms and conditions of the Hackathon at any time. Non-compliance with these terms may lead to a disqualification of the Participant or the Participant's team.

The Hackathon is a game of skill and chance plays no part in determining the winners of the Prizes.

Entry is open to people over the age of 18 years, including Finder employees [Finder employees must be on a team with at least one external non-Finder employee to be eligible]. Participants may plan, but must not build any part of their entry prior to 8:00am on Saturday, 24 February 2018. [You can participate in the Hackathon as an individual or a team up to 10 members]. Switching teams or participation in multiple teams is up to the individuals. We are not responsible for, and will not assist in resolving, any disputes between team members.

The Hackathon will start at 8:00am AEST Saturday 24 February 2018 and will close at 3:00pm AEST Sunday 25 February 2018 (Competition Period), with winners announced at 4pm. Development must be completed by 3:00pm AEST on Sunday 25th February 2018. Under no circumstances will further time allocation be granted or permitted.
Entry and Eligibility
To be eligible for prizes all participants will need to register via the website: https://www.eventbrite.com/e/crypto-finder-hackathon-tickets-43188954325] by 8:59am AEST Saturday 24th February 2018 and receive a confirmation email prior to
9:00am AEST Saturday 24 February 2018.

Participants must be physically present at the Hackathon at Level 2, 99 York Street, Sydney NSW 2000, Australia, from 8:00am AEST on 24 February 2018 until 7:00pm AEST on 25 February 2018. Participants must be available to present their creation with their team to the judging panel from 3:00pm AEST to 4:00pm AEST on 25 February 2018. You must make your own travel and accommodation arrangements and cover all associated costs and expenses. Participants must supply their own laptop and all other materials required for them to participate, internet wifi will be available. In no event, in particular in case of disqualification, will the Company reimburse any costs.

You, as a Participant, or each team, will be required to create and present to the judges a proof of concept solution using blockchain or other technologies, in line with the Company's vision, which is to "better all the world's decisions". You may only submit 1 entry if you are participating as an individual, or 1 entry per team if you are participating as part of a team. Incomplete entries may be disqualified.

A valid entry is deemed to be one which has been developed:

as an original work of the Participant (or of the respective team of Participants), solely as part of the Hackathon, and not in the course of employment for a third party;

by registered Participants, in accordance with these Terms and Conditions; and

without infringing on any third party rights or containing unauthorised confidential information.

We have no control over telecommunications networks and accept no responsibility for problems associated with them. We accept no responsibility for late, lost, incomplete, delayed, corrupted, illegible or misdirected entries whether due to error, omission, alteration, deletion, destruction, transmission interruption, tampering, theft, destruction failure or otherwise.
Judging Criteria
Chance plays no part in winning this Hackathon. Each valid entry will be individually judged by a panel of externally selected judges. The winning entrant will be the application or idea that scores highest according to the following criteria (as judged by the panel):
Score
1. Potential to make money: How will it be monetised? Does it have the potential to be used on Finder? Who will the paying clients be? How likely will it be successful? 0-15
2. Uniqueness of idea: Has it been done before or is it a revolutionary idea? How well does it fit with the Finder brand? 0-5
3. Leveraging of the technology: Does the technology adequately fit? Does it work? Has it been over-engineered? 0-5
4. How much awareness and attention the idea will create: How talkable is your idea? How compelling is it? Will it naturally spread through word of mouth? 0-10
5. The long-term utility of the idea: What value does it create for a person? Is it evergreen? Will it be relevant in 12, 24, or even 36 months? 0-15
6. The quality of the presentation: How well have you communicated the problem, the solution and how it will work? 0-3
7. The readiness of the idea to go live: Are there any barriers preventing it going live? What are the legal, compliance and business risks associated with the idea? 0-3
Each valid entry will obtain a score out of 51 points. The top 3 teams with the highest overall scores will win the 1st, 2nd and 3rd prizes, depending on the order of their final standing. In the event of a tie between two or more submissions, the panel of judges will vote on the tied submissions. The winners will be announced at the completion of the submission presentations, scheduled at 4:00pm AEST on Sunday 25 February 2018, and the names of the winners may be published on our website (www.finder.com.au and any related website pages).

The judges will have absolute and sole discretion when judging entries. The judges' decisions will be final and no correspondence will be entered into.

Entries may be subject to a due diligence review at any time for eligibility and compliance with these Terms and Conditions. Determination of eligibility and compliance is at the sole discretion of the panel of judges. The panel of judges reserves the right to disqualify any Entry if the Entry, or a Participant, or a team of Participants do not comply with these Terms and Conditions.
Prizes
The prizes will be awarded to as follows:

the Participant, or team of Participants whose entry is awarded the highest score by the judges will receive 5 Ethereum (equivalent to approximately AUD$5,500 as at February 20th, 2018);

the Participant, or team of Participants whose entry is awarded the second highest score by the judges will receive 2.5 Ethereum (equivalent to approximately AUD$2,750 as at February 20th 2018); and

the Participant, or team of Participants whose entry is awarded the third highest score by the judges will receive 1 Ethereum (equivalent to approximately AUD$1,100 as at February 20 2018),
(each a Prize and collectively the Prizes).
The total prize pool is up to 8.5 Ethereum (which is equivalent to approximately AUD$8,800 as at February 20 2018). If a Prize is unavailable for any reason, we may substitute it for one of equal or greater value.

All Prizes will be made available at the winners announcement (scheduled at 4:00pm AEST on Sunday 25 February 2018) and must be claimed on the day. Each winner will need to provide us with an Ethereum-compatible wallet address to allow us to transfer the respective Prize (or part of a Prize) to them.

A Prize cannot be transferred, exchanged or redeemed for cash or AUD currency. If any Prize is not claimed at the winners' announcement, that winner will forfeit their Prize. We will distribute the forfeited Prize to the next best valid entry that has not already received a Prize.

Each Participant acknowledges and agrees to accept the Prize in Ethereum, being a cryptographic token used to interact with the Ethereum Blockchain. You acknowledge that cryptographic tokens that possess value in public markets (including Ethereum) have demonstrated extreme fluctuations in price over short periods of time on a regular
basis. You should be prepared to expect similar fluctuations, both down and up, in the price
of Ethereum denominated in AUD, USD or BTC, or currencies of other jurisdictions. By entering the Hackathon and accepting any Prize in Ethereum, you expressly acknowledge
and represent that you fully understand that Ethereum may experience volatility in
pricing and will not seek to hold any of the Company, its directors, officers, agents and
advisors liable for any losses or any special, incidental, or consequential damages arising
from, or in any way connected to, any Prize or the price of Ethereum. It is also possible that the value of Ethereum will drop significantly in the future and could diminish to zero, and as such you agree to participate in the Hackathon and accept any Prize at your own risk.

In consideration for awarding a Prize to a winner, winners agree to participate in any promotional activity regarding winning the Prize and consent to their name and image being used in promotional material without payment.
Intellectual Property
Each party (or its licensors) will retain ownership of all copyright, moral rights, and rights in relation to inventions (including patents) (Intellectual Property Rights) subsisting in any material it provides or makes available to the other party under or in connection with the Hackathon. For the avoidance of doubt, any new intellectual property, including software or applications developed by Participants during the Hackathon shall be owned by the respective Participants. Where Participants jointly develop intellectual property, the Participants shall (unless agreed otherwise in writing) have joint ownership and use of that developed intellectual property. However, nothing in these terms shall give any Participant any rights or interest in any pre-existing intellectual property of another Participant.

You agree to give us and each related body corporate (as this term is defined in the Corporations Act 2001 (Cth)) of the Company (finder.com.au Pty Ltd) the first right to enter into good faith negotiations for:

the acquisition of the Intellectual Property Rights in their entry; or

the grant of a licence to us to use, modify, develop, communicate and/or sub-licence any Intellectual Property Rights in the entry on an exclusive basis; and

the provision of services to support the commercial development of the entry for our benefit.

You will not present or use content that is copyrighted, protected by trade secret or otherwise subject to third party intellectual property rights or other proprietary rights unless you are the owner of such rights or other proprietary rights unless you are the owner of such rights or have permission from their rightful owner to present or use the content and to grant and partners all of the rights granted here.

Participants are expected to respect the intellectual property developed by other Participants and it is a condition of these terms and conditions that Participants do not appropriate the intellectual property, or breach the confidentiality of, any other Participant.

The Hackathon is intended to foster the development of blockchain solutions and nothing more. We do not provide any warranty or guarantee about any intellectual property developed. The Company will neither decide on, nor adjudicate, disputes about the ownership of the intellectual property or parties' relative contributions to the development of that intellectual property. In the event of any dispute, Participants and teams will need resolve any legal disputes about their property rights independently.
Privacy
We are committed to protecting your privacy. During the registration process you will provide basic information such as your name, address, email and phone number and acknowledge these terms and conditions. The information will be retained by us. If you do not wish for your information to be shared you may contact us and request it be withheld. Our employees and contractors, on a need to know basis, may use some information collected during the registration process (for example, to verify your identity or to distribute the Prizes). For more information about our privacy practices, view our privacy policy at https://www.finder.com.au/terms-and-conditions.



Participants shall respect privacy in accordance with the Australian Privacy Principles – as set out in the Privacy Act 1989 (Cth) – and in general shall not share the any personal information about an individual (whether a fellow participants, or otherwise obtained during the course of the event) with third parties, without the consent of the individual.
General
Except where prohibited, by participating in the Hackathon, each Participant consents to the use of his/her name, photo and/or likeness, biographical information, entry and statements attributed to the Participant (if true) for advertising and promotional purposes, including without limitation, inclusion on our website, our sponsors' newsletters, or our sponsors' websites.

We will not be liable for any loss (including without limitation, consequential or indirect loss), cost or damage, personal injury or death which is suffered (whether or not due to the negligence of any person) in connection with entering the Hackathon or using any Prize, except any liability which cannot be excluded by law (and if so, that liability is limited to the minimum allowable by law).

We accept no responsibility for the tax implications of Prize winnings.

If for any reason the Hackathon is not capable of running as planned, we reserve the right in our discretion to change the time and date of the Hackathon and to modify any conditions of entry or participation. If any act, omission, event or circumstance occurs which is beyond our reasonable control and which prevents us from complying with these Terms and Conditions, we will not be liable for any failure to perform or delay in performing our obligations and we reserve the right (subject to any applicable law) to cancel, terminate, modify or suspend the Hackathon.

The laws of the state of New South Wales apply to these Terms and Conditions, and the parties submit to the non-exclusive jurisdiction of the courts in New South Wales.