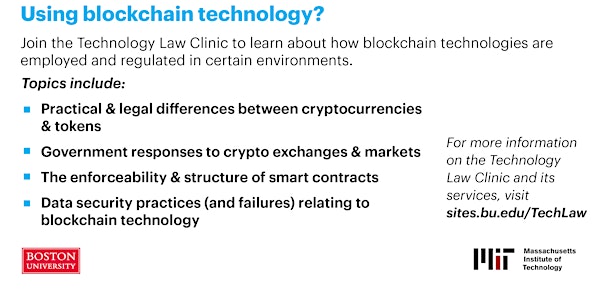 Crypto & Contracts & Breach, Oh My! Pressing Legal Considerations for Blockchain
When and where
Location
BUild Lab IDG Capital Student Innovation Center 730 Commonwealth Avenue Brookline, MA 02446
Description
Are you using blockchain technology?
Join the Technology Law Clinic to learn about how blockchain technologies are employed (and regulated) in certain environments, including information on cryptocurrencies, exchanges, and smart contracts.
Topics Include:
Practical and legal differences between cryptocurrencies and tokens
Government responses to crypto exchanges and markets
The enforceability and structure of smart contracts
Data security practices (and failures) relating to blockchain technology
The Entrepreneurship, Intellectual Property, and Cyberlaw Program's Innovation Law Lunch Talks bring BU Law faculty and students to the BUild Lab for presentations on a variety of legal issues often faced by student entrepreneurs, innovators, researchers, ventures, and startups.
For more information on the Technology Law Clinic and its services, visit sites.bu.edu/techlaw