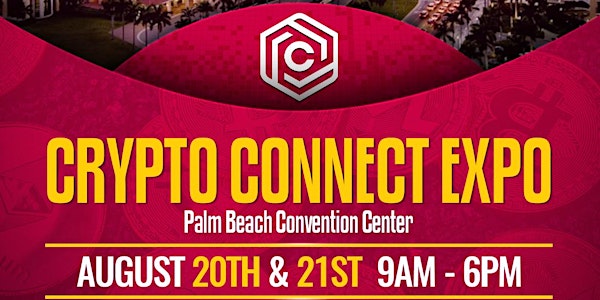 Crypto Connect Convention & NFT:Metaverse EXPO
Crypto Connect Expo is taking over the Palm County Convention Center bringing you the best educational & unforgettable experience!!
When and where
Location
Palm Beach County Convention Center 650 Okeechobee Boulevard West Palm Beach, FL 33401
Refund Policy
Contact the organizer to request a refund.
Eventbrite's fee is nonrefundable.
About this event
Crypto Connect & NFT:Metaverse Expo
2 Days, 50+speakers, 100+Vendors
Get your Early Bird Tickets Before Prices Increase!
Sponsorship Opportunities Available: 561-929-4533
We are focused on creating a hands-on and interactive environment for attendees where they can learn, educate, network & have an unforgettable experience at our convention in Palm Beach. With endless knowledge & education with our team, everyone will leave with a better understanding of cryptocurrency, blockchain technology virtual real estate, Web 3 , NFTs & the Metaverse.
Benefit from amazing speakers, companies and educators discussing all variety of topics in the cryptocurrency field.
Our focus from our event is to connect all aspects of people, businesses, brands, teams & investors into the crypto world together. As more education & knowledge is connecting together we can all grow & adopt for what the future holds.
Crypto Connect has been hosting and putting together events all of 2021 and 2022 to stronger grow our community to give you the best show we can provide.
Affiliated Events:
Delray Crypto Conference
Palm Beach Crypto & NFT Conference
Call: 561-929-4533 : Sponsorship / Vendors Guest Speaker Opportunities & More Info
CRYPTO CONNECT & NFT EXPO OFFICIAL SATELLITE EVENTS:
http://cryptoconnectevents.eventbrite.com
GUEST SPEAKERS & MORE TBA
(50+ Speakers)
CORINNE FLORENCE
(Crypto Educator & Influencer)
BILL WALSH
(Founder of Power Team International)
JASON STONE
(Founder of Millionaire Mentor)
JC IRURZUN
(Founder of STF Academy)
ADRYENN ASHLEY
(Woman Influencer of 2019)
DAN MCNEFF
(Legally Mine)
STEVEN ROSENBERG
(Media Resources)
LAMAR ODOM
(NBA Basketball 2X champion)
DR. RAVI SINGH
(Founder of Social Pay Me)
ALYZE SAM
(Award Winning Tech Author & Serial Fintech Co-Founder)
CODY KERNS
( Funds Manager at Kerns Capital)
JENNA,KEVIN,ALEX & JOSH
(Pineapples in Paradise NFT)
DAMON FELDMAN
(Creator & CEO of Celebrity Boxing)
BITCOIN RODNEY
( Meta-Utopia )
MEGAN NILSSON
(High End Crypto & NFT portfolio consultant)
ZACH & DANNY
(Mozverse Metaverse)
SPOTTIE WIFI
(CryptoPunk Rapper)
ERIK LAPIGLA
(Co-Founder of Miami NFT)
LAURA RODRIGUEZ
(Founder & Host of the Miami Ape)
SAMMY ARRIAGA)
(Music NFTs & Meta Girl)
VIOLETTA ZIRONI
(NFT Music)
FAMOUS DYL
(Crypto Music)
SEBASTIAN RUSK
(Podcast Host)
TONY EVANS
(Crypto Enthusiast)
BENJAMIN HORBOWY
(Founder of FLA Dao)
JOHN MADEY
(Founder of American Coin)
XERXES FRECHIANI
( Double X)
FRANK CURZIO
(Founder of Curzio Research)
JOEL ALVAREZ
(Founder of Black Tape Project)
ENZO WOLFE
(Wolf of Web3)
JAKE CORTEZ
(Web3 Advisor)
JEFF CREEGAN
(Real Estate)
MELITSA WAAGE
(Founder of Epic Talks Miami)
MICHAEL FONESCA
(Defi Educator)
ALVARO NUNEZ
(Super Luxury Group)
JOHNNY K
(Billionaire Zombies Club)
MIKE ASHABI
(Founder of True Life Ventures)
POLINA GROMAN
(Media Whisperer)
GAREB SHAMUS
(CEO of Hero Maker Studios)
VIRGILIA VIRJOGHE
(The Brand Architect)
MINA MOVES
(Founder of Alpha X)
SCOTT GASS
(Tony Robbins Team Speaker)
FRED GREENE
(Founder of Origin)
SANJEEV BIRARI
(Founder of Realto Group)
HEATHER RAY DOYLE
(Founder & CEO of CoinQueens
EUGENIO GARZA
(Marketing Strategist)
JOSEPH LOIA
(Founder of Team Wen Moon)
MARIANA BERNARDO
(Product Director of OWL Protocol)
JERRY CONTI
(Founder of Linxstr)
JOHN HUMPHREY
(Chief Sales Officer of Linxstr)
JEAN RENEL
( Tag Protocol NFTs )
JACLYN MILFORD
(Women of Wall Street)
DAMON FELDMAN
(Founder of Celebrity Boxing)
LAURA COLE & MICHELLE ABBS
(Web 3 Equity)
JORDAN GITTERMAN
(Founder of IOU)
JAMEEL McCLINE
(Founder of BTInnovations)
MO HASAN
( Financial Straategist)
BRANDON GINSBERG
(Palm Tree NFT)
CHRISTOPHER BERRIOS
(WallStreetsBets FB)
RYAN HORST
(Crypto Educator)
MIKE SOTERO
(Defi Educator & Crypto Consultant)
HARRY SHUREK
(Crypto Educator)
JORDAN HAROLD
(Founder of Blackchain.io)
JEFF CREEGAN
(Crypto & Real Estate)
CAMERON THOMPSON
(Founder of Cmetat)
JULIO CACERES
(Founder of BRiX)
GABRIELLE PELICCI
(Co- Founder of Catchfire.co)
LAURA PAMATIAN
(HeightZero Consulting)
JARED BLAKE NAMM
(Berman Law Group)
CAMERON THOMPSON
(Cmetat Inc)
BRIAN BREACH
(Web3 Universe City & CEO of Make Me Viral)
ANDREA OCAMPO
( Web3 Universe City & Founder of HBU Media)
CLAUDIA PIMENTAL
(Mindset Mentor & Career Dev Leader)
PETE PARENTE
(Founder of Greed Token)
KIM WILLIAMS
(Woman In Web3)
PAUL VOWELL
(Founder of 4D Fun)
LULI SULICHIN
(Miami Tech Enthusiast)
CAROLINA DAVILA
(InfoSec Business Archtiect, Cisco Systems)
JOHNATHAN FOLTZ
(Co-Founder of Legion)
BEN COURIS
(CEO of Modern Edge Collective)
ADIN JACOBS
(COO of Modern Edge Collective)
RYAN GIFFIN
(Crypto Enthusiast)
🏆 NFT KIDS ZONE 🏆
Artists & Special Guests
Jessy Artman & Friends
Lamar Odom
Izzy Drake
Famous Dyl
Fame Faiella
Violetta Zironi
GRAFH.eth
Media Coverage
Vibe95 Palm Beach
Asiana News
WPTV
AFFILIATED PARTNERS & SPONSORS
(100+ Sponsors)
STF Academy
Celebrity Boxing 🥊
Blockchain Center of Miami
Dynamics Mining
Only in Palm Beach TV
Bit Basel
South Florida Tech Hub
Berman Law Group
Mission Impact
NFT Nashville
Bad Crypto Podcast
Next Finance Technology
Upstream
World of Women
VV Global Partners
Yacht Group International
Curzio Research
Mozverse Metaverse
Idyllio
Odyssey Mushroom Elixir
XCLSV.io
Crypto Famous
Rush49
Bitcoin Wallet
Ovato
Brix
Tangled
Millix
CoinQueen
Gopx
Bit Basel
The Brand Architect
Sea Sirens
Tsar Caviar
EES Design Studio
Team Wen Moon
Little Boss Kids
Shibzoids
Goddess of the Elements
Eleven Vodka
Temanatu Kava
Legion
Treasure Coast Bullion Group
Tag Protocol
Wealthy Vibes
321 Travel Club
Secuirty Token Advisors
Defiant Platform
Origin
Black-chain
Lab Miami
Realto Apps
Project 3
Metta Protocol
Metta Motors
Zavo Media
Mellow Fellow
Make Me Viral Media
Flote App
Greed Music Token
Palm Tree NFT
Blockchain Aggregator
Leaf Filter Gutter
Storm Tight Windows
Mandela Magazine
Leaf Water Solutions
The Jockey Experience
Society.io
LinxSTR
Owl Protocol
Ccap
Cobra Helix
Fiatleak
MissoCool Girls NFT
Blocchain
4dfun
HigherSelphy
Uplift
Sylvia Brazil Enterprises
Art Brazil
1331 Recordz
Creegan Realty
Outrageous Bully
Meta V
Trader Lifestyle
Atoll
It's Not Art
4EVR Raw
NFT Gang Biz
Linked Up
SMR Entertainment
Social Pay Me
Black Tape Project
Molly NFT
Modern Edge
Asiana Post News
Web Equity
NFT Kids Magazine
Cannaverse Club
Florida Dao
Petez Pop
Miss O Cool Girls
Crypto Chamber
Bloccchain
Blum Art
Dark Knight Art
Give A Little Bit
Height Zero
Bette HochBerger CPA
Cmetat
Oozoids NFT
Guiltless To Go
Oditto
K.E.C. Art
Honey
Clematis Social
Meyers Lounge
335 Capones
Hideaway Palm Beach