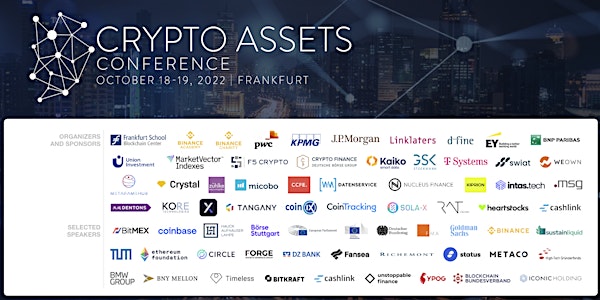 CRYPTO ASSETS CONFERENCE 2022 - #CAC22B
Discover the recent developments in Blockchain, Crypto Assets, Metaverse NFTs, and the Digital Euro at the Crypto Assets Conference #CAC22B.
When and where
Location
Frankfurt School of Finance & Management Adickesallee 32-34 60322 Frankfurt am Main Germany
Refund Policy
Contact the organizer to request a refund.
About this event
About #CAC22B
The world of digital assets is changing rapidly. Cryptocurrencies like Bitcoin and Ethereum mature, DeFi protocols and NFTs grow at a rapid pace, Metaverse is the tech's newest trend, the Digital Euro is being discussed frequently and blockchain technology has more use cases than ever. Digital assets are here to stay, and their future is brighter than ever before.
Join over 300 guests each day on-site and 5,000+ online attendees on October 18 & 19 at the Crypto Asset Conference 2022 in Frankfurt to get up to date on the latest trends in the industry! At one of Europe's leading digital assets conferences, a diverse range of thought leaders and industry experts will unite to talk about all things crypto. Look forward to top-level content about current trends in DLT, blockchain and crypto assets through speeches, discussions, and pitches on the following topics:
Day 1 (Tue., October 18, 2022): Bitcoin, Crypto Assets, Smart Contract Platform, DeFi, Metaverse, NFTs and Inflation
Day 2 (Wed., October 19, 2022): Digital Securities, Digital Assets, Digital Euro, Infrastructure, MiCA, Custody and Sustainability
The #CAC22B will be a hybrid event including on-site attendance in line with social distancing regulations and a livestream event. You will have networking opportunities on-site. In short: physical networking and a hybrid (remote/physical) conference.
Visit our website for more information: www.crypto-assets-conference.de
Speakers on all two days include (continuously updated)
Helen Hai (Binance Charity)
Alexander Höptner (BitMEX)
Sascha Rangoonwala (Coinbase)
Prof. Dr. Philipp Sandner (Frankfurt School Blockchain Center)
Stefan Povaly (J.P. Morgan)
Basak Toprak (J.P. Morgan)
Gayathri Vasudev (J.P. Morgan)
Simon Seiter (Hauck Aufhäuser Lampe)
Andreas Traum (PwC)
Konstantinos Dagianis (PwC)
Jens Siebert (KPMG Deutschland)
Joshua Ashley Klayman (Linklaters)
Dr. Oliver Vins (Börse Stuttgart)
Dr. Jan Rosam (Ernst & Young)
Magnus Jones (Ernst & Young)
Dr. Stefan Berger (European Parliament)
Dr. Joachim Schwerin (European Commission)
Frank Schäffler (Deutscher Bundestag)
Katharina Strohmeier (Austrian Financial Market Authority)
Andrei Kazantsev (Goldman Sachs)
Katharina Gehra (sustainliquid)
Prof. Dr. Isabell Welpe (Technische Universität München)
Vivek Chikballapur (J.P. Morgan)
Suresh Shetty (J.P. Morgan)
Max Eberle (KPMG Deutschland)
Felix Kramer (KPMG Deutschland)
Michael Wild (Binance)
Alexander Wüst (Binance)
James Aslett (Binance Academy)
Philipp Sostmann (PwC)
Marius van der Wijden (Ethereum Foundation)
Patrick Hansen (Circle)
Dr. Marcus Hennig (d-fine)
Dr. Marc Henniges (d-fine)
Dr. Florian Reul (Linklaters)
Sebastian Dey (Linklaters)
Kurt Zeimers (BNP Paribas)
Veronique Steiner (J.P. Morgan)
Emma Lovett (J.P. Morgan)
Christoph Hock (Union Investment)
Martin Leinweber (MarketVector Indexes)
Florian Döhnert-Breyer (F5 Crypto)
Jan Brzezek (Crypto Finance)
Philippe Redaelli (Kaiko)
Dr. Timo Bernau (GSK Stockmann)
Dr. Tobias Riethmüller (GSK Stockmann)
Alexander Ebeling (T-Systems MMS)
Dirk Röder (T-Systems MMS)
Maximilian Beyer (T-Systems MMS)
David Durouchoux (Societe Generale - FORGE)
Dr. Holger Meffert (DZ Bank)
Jonathan Leßmann (SWIAT)
Sascha Ragtschaa (WeOwn)
Nicolas Weber (MetaGameHub)
Marina Khaustova (Crystal Blockchain)
Hedi Navazan (Crystal Blockchain)
Klaus Alfert (Zühlke Engineering)
Markus Honvehlmann (Micobo)
Rino Borini (CCFE)
Julian Liniger (CCFE)
Jürgen Weidmann (WM Datenservice)
Duc Au (WM Datenservice)
Justus Schreiner (Nucleus Finance)
Rhodel D'souza (J.P. Morgan)
Charles Lim (J.P. Morgan)
Brody Mulderig (J.P. Morgan)
Jonas Jünger (Kiprion)
Dirk Findeisen (msg Rethink Compliance)
Hagen-Thomas Weiss (Dentons)
Volker Braunberger (INTAS.tech)
Sandra Sohn (INTAS.tech)
Eduard Grigorjan (INTAS.tech)
Carla Bünger (Kore Technologies)
Susanne Fromm (coinIX)
Berken Menges (CoinTracking)
Georg Oehme (RAT Factory)
Pedro Lopez-Belmonte (Richemont)
Alexander Schlicher (Fansea)
Dr. Agata Ferreira (Status.im)
Seamus Donoghue (Metaco)
Dr. Alex von Frankenberg (High-Tech Gründerfonds)
Benjamin Duve (BNY Mellon)
Dr. Hamid Haqparwar (BMW Group Middle East)
Jan Karnath (Timeless)
Jens Hilgers (Bitkraft)
Michael Duttlinger (Cashlink)
Peter Grosskopf (Unstoppable Finance)
Dr. Anika Patz (YPOG)
Moritz Schildt (Bundesblock)
Dominik Poiger (Iconic Holding)
Michael Spitz (360X)
Anna Graf (Arvato Systems)
Alireza Siadat (Annerton)
Max Heinzle (21finance)
Felix Fernandez (21e6 Capital)
Dr. Sebastian Banescu (Quantstamp)
Kai Kuljurgis (coindex)
Thomas Langbein (Blocksize Capital)
Lucas Zaehringer (Blocksize Capital)
Till Rügge (heartstocks)
Enno Henke (heartstocks)
Dr. Jonas Gross (Digital Euro Association)
Tamara Ferreira Schmidt (Digital Euro Association)
Cara Reuner (ECOTA)
Maximilian Roesgen (ECOTA)
Sheraz Ahmed (Crypto Valley Association)
Wolfgang Männel (Blockchain Founders Group)
Arno Pernthaler (DEC Institute)
Jerome Cochet (goodcarbon)
Oliver Rummel (DFX Swiss)
Frank Wagner (Invao)
Christian Viehof (ITSA)
Philipp Schulden (Rudy Capital)
Sarah Gottwald (Cryptofinance.vs)
Tim Schuldt (Callirius)
Alexander Wehnert (Börsen-Zeitung)
Fabian Kroll (Kasuria)
Olaf Hannemann (CV VC)
Maximilian Bruckner (21e6 Capital)
Nils von Schoenaich-Carolath (tradias / BHS)
Dr. Annette Doms (xcircle)
Oliver Schantin (basenode.io)
Dr. Oliver Krause (Advantum Ventures)
Benjamin Horvath (Blockrocket)
Maria Eneva-Olms (EkoLance)
Marcel Kaiser (Defiria)
Topics breakdown
Day 1 (Tuesday, October 18, 2022): Bitcoin, Crypto Assets, Smart Contract Platform, DeFi, Metaverse, NFTs and Inflation
Bitcoin, Ethereum and other crypto assets: Development, potential and performance
Metaverse & NFTs: The disruptive potential of Web3 and the Metaverse
Decentralized Finance (DeFi): The emergence of a new financial system - potentials, risks and outlook
Day 2 (Wednesday, October 19, 2022): Digital Securities, Digital Assets, Digital Euro, Infrastructure, MiCA, Custody and Sustainability
Digital Securities: Recent developments, new regulations and tokenized assets, funds and equity, Digital Euro
Infrastructure: IT security, AML analytics, custody services, service providers
Sustainability: Token-based CO2 offsetting, certificates and financial inclusion
Location and date
Location: Online via streaming access; On-site at Frankfurt School of Finance & Management
Dates: Tuesday, October 18, 2022, 09:00 CEST until Wed, October 19, 2022, 18:00 CEST
Language: English and German
Tickets
Journalist/Media: Please contact us (team@fs-blockchain.de) if you wish to attend as a Journalist or Media Partner and we can provide you with a Journalist-Ticket to attend the conference in person.
Registration via Eventbrite required: Participants will automatically receive an invoice after the ticket purchase is completed.
Refund Policy: No refund of the ticket price is possible.
Who should participate?
This conference is ideal for the people who seek to understand crypto assets and are interested in talking to practitioners to be able to judge these new developments:
Investors in new technologies, venture capitalists, crypto investors
Startups and founders that are interested in understanding crypto assets
Financial organizations (banks, investment funds, asset management) in all industries
Employees in the area of business development and digitization in all industries
Lawyers, consultants, and analysts (with IT or business background)
Contact
Frankfurt School Blockchain Center
Email: team@fs-blockchain.de
Phone: +49 69 154 008-790
Internet: www.fs-blockchain.de
About the Frankfurt School Blockchain Center
The Frankfurt School Blockchain Center is a think tank and research center which investigates implications of the blockchain technology for companies and their business models. Besides the development of prototypes, it serves as a platform for managers, start-ups, technology and industry experts to share knowledge and best practices. The Blockchain Center also provides new research impulses and develops training for students and executives. It focuses on banking, mobility, "Industrie 4.0" and the energy sector.
Further information can be found on the Website, on Facebook, or via Twitter.