Dieses Event ist beendet.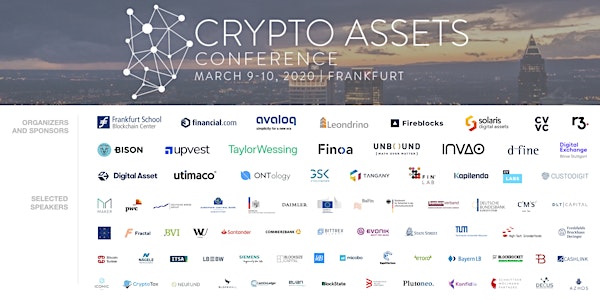 Crypto Assets Conference 2020 (CAC20)
Zeit und Ort
Veranstaltungsort
Frankfurt School of Finance & Management Adickesallee 32-34 60322 Frankfurt am Main Germany
Karte und Wegbeschreibung
Rückerstattungsrichtlinie
Keine Rückerstattungen
Beschreibung
Blockchain technology was born through the invention of Bitcoin and has since then created hundreds of digital assets and spurred the development of business models building on decentralized networks. The conference covers both the public blockchain (crypto assets) and the enterprise blockchain domain (DLT). CAC20 makes the audience familiar with the current trends in DLT, blockchain and crypto assets:
Custody of digital assets, Bitcoin and other crypto assets, token protocols, decentralized finance (DeFi)
Blueprint DLT-based capital market, tokenized securities, securitized tokens (ETFs)
Digital euro, tokenizations of cash flows, machine-2-machine payment processes
Investors'/VCs preferences, security tokens
Regulatory developments in Germany (new crypto law, blockchain strategy) and the Liechtenstein Blockchain Act.

Speakers for example include
Dirk Bullmann, European Central Bank (ECB)
Dr. Joachim Schwerin, European Commission
Dr. Lukas Repa, European Commission
Hagen-Thomas Weiss, BaFin (German FMA)
Jacek Czarnecki, Maker Foundation
Dr. Günther Dobrauz-Saldapenna, PwC
Michael Spitz, Main Incubator / Commerzbank
Dr. Thomas Dünser, Regierung Liechtenstein (Government Liechtenstein)
Alexander Höptner, Börse Stuttgart
Dr. Ulli Spankowski, BISON, Börse Stuttgart
Mauro Casellini, Bitcoin Suisse
Simon Seiter, Deutsche Boerse
Mike Ward, R3
Felix Holtermann, Handelsblatt
Dr. Harry Behrens, Daimler Mobility
Dr. Martin Diehl, Deutsche Bundesbank (German Central Bank)
Rudolf Siebel, BVI, German Investment Funds Association
Rene Reinsberg, Celo
Olaf Hannemann, CV VC
Prof. Dr. Philipp Sandner, Frankfurt School Blockchain Center
Dr. Shermin Voshmgir, BlockchainHub Berlin
Prof. Dr. Isabell Welpe, Technische Universität München
Dr. Nina-Luisa Siedler, INATBA
Francisco Fernandez, Avaloq
Dr. Alex von Frankenberg, High-Tech Gründerfonds
Dr. Matthias Hirtschulz, d-fine
Daniel Resas, Schnittker Möllmann Partners
Dr. Thomas Schönfeld, PwC
Henrik Gebbing, Finoa
Stefan Schütze, Finlab
Max Lautenschläger, Iconic Funds
Christian Labetzsch, Blocksize Capital
Daniel Wingen, Value of Bitcoin Conference
Marc Friedrich, Bestseller Author
Manuela Sedvartaite, Santander
Ines Cieslok, StateStreet
Swen Werner, StateStreet
Johannes Jensen, eToroX
Thomas Nägele, NÄGELE Attorneys
Serkan Katilmis, Cash-on-Ledger
Michael Duttlinger, CASHLINK
Klaus Himmer, CryptoTax
Laurenz Apiarius, Blockwall
Dr. Mervyn Maistry, Konfidio
Oliver Michel, Tokentus Investment
Sebastian Blum, Greenfield One
Florian Huber, Signature Ventures
Sebastian Markowsky, Blockchain Valley Ventures
Martin Kassing, Upvest
Rebecca Aspler, Unbound
Martin Wörner, Custodigit
Alexis Hamel, Solaris Digital Assets
Jens Siebert, Kapilendo
Julian Leitloff, Fractal
No speaker; just exhibition partner
No speaker; just exhibition partner
Dr. Markus Kaulartz, CMS
Dr. Markus Benzing, Freshfields Bruckhaus Deringer
Alireza Siadat, thinkBLOCKtank
Alex Melikhov, Equilibrium
Martin Valenta, Micobo
Benjamin Schaub, Plutoneo
Benjamin Horvath, Blockrocket
Tony Oehm, AZHOS
Thomas Müller, evan.network
Nils Bundi, Atpar
Dr. Carsten Stöcker, Spherity
Constantin Ketz, International Token Standardization Association (ITSA)
Dr. Manfred Lochter, Bundesamt für Sicherheit in der Informationstechnik (BSI) (Federal Office for Information Security)
Heinz-Günter Lux, Evonik
Joachim Erdle, LBBW
Marcel Milde, Siemens
Alexander Molé, Neufund
Frank Wagner, Invao
Priyank Kumar, Utimaco
Idan Ofrat, Fireblocks
Stephen Richardson, Fireblocks
Peter Reuschel, Leondrino
Gloria Wu, Ontology
Bernhard Elsner, Digital Asset
Max Heinzle, 21.finance
Olga Feldmeier, Smart Valor
Hansen Wang, Amun
Stephan Rind, Brickmark
Vik Dua, BitPay
Ekaterina Bozoukova, RTX21
Michael Weber, DIA Data
Katharina Gehra, Immutable Insight
Peter Eulberg, Anyblock Analytics
Simon Peters, DECUS Network
Hansjörg Hettich, Multichain Asset Managers Association (MAMA)
Jörg Hermsdorf, Conserve
Philippe Meyer, Avaloq
Kay Meyer, European Media Finance
Maximilian Forster, Blockchain Bayern
Jonas Gross, Frankfurt School Blockchain Center
Victor von Wachter, DeFi Research Fund
Sergej Stein, DLT Capital
Angela Kreitenweis, Token Engineering Global Community (TEGG)
Oliver Naegele, Blockchain Helix
Sergio Martins Pereira, Coindex
Dieter Brockmeyer, Diplomatic World
The Frankfurt School Blockchain Center together with financial.com jointly organize the Crypto Assets Conference 2020 which will take place on the campus of the Frankfurt School on March 9 and 10, 2020.

The conference aims at bringing together experts from the newly emerging scene of crypto assets and experts from the traditional financial industry to discuss the following questions:
Digital euro and digital cash: Will Euro-on-blockchain disrupt financial business models? What role could digital identities in this context? How to view CBDC, Libra and China's digital yuan?
Regulatory developments: What impact will have Germany's new crypto law and its blockchain strategy? What can we learn now that the Liechtenstein Blockchain Act is in force?
Custody of digital assets: How do traditional financial institutions view the advance of crypto custody regulation and what does this mean for the adoption of crypto assets? Which crypto custody service providers do exist?
DLT: How could the blueprint for future capital markets look like? Which technological platform should we choose? Will DLT revolutionize Delivery-versus-Payment (DvP)? How important will programmable money be?
Bitcoin and other crypto assets: What can be expected from the 11-year old Bitcoin? Will Bitcoin ETFs channel investments into crypto assets? Will the Bitcoin predominance prevail?
Industrial solutions: Which industries are leading regarding machine-2-machine payments, supply chain finance or process automation? How can machines, sensors, cars and their cash flows be tokenized?
Decentralized finance (DeFi): What will be DeFi's impact on traditional capital markets? Which protocols should be regarded? Do we witness the emergence of the future capital market? How can it be regulated?
Securitization: How can securities, equity, debt and other assets be tokenized? What is the status quo for the primary market and the secondary market?
Investors and venture capital (VC): Will STOs and tokens disrupt traditional venture capital? What are VCs' preferences for 2020?
Asset management: Are digital assets "institutional ready"? Is Bitcoin an interesting investment target, or not? Which new business models exist for asset managers and brokers?
International perspective: What types of tokens exist and how should they be regulated? Will China, the USA or Europe be the "blockchain continent"?
Startups: Which blockchain startups should be watched?


Location and date
Frankfurt School of Finance & Management
Mon., March 9, 2020, 13:00 until Tue., March 10, 2020, 17:00
Language: German and English
Registration via Eventbrite required; Participants who might not want to pay via credit card on Eventbrite can contact us; this way we will provide an invoice which would then be paid e.g. via bank transfer.


Agenda

The agenda is work in progress. See here the current version of the agenda; it is still subject to changes. We will soon provide the final version.
More details: www.crypto-assets-conference.de


Who should participate?
This conference is ideal for the people who seek to understand crypto assets and are interested in talking to practitioners to be able to judge these new developments:
Investors in new technologies, venture capitalists, crypto investors

Startups and founders that are interested in understanding crypto assets

Financial organizations (banks, investment funds, asset management) in all industries

Employees in the area of business development and digitization in all industries

Lawyers, consultants, and analysts (with IT or business background)
Contact
Frankfurt School Blockchain Center

Email: team@fs-blockchain.de

Phone: +49 69 154 008-790

Internet:

www.fs-blockchain.de
Refund Policy
A possible refund of the ticket price is subject to the following policy:
Until 3 months before the conference is held: 100% refund of the ticket price

Until 1 month before the conference is held: 50% refund of the ticket price
Less than a month before the event is held: 0% refund of the ticket price
About the Frankfurt School Blockchain Center
The Frankfurt School Blockchain Center is a think tank and research center which investigates implications of the blockchain technology for companies and their business models. Besides the development of prototypes, it serves as a platform for managers, start-ups, technology and industry experts to share knowledge and best practices. The Blockchain Center also provides new research impulses and develops training for students and executives. It focuses on banking, mobility, "Industrie 4.0" and the energy sector.
Further information can be found on the Website, on Facebook, or via Twitter.
Our partners
financial.com
financial.com is a leading provider of customized web-based financial information and trading systems.