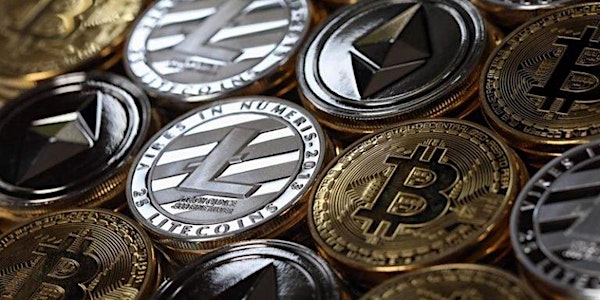 Crypto 101 - Learn about crypto and start getting involved
Crypto 101 - Introduction to Crypto, terminology and how to start getting involved.
When and where
Location
701 Marshall St 701 Marshall Street Allegan, MI 49010 United States
About this event
Mr. Ludema (Instructor BIO Below) will be hosting classes at the Robinson Manor, 701 Marshall St, Allegan, MI on crypto to educate individuals/ the community on what it is, how it works, and how they can be a part of the crypto revolution. The series will involve 2 classes. A basic, and an Intermediate/advanced class. A summary of the topics are as follows:
CLASS SUMMARIES:
1) Crypto 101 (Up to 2.5 hours)
-What is Crypto, how did the modern rage begin?
-Crypto terminology – Learn many acronyms and terms to help you understand what the heck people are talking about!
-Places to research prices, the technology, and free access to my community group to help keep you up to date even after the class!
-Where to buy, trade crypto as a noob (aka beginner).
-The Evolution of Crypto and emerging markets/technologies (None of this training should be construed as financial advice).
-Time permitting, I will help walk you through setting up various accounts to start your crypto journey.
2) Crypto 11001001 (up to 3 hours)
-Intermediate: *Defi, Gamefi, non-custodial wallets, pitfalls, frauds, scams, How to DYOR (Do Your Own Research), learn from my mistakes, social networks and how they work with DYOR.
-In this section you will set up your own accounts to play with, or in the future actually use. You may bring a phone or laptop. Android devices work best (and sometimes only work). Laptops/computers can do it all (Have Chrome or Brave browsers installed)
-Advanced: This is where your brain will start to hurt if it hasn't already. We will discuss new projects, how to research them, how to get on white lists to get discounted items and be the first into a project before it potentially "moons" 😊. This section will primarily be open discussion and walkthroughs.
*If you don't understand any of the terms used above you will want to attend the basic class.
ADDITIONAL CLASS INFO:
Minimum class attendance to hold a class is 10. Maximum is 35.
Costs (does not include Eventbrite Fees):
Crypto 101 = $35.00
Crypto 11001001 = $40.00
Both = 75.00
Bonuses:
Free access to my community server for continual educations, project updates, new projects, QnA of myself and other users as the community grows.
Water and Coffee will be provided, and a snack to fuel the brain during the class.
Class Schedule:
Beginning May 2022:
Classes will run for 2 months, May and June. 2 basic and 2 advanced classes. When ordering please be sure you are signing up for your desired dates. No refunds, but I am willing to transfer tickets to other dates if space is available.
If we fill up I will do more in the future.
ABOUT THE PRESENTER:
James Ludema is the CEO of Calutech Digital Services LLC and Detective Sergeant Investigator with the Holland Department of Public Safety (HDPS). He started his career at HDPS in 1999 as a Patrol Officer. In 2005 he was assigned to the Detective Bureau and was tasked with creating the department and area's first digital forensics lab, which was completed and operational by the end of 2005.
Since starting the HDPS digital forensics lab, Mr. Ludema has investigated all types of crimes and has conducted digital forensics examinations of several thousand items of digital media for crimes from stolen property, to international fraud, to homicide. He has assisted multiple Federal, State, and Local agencies in the investigation and analysis of digital evidence. Mr. Ludema has also testified as a digital forensics expert in both state and federal courts.
Mr. Ludema has a long history in the technology field and started his own home computer repair business at the age of 18. He subsequently owned a computer retail store specializing in building whitebox computers and providing network services. In 1998 Mr. Ludema went into Law Enforcement while continuing his work in technology. In 2007 Detective Ludema obtained his certification as a Certified Forensic Computer Examiner (CFCE), through the International Association of Computer Investigative Specialists (IACIS). In addition to being a member of IACIS, Detective Ludema has been a member of the High Technology Crime Investigation Association (HTCIA), the FBI Joint Terrorism Task Force Grand Rapids, and Michigan Internet Crimes Against Children Task Force. In 2013 Detective Ludema was assigned as a Regional Information Coordinators for Homeland Security Region 6. Detective Ludema has also given several presentations on Internet safety, digital forensics, and has previously taught as an independent instructor for the National White Collar Crime Center.
In an effort to address the growing need for digital forensics capabilities in law enforcement, Detective Ludema and Detective Cannata, from the Ottawa County Sheriff's Department, developed a joint forensic lab located in Ottawa County. They also sought and obtained grant funds that have been used to enhance the region's digital forensics capabilities. The funds were used to update existing examiners and equip and train several new examiners in a 13-county region.
The digital forensics lab created by Detectives Ludema and Cannata currently serves many western Michigan law enforcement agencies and conducts exams on approximately 600+ devices each year. In addition to examinations, they serve as expert consultants to other investigators, courts, and attorneys related technology related investigations due to their knowledge, research, and testing of technology and how it may applies to both criminal and civil investigations.
In 2017 Cannata and Ludema formed Calutech Digital Services LLC to bring their expertise to the civil side of investigations and they have assisted many attorneys, corporations, and private parties by providing expertise and obtaining evidence that has assisted in positive outcomes for their client's cases.
Mr. Ludema is an early adopter of crypto technology and has educated many individuals about crypto currencies, tokens, and other technologies related to crypto. Mr. Ludema also specialized in fraud investigations which has given him a unique perspective on the positives and negatives of cryptocurrency and the traditional banking systems as well.