About this Event
Cryptic Wisdom is a hip-hop artist with an alternative edge, baring aggressive rap vocals and animated melodies.
Tucson, Arizona rhymesayer Cryptic Wisdom is a mixture of grungy alternative rock and poetic hip-hop music. Through his crisp, original flow and his melodious hooks, he utilizes the power and influence of music to tell stories and teach life lessons. He believes in the liberating freedom of being yourself and not caring about what other people think.
"A lot of people don't expect me to look the way that I do when they hear my music," says Cryptic Wisdom. "They have this preconceived notion of who I am and what I should look like. I think that's one of the most beautiful parts of what I do. It's a prime example of why you should never judge a book by its cover."
Cryptic Wisdom has been grinding up the hip-hop ranks the past few years touring the country. His music videos on YouTube have been viewed more than one million times, while others he has collaborated on have been viewed over three million times collectively. He has been featured on tracks with Jahred from Hed(PE), Twisted Insane, Irv Da PHENOM!, Whitney Peyton, Sean Strange and countless others, but his biggest feature came when he hooked up with Hopsin and SwizZz to record a verse on the track "I'm Not Crazy" on Hopsin's now classic "RAW" album. Cryptic Wisdom's powerful live show earned him an invite to the 2014 Gathering of Juggalos in Thornville, Ohio to perform alongside underground giants like Cypress Hill, Tech N9ne, Dizzy Wright, the Kottonmouth Kings, Madchild and Twiztid. He was also invited to perform overseas in Norway at one of the largest music festivals in the country earlier this year, as word of his versatile sound continues to spread all across the world.
Cryptic Wisdom's music has touched thousands of fans around the globe and helped them by being a guiding light in times of strife and struggle. He has gotten countless messages/emails/comments from fans telling him that he literally saved their lives with his music by helping them deal with heartbreak, loss, pain, drug addiction, or in some cases saved them from taking their own life. One fan stumbled onto his poignant video for "Hang Yourself" when they typed "How to Hang Yourself" into a search engine looking for a tutorial on how to kill themselves. The video emotionally resonated within them and actually steered the youth into a positive direction by letting them know that they were not alone and that someone has felt just like them.
"Hang Yourself is a reflection of my own experiences with a dangerous drug we all know as crystal meth, through the perspective of a fictional character named Jane. I'm an addict and I will be for the rest of my life, and songs like this are my way of processing the pain it put me and the people I love through," he says when talking about how his music has touched fans. "I want somebody to feel like they know somebody else out there in this world who feels the same and has been through the same things. You can be alone but you don't have to be lonely when you're listening to my music."
In August of 2013, CW's 9th release [an EP entitled "ONE"] debuted in the Top 100 on the iTunes hip-hop/rap charts and was featured in the iTunes "New & Noteworthy" section. Cryptic Wisdom has cultivated a strong audience despite that hip hop music press outlets have been slow to embrace the new alternative rock/grunge hip hop sound that he is pioneering. However, after the release of ONE, they have begun to show respect for this new innovative style. CW recently wrapped up a tour with co-headlining Grammy Award winning artist, Whitney Peyton, and is ready to hit the road again to promote his new LP entitled "X's & O'z", which dropped on August 5th, 2014.
"I've spent years shaping and fine tuning my hip-hop sound on previous records. Yes, I tend to always throw in a little singing and some rock hooks, but this approach was a little more extreme," said Cryptic Wisdom about his new album. "Instead of going for a hip-hop sound with a rock influence, I went for a rock sound with a hip-hop influence. I decided to explore my interest in alternative music further and really hone in on my singing abilities. Down the road, I'll be able to find the perfect balance for hip-hop and rock on my new records."
"X's & O'z" takes listeners on a journey through this young Arizona wordsmith's collection of personal, and often insightful life stories. "X's & O'z" isn't just a record, it's a sonic soundtrack to life.
HIGHLIGHTS:
* New album "X's & O'z" debuted on the iTunes Alternative Top 200 Charts
* Featured in the iTunes "New & Noteworthy" section
* Music video for "Sell Out" has over 634,000 plays
* Music video for "Hang Yourself" nearing 300,000 plays
* I'm Not Crazy feat. Hopsin & SwizZz has over 2.3 million plays
* Music video for Fuego feat. Santa RM, Isusko, Loren and DJ Danny Manny has over 1 million plays
* New album "X's & O'z" streamed on HipHopDX
* Featured on HipHopDx, Revolver Magazine, Faygoluvers, RebelRow, and 2Dopeboyz among others
* New video for "Talking To Myself" was featured online by Revolver Magazine
* "My Angel" and "Tear The Walls Down" music videos now both over 100,000 plays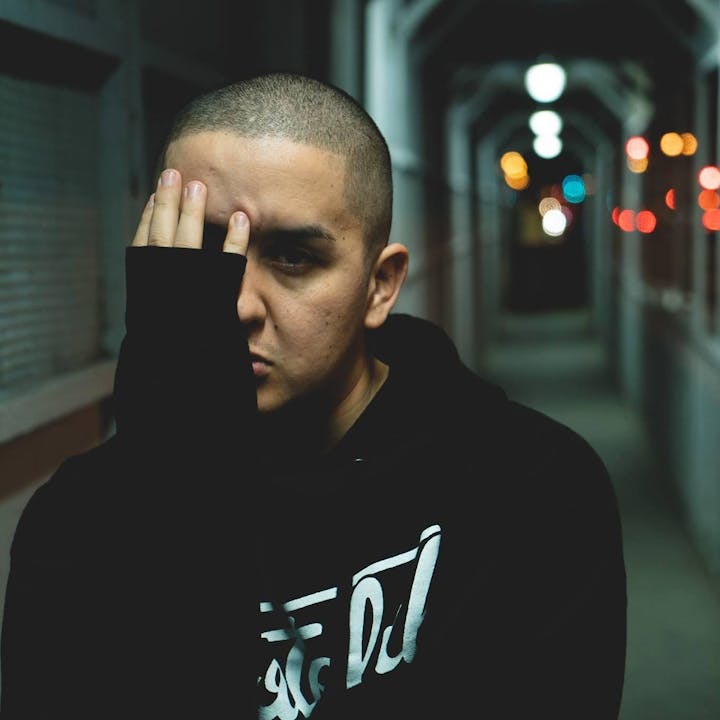 Performers
Date and Time
Location
Refund Policy