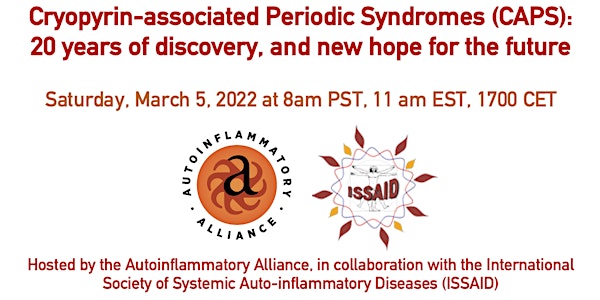 Cryopyrin-associated Periodic Syndromes (CAPS): 20 Years of Discovery
CAPS experts & pathfinders will share CAPS genetics, treatment discoveries & current care guidelines. Plus patient talks & breakout rooms.
By Karen Durrant-Autoinflammatory Alliance
Date and time
Saturday, March 5, 2022 · 8 - 11am PST
About this event
In honor of the 20th anniversary of the identification of the NLRP3 (aka CIAS1) gene as the cause for Cryopyrin Associated Periodic Syndromes (CAPS), that was connected to all forms of CAPS in 2002: we are hosting this international CAPS online program for medical professionals and patients in 2022.
Saturday, March 5, 2022 from 8-11 am PST, 11am-2:00pm EST, 1700-2000 CET)
This program will share the history of genetic and treatment discoveries, current new recommendations for the diagnosis, care and treatment for all forms of CAPS, and will feature inspiring stories from patients and caregivers that have been dealing with CAPS in their families for generations, from around the world, plus those that have had spontaneous mutations for CAPS, such as NOMID/CINCA patients.
Pathfinders that helped to advance the research, care and support for patients in the medical and scientific community, and patient advocacy will be featured.
The end of the program will feature breakout rooms for various forms of CAPS, so patients globally can connect with others as a virtual, global "CAPS reunion", plus other breakout rooms will be announced.
This program will be presented for free, and recorded for viewing later.
Closed-captioning and language translation will be available.
Please indicate your language requests by February 24th so we can plan for your needs. (We are scheduling translation in Spanish, French, German, Italian, Portuguese, Polish, Russian, Ukrainian and other languages if requested.)
The Autoinflammatory Alliance is hosting and financially supporting this program, in collaboration with the International Society of Systemic Auto-inflammatory Diseases (ISSAID). All presenters are volunteering their time for this program.
Program:
8:00 am: Welcome and introduction to the program by Karen Durrant, RN & President of the Autoinflammatory Alliance (5 min)
"Cryopyrin-associated Periodic Syndromes (CAPS)-The past, present and future"
Dr Hal Hoffman will present the keynote talk:"Cryopyrin-Coming in From the Cold" on the history of the search for the genetic cause for CAPS, and the pathway that led to treatment. (15+ min)
Dr Raphaela Goldbach-Mansky will present the connection of CAPS and NOMID history, genetics, clinical trials drug development (15+ min)
Dr Juan Arostegui will present the historic research on somatic mosaicism (5+ min)
A special recognition slideshow featuring all the key pathfinders for CAPS research and patient care (2-3 min)
Q &A 10 min on the history of CAPS
Informal break ( 5 min) "We Are More" patient video that features many with CAPS will be aired. https://youtu.be/qoLctoaw2Zk
CAPS Treatment Today-Sharing CAPS-specific needs, and about the collaborative Task Force efforts of global experts, orgs, and patient advocacy
Dr Jasmin Kuemmerle-Deschner, along with Emma, a CAPS patient: "CAPS-Burden of Disease, Self-Management and Transition to Adult Care" (12+ min)
Dr Helen Lachmann: Managing CAPS throughout Adulthood. Fertility, pregnancy, women's health, amyloidosis, managing chronic symptoms and more. (12+ min)
Dr Erkan Demirkaya: (with a short introduction by Dr Goldbach-Mansky): Debut of the Il-1 mediated diseases consensus treatment recommendations with a focus on the CAPS recommendations (12-15 min)
Dr Fatma Dedeoglu: Il-1 medications: beneficial impact on CAPS-like patients (negative genetics) case reports 5 min
Dr Lori Broderick: CAPS topic TBA
20 min+ Large Q & A session on all the treatment talks, guidelines, etc with all speakers. Please pre-submit your questions with your registration.
The patient experience with CAPS:
Patient Advocacy pathfinders:
Brad Miles: FCAS and MWS Pathfinder-the founder of "Cold Urticaria Info Island" for awareness about CAPS, and a patient group for FCAS and MWS (and for anyone with CAPS) (3-5 min talk)
CAPS family stories:
2-3 minute videos from families from various parts of the world such as Canada, US, Australia & elsewhere showcasing the founder mutation family stories for generations on how patients lived with CAPS in their family, especially before targeted medications were available, or the understanding of what CAPS was established. (12 min)
Kate Barton: NOMID Pathfinder, along with her husband helped NOMID patients and families connect via nomidsyndrome.com and their patient group, pre and post anakinra trials (3-5 min)
NOMID patient stories on video that can be shared to represent NOMID:
Alice Lieffers) (7 min) https://vimeo.com/499655044
Zach Eise (3 min) https://vimeo.com/unbridled/review/465813352/bda0efd964
Alice Payne-CAPS patient, and stand up comedian will do a short comedy program
Honoring CAPS heroes: Honoring some of our now deceased pathfinders, including Paul Rivere (France), Doug Raymond (Australia), & "Anne Mallais",(neé Vienneau) (Canada), and others. (3 min)
Showcase of the https://capsheroes.com highlights from patient submissions. (1 min)
OPENING of the Breakout Rooms:
"Virtual CAPS Reunion" for MWS, NOMID, FCAS and other categories that will stay open longer after the "official" program is over for patients to connect with others globally.
Please contact Karen Durrant RN-President of the Autoinflammatory Alliance for any questions or suggestions for additions to our CAPS pathfinders and heroes list at karen@autoinflammatory.org or at 1-415-831-8782.
About the organizer
The Autoinflammatory Alliance is a 501 (c)(3) non-profit public charity dedicated to promoting awareness, proper diagnosis and treatment, and improved care for people with autoinflammatory diseases.