A co-headlining night with two of LA's up-and-coming alternative indie bands
About this event
PROOF OF COVID-19 VACCINATION OR NEGATIVE TEST REQUIRED FOR ENTRY
Doug Fir is currently requiring COVID-19 vaccination proof, or proof of a negative Covid-19 test result, taken within 48 hours prior to entry.
For full, up to date information, please visit dougfirlounge.com/covid
REFUNDS
If you have any questions or would like to request a refund, please contact tickets@dougfirlounge.com with your Eventbrite order number as soon as possible. Refund requests must be received prior to the day of show.
THIS EVENT IS 21+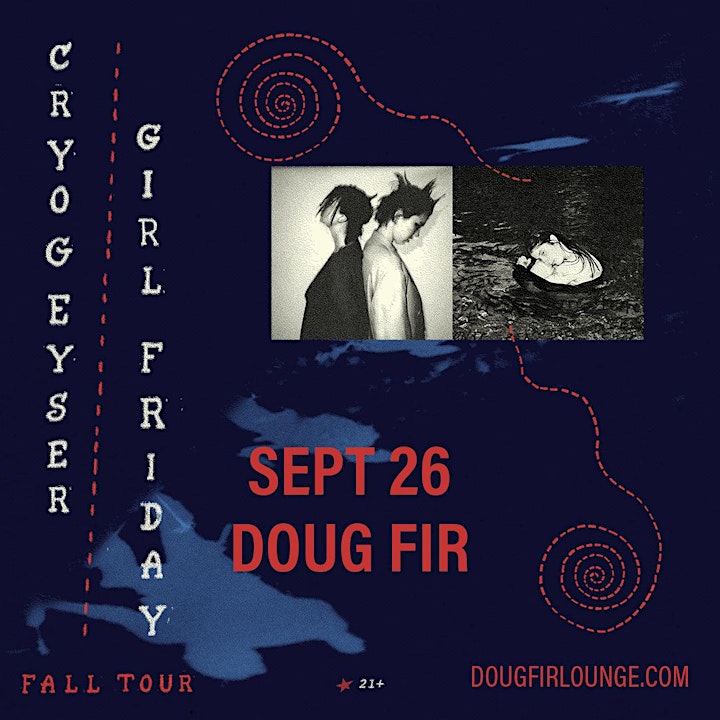 Instagram | Facebook | Spotify
Cryogeyser is making dreamy, dark, vocal-forward music dealing with the themes of truth, transcendence, and longing. They are a three-piece rock band out of Los Angeles, fronted and formed by Shawn Marom on guitar and vox and Hunter Martinez on bass in early 2018. Since then, the project has recorded three albums, and has welcomed new bass player Will Kraus and drummer Nich Santana.
Cryogeyser started off in a really natural way, Hunter Martinez and Shawn Marom new friends, and eventually roommates, were both dealing with pretty enormous changes at the same time. A time of a lot of loss, and distance from people and even parts of themselves that they were really comfortable with. Drummer and producer, Jeremy McLennan had just played a show Shawn booked and they planned to jam one day. Later that year, Glitch was recorded in Jeremy McLennan's living room.
Cryogeyer's most recent release, Love is Land, produced by Stella Mozgawa earlier in 2020, is part of a double-album, Love is Land/ timetetheredtogether, produced by Jack Shirley, set to release on Terrible Records on October 29th.
Instagram | Facebook | Spotify
Burning deep in Girl Friday's music is an unquenchable will to survive. The LA-based band don't blunt the impact of the themes they work through in their ferocious, knotty rock songs, but they don't let the more harrowing aspects of being alive and young in the 21st century daunt them, either. Taking full advantage of the dystopian shades of post-punk and noise rock palettes on their arresting debut LP,
Androgynous Mary, Girl Friday nevertheless suffuse their music with abundant optimism. The seeds of the band were first planted when guitarist Vera Ellen walked into a friend's house at UCLA and saw Libby Hsieh playing bass on the couch. Drawn by her unique playing style, Ellen introduced herself, and the two musicians immediately bonded. After a year of playing together, they decided to grow their collaboration into a full band.
With bold, dramatic guitar lines and tightly wound vocal harmonies, Girl Friday negotiate the stress and alienation that comes with being sidelined from normative society on Androgynous Mary. "Does the average man feel like he's on the outside?" goes the beginning of "Public Bodies," a wistful jangle-pop gem that shudders open into a snarling punk coda. Taking cues from longtime boundary-pushers Sonic Youth, Girl Friday depart from traditional song structures, favoring the rush of jarring turns over the safety of well-defined pop taxonomy. Looking to queer provocateurs like Placebo, they cherish the frisson of incongruous musical elements soldered together: "really dark, heavy things mashed up with quite beautiful things, whether that be a distorted guitar line and a sentimental vocal or vice versa," as Ellen puts it.
That duality dovetails with the thematic friction running through the album, the alternating despair and hope that intertwine in the fight to stay alive as any kind of unfairly disenfranchised person in the US. On the record's final song, "I Hope Jason Is Happy," Girl Friday sing in unison against a resolute drumbeat: "My head is on your chest / In the end I'll be happy if you do your best / You've got to fight to keep your breath in this world." It's a testament to the power of their bond, and a gesture of solidarity with all those listening. Alone, we suffer under the weight of everything designed to keep us down. Together, we stand a fighting chance. Girl Friday place their hope squarely on that chance--on what we can do when we show up for each other, where we can go when we've got each other's backs.
Organizer of Cryogeyser + Girl Friday
Doug Fir Lounge is an intimate Music Venue located underground below the full service Doug Fir Restaurant and Bar. We are just a few blocks east of the Burnside Bridge on the corner of 9th and East Burnside in Portland, Oregon. Join us from 7am until 2am everyday for food and drinks. Come in for breakfast or lunch, dinner before a show, or just to enjoy a drink in the bar or on our patio.