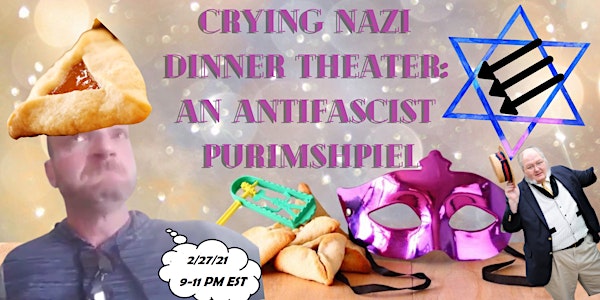 Crying Nazi Dinner Theater: An Antifascist Purimshpiel
A 2021-style festival in the grand Halachic tradition of getting ripped and making fun of anti-semitic buffoons
Refund Policy
Contact the organizer to request a refund.
Eventbrite's fee is nonrefundable.
About this event
For Purim this year, we turn our gaze from ancient Shushan, to a sad basement dwelling in New Hampshire; the lair of a modern-day Haman, who calls himself Chris Cantwell, but whom you may know better as The Crying Nazi.
Following the events in Charlottesville, Virginia in August of 2017, white supremacist Christopher Cantwell took to the internet to, weeping, report that there was a warrant out for him, say that he was frightened, and, and we cannot stress this enough, cry, and give out his personal phone number.
Cantwell, after he finished crying, did what any aggrieved racist white man would do; he played the victim. Believing he had been unjustly accused of the assault he had very much committed, he decided to sue the people he assaulted, for daring to have gotten in the way of his pepper spray. Of course, as a Nazi with the weakest case in history, he struggled to find a lawyer; the first three he approached turned him down, and we can only assume, gave him a wedgie. Enter the second star of this year's Purimshpiel; Elmer Woodard the Third (and the Fourth Choice of Nazis)
Elmer is, technically, an attorney, but it would me more accurate to describe him as a racist renn faire colonel sanders. He wrote and filed a complaint against two of the Crying Nazi's assault victims, and that, my friends, is the script for this year's Socially Distanced Purimshpiel.
Obviously, this lawsuit failed, but that doesn't mean there isn't something to gain from it. Join a crew of queer, increasingly hammered Jews as we read out this 16 page masterpiece of overwrought, convoluted prose, flimsy accusations and deflections, and discuss what lessons it can give us on Purim, Jewish antifascism, and the joys to be found in mocking your defeated foes.
Admission will be pay-what-you-feel-like with all profits split between paying our live captioner and a bail fund. Don a costume, or don't, grab some hamantaschen, or don't, and a drink, or don't, and watch where this thing takes us. Dance party to follow.
As Rav Kahana said when he was caught hiding under his teacher's bed to listen to him and his wife have sex, this, too, is Torah.