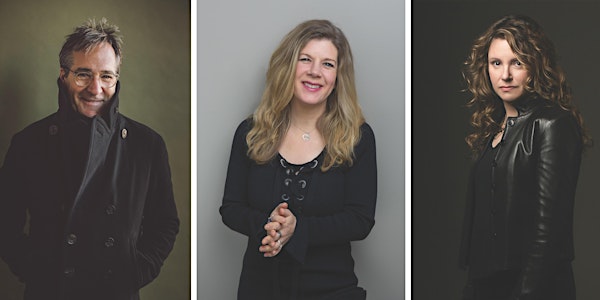 Cry Cry Cry: Dar Williams, Richard Shindell and Lucy Kaplansky
When and where
Location
St Mark's Cathedral 1245 10th Ave E Seattle, WA 98102
Refund Policy
Refunds up to 30 days before event
Description
Abbey Arts presents:
An evening with Cry Cry Cry
Lucy Kaplansky, Richard Shindell and Dar Williams- Reunion Tour
Live @ St Mark's Cathedral, Seattle
4/13/17


GA PRESALE TICKETS ARE SOLD OUT!

STANDING ROOM ONLY TICKETS MAY STILL BE AVAILABLE
(includes floor seating around side/back of stage area)


8:00 show, no opening act
6:45p doors open (approximate)
A unique open floor concert experience, quiet picnics welcome (no outside alcohol permitted).
All ages, mostly seated,
bar w/ ID (profits to charity)
Seating is available but not reserved or guaranteed with ticket purchase. Seating at St Mark's includes 100's of padded folding chairs, pews, benches, and floor space all around the stage, on the side of the stage, and behind the stage. We recommend bringing cushions.
Seating is not reserved.
Standing room available in back.
More event info below.
TICKETS: $30 general advance (not including fees),
$35 day of show (cash/credit)

Work for a local nonprofit? Check out www.fremontabbey.org/artsconnect for possible free tickets to our concerts
Want to volunteer & get in free? www.fremontabbey.org/volunteer -- ALL FULL FOR THIS SHOW, THANKS!
Note: Due to venue entrance size, please plan to arrive early to allow time to enter the space and find your seating.
---
ABOUT CRY CRY CRY:

"Lucy Kaplansky, Richard Shindell and Dar Williams revive their celebrated folk-pop collaboration for their first performances in nineteen years. The band recorded their eponymous debut in 1998 for Razor & Tie Records followed by a sold-out nationwide tour including New York's Town Hall. The collection of twelve mostly cover songs was really a tribute to fellow singer-songwriters. A mainstay on radio during the late 1990s and early 2000s, the album ranked fourth among AAA radio station's most played records in 1999 and continued in high rotation well into the 2000s. The record was consistently praised by the press: The Washington Post raved, "Cry Cry Cry illustrates the advantages of taking the best works of contemporary folk musicians and fleshing them out with lovely, three-part harmonies" and the New York Times cheered for the trio's "gorgeous harmonies." Entertainment Weekly wrote "Cry Cry Cry's purity of heart and sound is spirit renewing."
---
MORE INFO:
Open seating.
St Mark's is ADA
We are an all ages venue.
Please refrain from talking or texting during the show
No cameras with audible shutters or audible sounds allowed.


NOTE: Venue is under renovations so some parts of the building may not be available or visible on this date. Thank you for understanding.
OTHER IMPORTANT & UNUSUAL EVENT DETAILS:
SEATING:
To create a "giant living room" effect we offer an unusual concert experience with informal seating on the floor up front surrounding the stage and lots of pews, benches, and chairs around the space.
We highly recommend you bring blankets and cushions to create a more comfortable experience whether sitting on the floor or seats. Quiet and non-messy snacks/picnics are allowed. No outside alcohol please.
NOISE:
Please actually silence all devices. Turn off vibrate, rings, etc.
NO CAMERAS WITH MECHANICAL SHUTTERS (This goes for Press too unless approved to shoot during applause only.) That means silent digital cameras/photos are ok but we really recommend you enjoy most of the show through your own 'retina screens'.
Anyone exhibiting loud or disruptive behavior during the event will be asked to leave.
Absolutely no talking during the performances please, this room is very live acoustically and everyone will hear you. :-) We are unable to provide a separate room for viewing this event if you are not able to be silent, so please plan accordingly before purchasing tickets. These shows are very very pin drop quiet so please consider that when deciding what ages are appropriate. No cry room available at this venue and even voices in the lobby will be heard in the concert space.
SOCIAL:
Mark your photos: #seattlecathedrals and tag @abbeyarts on Instagram or Facebook, @fremontabbey on Twitter
NEXT SHOWS:
Sign up for our email list to get presale passwords and news for future shows plus exclusive recordings from Mirah, Damien Jurado, Gundersens, Mary Lambert, and more. http://www.fremontabbey.org/mixtape
Past CATHEDRALS shows have featured Agnes Obel, Damien Jurado, Mirah, My Brightest Diamond, Jeremy Enigk, Noah Gundersen & Family, Sera Cahoone, Lemolo, Led to Sea, The Moondoggies, Tomo Nakayama, Shenandoah Davis, Kelli Schaefer, Campfire OK, Bryan John Appleby, and more.
http://www.abbeyarts.me/cathedrals for info, past shows, videos, etc.
ABOUT ABBEY ARTS
Abbey Arts is a Seattle nonprofit curating welcoming arts & cultural experiences for people of all ages & incomes.
We support low income families, veterans, and humanitarian nonprofit workers with free event tickets. Work at a nonprofit? You may be able to get free tickets to Abbey Arts events - www.fremontabbey.org/artsconnect
NONPROFIT 501C3, NON-RELIGIOUS, SINCE 2005
www.fremontabbey.org | www.abbeyarts.me
/ 4272 Fremont Ave North, Seattle, WA 98103 / 206-414-8325

All sales are final.