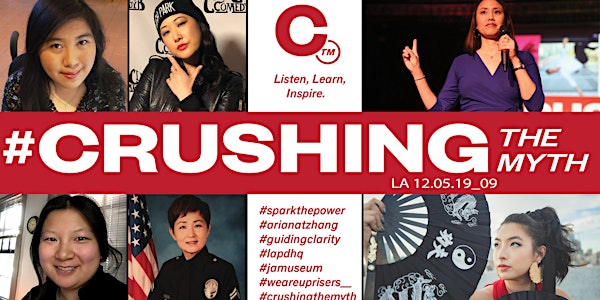 Crushing The Myth 09 (LA): An Asian American Speaker Series 12/5/19
When and where
Location
Japanese American National Museum 100 N Central Ave Los Angeles, CA 90012
Description
Crushing The Myth is a speaker series dedicated to Asian American topics.

The old "Model Minority" label is outdated and doesn't reflect modern-day Asian America. So let's CRUSH the myth, and talk about cultural issues that are important to our current generation.

- Each topic below will be narrated by a speaker through their own story and experience.
- Audiences are encouraged to meet & discuss the stories in between speakers, during the intermission.
== SCHEDULE ==

6:30pm to 7:30pm - COCKTAIL HOUR
8:00pm to 9:30pm - Crushing The Myth Speaker Series
==============
== SPEAKERS ==

SOCIAL JUSTICE:
We The North (Simmone P)

MENTAL HEALTH:
From Doctor To Actor To Mental Health (Penelope Hsu)

FAMILY / CULTURE:
How I Fare After My Own Farewell Story (Wenmei Bai)

BUSINESS / CAREER:
Who Told You, You Could Be A Cop?! (Jinha Kim)
CULTURE / IDENTITY
The Protector I Needed: Sexual Assault At a Kung Fu School (Ariana Zhang)
LIFESTYLE
Able Because I'm Disabled (Kimi Zamora)
=============
Be sure and check out the past speakers here: https://www.crushingthemyth.com/watch-videos

Special Thanks to all our marketing partners: Japanese American National Museum, Taiwanese American Film Festival, Asian America: The Ken Fong Podcast, Taiwanese American Professionals - Los Angeles (TAP-LA)