CRUSHING THE CUBICLE -- Championing Your Own Endeavor!

Saturday, September 21, 2013 from 10:00 AM to 12:00 PM (EDT)
Event Details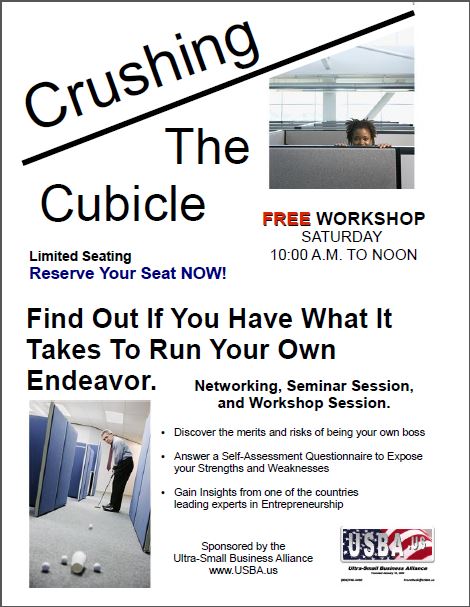 Under-employed? If you want to crush your cubicle, plan before you act! 
     Are you an intrapreneur or an entrepreneur? The difference between an entrepreneur and an intrapreneur is that one takes most all the risk in an effort to build personal equity, while the other takes the initiative and applies it within an existing organization, uses its resources, and seeks advancement, i.e. promotion and raises.  
     Both are the movers and shakers, the ones who rock the boat, and when they plan carefully before they act, they just might get results. They know the real difference between activity (busy work expanded to fill the available time) and accomplishments (value added use of their time and talents)! 
     The intrapreneur, if frustrated within an organization, will very likely lay the groundwork to be an entrepreneur. The challenge for the leadership of organizations that want the best people to stay with them is to foster a positive culture, a productive environment, genuine acknowledgement and valid rewards.  
     Only about one out of every four employees is satisfied in their job; the rest are looking at the grass on the other side of the fence, and thinking that it is greener (although that frequently is not the case). 
     If you are thinking about getting out of a cubicle, going into business, or how to make your job better and foster your success via intrapreneurship, grab a FREE ticket right now for this unique seminar and workshop! Just click the "Register with email" line above.
 ABOUT THE SPEAKER, John C. Randall  
     John Randall brings more than fifty years of insights and experience as an entrepreneur and corporate intrapreneur to his audiences. John is an author, speaker, content expert, training developer, mentor and highly diversified management, business and technical consultant and adviser. Business development professionals throughout the United States have been making good use of his published books, reports, seminars, workshops, speeches and private publications for decades.    
     In 1981, after two decades of working inside four major corporations (Mobil, Corning, Celanese, Olin), the speaker left that world to launch a business development advisory company. Since then he has helped his clients with the launching and growing of hundreds of privately owned enterprises, including his own which grew to 18 employees. Some of these enterprises now are quite significant employers.  
     John is the author of the "Mastering Your Marketing" Guidebook, which is packed with insights from the real world of endeavors. He is also the author of the book "How To Save Time and Worry Less!"   First published in 1979, the now famous prioritizing grid of "important, not important" and "urgent, not urgent" was just one of the concepts introduced in Randall's book. Professor Steven Covey, best selling author of "First Things First" popularized this grid in the 90's and kindly referenced Randall's work. MasterMinder® is the national trademark awarded to John for the Success Systems that are at the root of most of his presentations.

When & Where

Mechanicsville Library, Hanover County, US360 behind Pizza Hut, near I-295
7461 Sherwood Crossing Place
Mechanicsville, VA 23111


Saturday, September 21, 2013 from 10:00 AM to 12:00 PM (EDT)
Add to my calendar
Organizer
ABOUT USBA.us     
     This is a service to enhance the outlook for the ultra-small business community in the United States: 3,000,000 independently owned firms seeking the pride and freedom of entrepreneurship by doing business with each other. 
 
     Ultra-small firms represent more than half of the for-profit enterprises in the USA, and their people are the roots that nourish and feed all larger firms, non-profits, churches, and local, state and federal governments in America! 
©, TM 

Ultra Small Business Alliance 2009, 2010, 2011, 2012, 2013   The USBA is a "not-for-profit" free-will alliance of those who care about enterprise and endeavorship, and is NOT a Federal 501(c) non-profit organization.