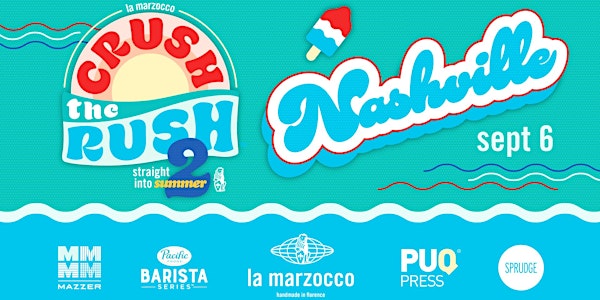 Crush the Rush 2 - Nashville
When and where
Location
Rocketown White Building 522 5th Ave South Nashville, TN 37203
Description
We are excited to announce, Crush the Rush 2 - Nashville. This year we are expanding the competition to 20 teams instead of the 8 from last year in order to allow more baristas to participate. The 20 teams will compete during the day in Time Trials with the top 8 teams moving on to the finals. There will also be a series of Learning Sessions for attendees that will focus on ergonomics, bar flow and the latest in coffee research and technology.
All of this will conclude in the Crush the Rush Finals, bringing back the bracketed competition from last year along with new side work challenges and a summer fun soundtrack to dance along with.
Here is an overview of all of the events, and ways we hope you can join.
Competitor/Team Sign-up: ticket required
Tickets go live through Eventbrite, on Thursday at 10 am (local time) 15 days before the event. Team slots will be first come, first serve with a cap of 20 teams. Teams need to consist of 3 competitors that have agreed to compete. Teams will have a time trial-time slot held sometime between 9-3pm, and then are welcome to hang out througout the day, as other teams are competiting to get the fastest time. Competitors will also be welcomed to attend the learning sessions held throughout the day.
The team captains will need to register with the following information:
•Team Name
•Team Captain Name, Company, Email, Cell
•Teammates Names, Company Email, Cell
Learning Session Attendee: ticket required (*only if not already registered for a competitor ticket)
As a learning session attendee, we hope you can join us for the sessions held throughout the day, covering topics such as workflow, technology, coffee research and barista health. The sessions will have limited space, so register for a Learning Session, Individual Ticket on this page, 15 days before the event date, at 10AM (local time)
Here's a list of the Nashville sessions & the day's schedule:
9-10am: Coffee + snacks at the La Marzocco Home bar
10-11am: Mindful Breathing for Service Workers, Winston Harrison, Crema Coffee Roasters
11am-12pm: Boundaries for Baristas, Ever Meister, Cafe Imports
12-1pm: Lunch included
1-2pm: Panel: Getting a Beautiful, Ergonomic Cafe Open in Nashville, moderated by Chelsea Kallman, Stay Golden
2-2:30pm: Innovation Trends in Espresso, Scott Callender, La Marzocco USA
2:30-3:30pm: A Tour of the Espresso Machine, Chloe King, Counter Culture Coffee Charleston
----------------------------------------
Party Attendee: no ticket required
The Crush the Rush 2 Finals will be open to all and go from 7-10pm. The event will feature a bracketed head to head tournament and be complete with great music, food/drink and a ridiculously large Crush the Rush trophy. No ticket needed, but feel free to click 'attending' on our Facebook event page. We hope you can join us!
-----
For more information about the day, head to La Marzocco USA's News: https://www.lamarzoccousa.com/blog/announcing-crush-the-rush-2/
Crush the Rush competitor rules: https://www.lamarzoccousa.com/wp-content/uploads/2019/07/CTR2-Rules-4.0.docx