Cruising with the 85 South Renegades (TTown)

Thursday, September 29, 2016 at 11:00 AM

-

Sunday, October 2, 2016 at 9:30 AM (EDT)
Event Details
Join us on Our Club Cruise. This is a chance for Everyone to get together and enjoy eachothers company by Socializing, Networking and just having a Great Time. Everyone is Welcome to join us, please Invite Family & Friends.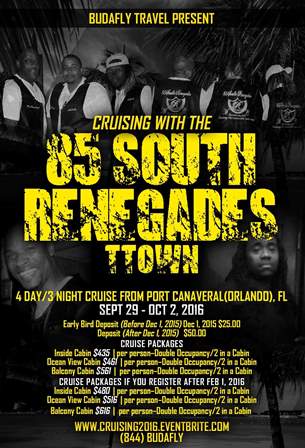 4 Day/3 Night Cruise from Port Canaveral(Orlando), FL
Sept 29- Oct 2, 2016
Cruise Itinerary
Thursday – Port Canaveral, FL
Friday – Nassau, The Bahamas (12noon-8pm)
Sunday - @ Sea
Monday - Port Canaveral, FL  
Cruise Packages
Inside Cabin
 $435 per person–Double Occupancy/2 in a Cabin
Ocean View Cabin
 $461 per person– Double Occupancy/2 in a Cabin
Balcony Cabin
 $561 per person- Double Occupancy/2 in a Cabin
*RATES IF YOU REGISTER AFTER FEB 1, 2016*
Interior Cabin
 $480 per person- Double Occupancy/2 in a Cabin
Ocean View Cabin
 $516 per person– Double Occupancy/2 in a Cabin
Balcony Cabin
 $616 per person- Double Occupancy/2 in a Cabin
Package Includes
4 days/3 nights aboard the Carnival Victory
All accommodations and meals
Entertainment and most onboard activities
All taxes, Port Charges & Gratuities
Sparkling Cider & Chocolates
2 Carnival Handbags Per Cabin
Cocktail Party
Black & Yellow Group Dinner/Group Photo
Club Night w/ The 85 South Renegades
(Full Itinerary will be given at a later date)
 *YOU MUST BOOK YOUR RESERVATION WITH THIS GROUP TO PARTICIPATE IN ACTIVITIES & RECEIVE ALL AMENTITIES!
If you have found this travel package after payments have began, you are still allowed to register as long as space is still available.  After initial deposit is made, you should be prepared to bring your payments current within 30 days.
Deposit Deadlines
$25 per person Non-Refundable DEPOSIT due by Dec 1, 2015
$50 DEPOSIT per person due after Dec 1, 2015
$200 Non-Refundable DEPOSIT per person due after March 1, 2016 (New Registrants)
$30 or more per person due by January 15, 2016
$30 or more per person due by February 15, 2016
$30 or more per person due by March 15, 2016
A TOTAL OF $150 MUST BE PAID PER PERSON by April 15, 2016
$30 or more per person due by May 15, 2016
$30 or more per person due by June 15, 2016
 ALL REMAINING BALANCES DUE, if any due by– July 15, 2016
 Policies, Payments & Fees -
 Payments to Budafly Travel are NON-REFUNDABLE & NON-TRANSFERABLE unless travel insurance is purchased. 
-If you are Canceled Due to you failing to make your Scheduled Payment Arrangements AS AGREED..Your Reservation will be Canceled and you will FORFEIT ALL MONIES PAID, WHETHER YOU PURCHASED INSURANCE OR NOT!
-A passport is not required for this event, but they are suggested.
-Please register in the name shown on your passport or government issued identification.
-If you are not traveling with a passport, valid government issued picture identification and a certified birth certificate with seal is required.
-You must provide your own transportation to/from Port Canaveral, FL
-It is best to pay your initial deposit as soon as possible to guarantee you are locked in at the current rates. Rates are subject to increase.
-Payment plans are allowed as a convenience. Failure to make payments as agreed will result in cancellation of your reservation and forfeiture of all monies paid.
-When initiating a booking within 60 days of departure, the total cost must be paid in full at the time of registration. Payment plans ARE NOT available for new bookings within 60 days of departure.
-Reservations for the occupancy selected are confirmed once initial deposits are received from ALL listed roommates.
-All roommates must make their initial deposits within 7 days of us receiving the 1st roommate's deposit. If all deposits are not received, your accommodations will be confirmed based upon the number of deposits received.
-It is imperative to make sure your roommate's payments are made in a timely manner. It is not the responsibility of Budafly Travel to keep up with your roommate's payments. If your roommate does not make timely payments or decides not to attend, you will be required to pay a higher Occupancy Rate.
-Refunds WILL NOT be provided due to a roommate's cancellation.
-A $75 late fee will be imposed for all payments received after the final payment deadline of July 15, 2016.
-All correspondence regarding this trip is sent via email. Please provide an email address that is checked frequently.
-Budafly Travel reserves the right to use all client images or likeness in connection with still photography or recorded video.  Attendance at any Budafly Travel event gives consent to be photographed for use in print or electronic publicity on social media sites.  
 Payment Methods 
Trip Website:  www.cruising2016.eventbrite.com 
Credit/Debit Cards are acceptable forms of payment. There is an additional fee charged for making payments via the trip site. These fees ARE NOT deducted from the cost of your trip. 
Contact:
Budafly Travel
(844)BUDAFLY
Motiv8r
Sgt @ Arms/85 South Renegades TTown
Or
Ghost
President/85 South Renegades TTown
When & Where

Port Canaveral

Port Canaveral, FL


Thursday, September 29, 2016 at 11:00 AM

-

Sunday, October 2, 2016 at 9:30 AM (EDT)
Add to my calendar
Organizer
BUDAFLY TRAVEL
We are Master Agents who are Certified with All Resorts Local & International. We are also Destination Wedding & Honeymoon Specialists. 
Our Mission is to provide a Personal Touch to your travel experiences Focusing on whatever it takes to guarantee that your Vacation/Wedding/Honeymoon/Family reunion or business trip is a Success.
We offer Layaway/Payment Plans for all of our trips.
Cruising with the 85 South Renegades (TTown)