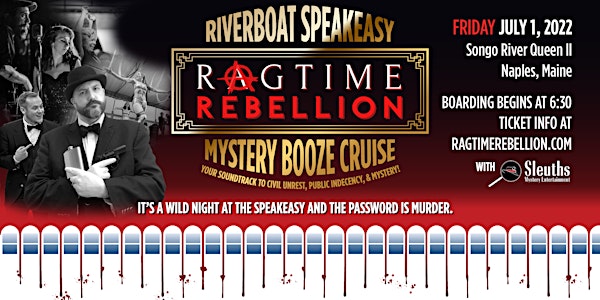 Cruise
Find out why Ragtime Rebellion is your soundtrack to civil unrest, public indecency, and mystery on their Riverboat Speakeasy Mystery Booze
When and where
Location
Songo River Queen II 841 Roosevelt Trail Naples, ME 04055
Refund Policy
Refunds up to 30 days before event
About this event
Find out why Ragtime Rebellion is your soundtrack to civil unrest, public indecency, and mystery on their Riverboat Speakeasy Mystery Booze Cruise on the Songo River Queen II, featuring a custom mystery event by Sleuths Mystery.
It's 1925 and Big Tony moved his speakeasy operation to the water. He's raking in the dough. The problem is that he's double-crossed his crew along the way. He's swindled and robbed his brother Little Tony, his wife Trixie, and the band. Will he make it off the cruise alive? If he can't can you solve the crime before the boat makes it back to dock?
Join Ragtime Rebellion and Sleuths Mystery for a wild night of music, comedy, mayhem, and mystery. Do you have what it takes to see the show, play the game, and solve the mystery?
July 1, 2022
Songo River Queen II, Naples, Maine
Ticket's $30
Boarding begins at 6:30, ticket information is at www.ragtimerebellion.com.
Social Links:
www.ragtimerebellion.com
https://www.facebook.com/sleuthsmystery
https://www.instagram.com/sleuthsmystery
https://twitter.com/sleuthsmystery