| | |
| --- | --- |
| CRUISE: Lighthouse Legends and Lore | |
Event Details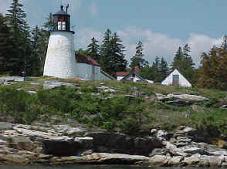 Explore the legends and lore of Midcoast Maine's lighthouses including a shore landing at the historic Burnt Island Light.
Your adventure will be guided by Red Cloak Haunted history Tours.  Up to seven lighthouses will be seen, depending on weather and sea conditions.
Lighthouses will include:  Doubling Point Light, Hendrick's Head Light, Seguin Island Light, Ram Island Light and The Cuckolds.  The visit to Burnt Island will include landing on the island for a chance to view up close the keeper's house and other facilities including the majestic Burnt Island Light tower.
 The Merrymeeting's professionally trained crew provides fascinating narration and a safe, comfortable cruise.  Guests are welcome to bring aboard food and non-alcoholic beverages. A cash bar, with light snacks, is available onboard.
 Tickets are non-refundable, except in the event of a weather cancellation.  The Merrymeeting  is a 56' motor vessel with a covered lower deck and open upper deck.Cruises run in light rain and other moderate weather conditions.  Cruises may be cancelled in the event of severe or unsafe weather conditions or unmet minimum ticket sales, and cancellations are made by the Captain on the day of the cruise.  If the Museum cancels a cruise, you will have the opportunity to reschedule, or receive a refund. 
 The temperature on the water can vary throughout the day.  Please come prepared with extra layers. Access to the boat requires negotiating a ramp down to the float.
 Don't miss what is sure to be a memorable experience and bring along a camera for wonderful photo opportunities!
Organizer
Maine Maritime Museum
Maine Maritime Museum offers a myriad of opportunities to explore Maine's maritime heritage and culture and to experience the mystique of Maine.
Visitors can find:
-fascinating exhibits brimming with art and artifacts
-contemporary, interactive areas for children and adults
-an historic shipyard with five of the original 19th century buildings
-a Victorian-era shipyard owners home
-an active waterfront
-a life-size sculptural representation of the largest wooden sailing vessel ever built
-a scenic campus on the bank of the Kennebec River
On the following pages you can learn more about the Museum's History and Mission, find out who is on our staff and how to contact us.
CRUISE: Lighthouse Legends and Lore