Description
The countdown to 2018 is upon us, so instead of waiting until the last minute to make your New Years Eve plans why not get a head start and do it now?! Take your next amazing adventure across the seas of the eastern Caribbean, spanning from St.Thomas to Nassau, Bahamas on the premier Norwegian Escape cruise ship!! You'll be surrounded by beauty and splendor for 7 days and 6 nights with the option of a balcony or an inside cabin. A $50 deposit is required in order to reserve a cabin.The price for a Balcony cabin is $1766.89/guest and $1376.89/guest for a inside cabin with payment plans available!! This would be perfect for large groups, including but not limited to sorority/fraternity groups, church groups, couples trips, or a girlfriend/guy getaway. Parties that are interested in booking or reserving a cabin please contact me through eventbrite or by sending an email to anu_day8@yahoo.com. Here's the breakdown:
7 Day Eastern Caribbean Cruise
Departs Miami on 12/30 at 4 pm
Fun on the ship for 2 days HAPPY NEW YEAR!!!!
1/2/18 Tuesday arrives to St. Thomas
1/3/18 Wednesday arrives to Tortola British Virgin Islands
1/4/18 Fun on the ship
1/5/18 Friday Nassau, Bahamas
1/6/18 Saturday Arrive back to Miami by 8 am
*Inside staterooms (mid-ship) 1B $1376.89 per guest taxes/fees included in this price
*Balcony stateroom BF $1766.89 per guest taxes/fees included in this price
Guest are required to make a minimum of a $50 deposit to hold the cabin space, which must be done by Aug 5th. Guests are allowed to make larger installments if desired before the deadline. Guest have until the week before the cruise to add last minute guests.
Every cabin has the option to select two amenities from the PICK TWO package below. Just note, that once each guest books a cabin space, each person in the cabin gets the same two options.
PICK TWO OFFER:
Amenities Guide Ultimate Beverage Package* - 1st and 2nd guests only Prepaid Service Charges - 1st and 2nd guests only Internet Package - per cabin $50 Per Port Shorex Credit - per cabin - max of 4 ports Dining Package - 1st and 2nd guests only Cocktail Party - per cabin 20 Photo Package - per cabin $75 OBC - per cabin $75 Fundraiser - per cabin $75 Bonus Commission - per cabin
Chance for savings!!!
Whoever is designated as the tour conductor (group leader) you have the chance to earn credit for every 14 guests that joins the cruise as apart of your group!! And the tour conductor credit can be applied towards the cost of your cruise!
Note: Travel Protection quote is based on state of residence, age, and trip cost
PAYMENT SCHEDULE:
Deposit $50.00 due by 8/5/2017 After initial deposit payments can be made up until the final due date
Final Payment Due by 09/1/2017
** Cabin Birth Form MUST be completed at the time of payment. Please double check your information before you submit. ----> send the following information to include your name (first, middle initial, last), complete address, contact number, DOB, email address, cabin type, cross reference cabin roommate name, Vacation protection (yes or no) to my email at anu_day8@yahoo.com
** Credit Card Authorization information MUST be completed. Please double check your information before you submit to the email anu_day8@yahoo.com. Please send an email to anu_day8@yahoo.com for a copy of the form.
IMPORTANT REMINDERS
As visa and documentation requirements vary by country and are subject to change, all guests are urged to contact their travel professional, local immigration office, or the embassy or consulate for each country they will visit on their cruise to verify current entry requirements. It is the guest 's responsibility to obtain required visas and other documentation prior to sailing, including vaccinations for infectious diseases. Additional information for booked guests is available on www.ncl.com.

Online Check-In Guests are requested to complete their Online Check-In form at www.ncl.com at least 24 hours prior to departure date. Guests who have not completed their online Check-In form at least 24 hours prior to departure date are required to complete the Check-In process at the pier 2 hours prior to departure time noted on their cruise documents. Please refer to Section 10, "Special Instructions for Travel Partners & Booked Guests".

TSA Requirements for Guests who are Flying
TSA requirements mandate that for all guests who have purchased air, Norwegian must provide TSA with Full Names (as it appears on your passport) that includes middle name (if applicable), Date of Birth and Gender. Without this information you can be denied boarding the aircraft.
Final Boarding Time Policy Please be advised that on embarkation day, all guests must be onboard the ship no less than one hour from the ship's scheduled departure time. Guest agrees to board the ship at the embarkation port not less than one hour before the scheduled departure time. Guest acknowledges that it is the Guest's responsibility not to miss such final boarding time and the ship's scheduled departure from the embarkation port. Any and all costs incurred as a result of Guest not boarding the ship on time at the embarkation port shall be borne by the Guest. Guest further agrees, in all ports of call, to return to the ship not less than one hour before the scheduled departure time. Guest also acknowledges that shipboard and shore side clocks may have different times, but it is Guest's responsibility to return to the ship so as not miss the ship's departure. Any costs associated with transporting Guest to rejoin the ship including, but not limited to, government fees, visa fees, subsistence, lodging, air fare, launch fare, car hire or agency fees shall be borne by the Guest.
Online Check-In
Due to government requirements (Border Security Act), all guests must provide Norwegian with specific personal information, submitted online no less than 1 day prior to sailing. Failure to fulfill this requirement will result in guests being denied boarding. Pre-cruise registration is mandatory and is available when a booking is paid in full and within 60 or less days (up to 1 day prior) from sailing. Cruise guests can complete Online Check-In by visiting www.ncl.com. Following this procedure will ensure that guests receive the most accurate, up-to-date information regarding the documentation requirements for their sailing. Cruise Boarding Documents After completing the online check-in, the guest or travel partner can print an electronic boarding pass (edocs) to be presented at embarkation. Edocs contain a detailed voyage summary including the cruise ticket, itinerary, and luggage tag(s). When applicable, 'edocs' include air ticket, transfer voucher and/or hotel voucher. Note: It takes 24 - 48 hours after payment is applied for booking to be validated. Once it has been validated, an email notification is sent out. The tour operator account administrator can set 'edoc' preferences, electing to send notification to either to the guest's email address or the travel partner's email address.
Ships' Registry: Bahamas & United States of America Page

For additional information please email me at anu_day8@yahoo.com
FAQs
Are there ID or minimum age requirements to enter the event?
Yes, all guests must be 21 or older
What are my transportation/parking options for getting to and from the event?
Guests flying into Miami can take the airport shuttle to the port. For your convenience guests that are local should secure transportation to port.
What can I bring into the event?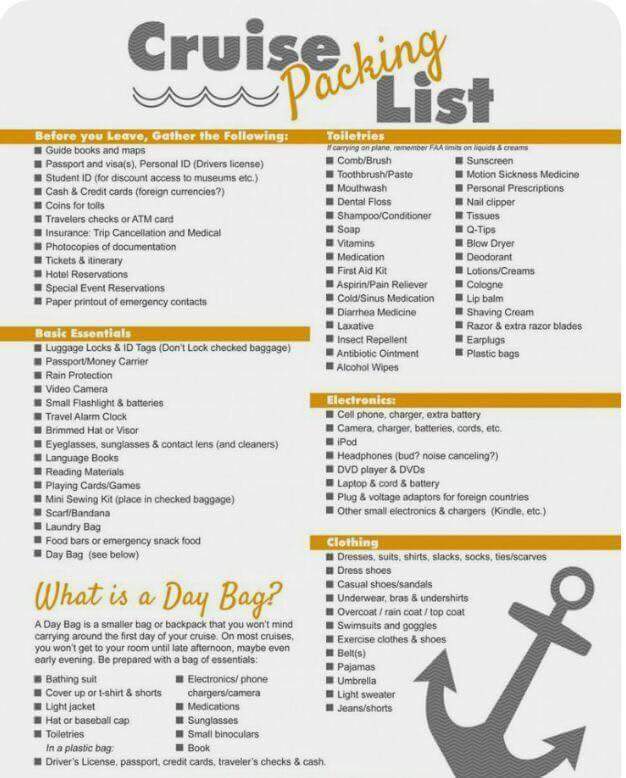 How can I contact the organizer with any questions?
Please send an email to anu_day8@yahoo.com
What's the refund policy?
CANCELLATION SCHEDULE**
1 - 6 Sail Days Cruise, Air Land Add-On Cruise Tour Cancellation Cancellation Cancellation Days to Voyage Fee Fee Fee Fee 75-57 Deposit $100 $0 $0 56-30 50%* 50% 50% 50% 29-16 75%* 75% 75% 75% 15 days or less 100% 100% 100% 100%
7 or more Sail Days Days to Voyage Cruise, Air Land Add-On Cruise Tour Cancellation Cancellation Cancellation Fee Fee Fee Fee 90-76 25%* $100 $0 $0 75-61 50%* 50% 50% 50% 60-31 75%* 75% 75% 75% 30 or less 100% 100% 100% 100%

Do I have to bring my printed ticket to the event?
No, you can bring either a printed ticket or show a copy of your online receipt
Can I update my registration information?
I would advise to make sure all your information is up to date, but if there is an extinuating circumstance please contact me at anu_day8@yahoo.com before Aug 5th.
Is my registration fee or ticket transferrable?
No
Is it ok if the name on my ticket or registration doesn't match the person who attends?
No,the name on the ticket must match the guest that is attending