Location
Port of Miami Crew Center
1180 South America Way
Miami, FL 33132
United States
Description
"Click the LINK below to Register & Book your Cabin "
use the password: docit1


Don't forget to RSVP on here on Eventbrite!!
DISCLAIMER *****Once you have Registered and picked out your cabin room for the cruise through the Link (see above) provided by Cruise Planners on behalf of Royal Caribbean...then you can go ahead and RSVP here on Eventbrite. RSVP'ing on Eventbrite alone will NOT secure your spot for this event, you MUST Register and Book your Cabin through "Cruise Planners" by clicking the hyperlink which they set up specifically for our party. Thank You for your cooperation). Each person attending will have to submit their name and their driver's license number or passport number. The name must match the form of ID being used.


DOC IT Foundation will be Cruising for a Cure benefiting Ovarian Cancer Awareness & Research!
Since September is national #OvarianCancerAwarenessMonth - DOC IT FOUNDATION would like you to join them for a FUNdraising 3-day #DreamVacation to the Bahamas, aboard the Royal Caribbean's "Enchantment of the Seas".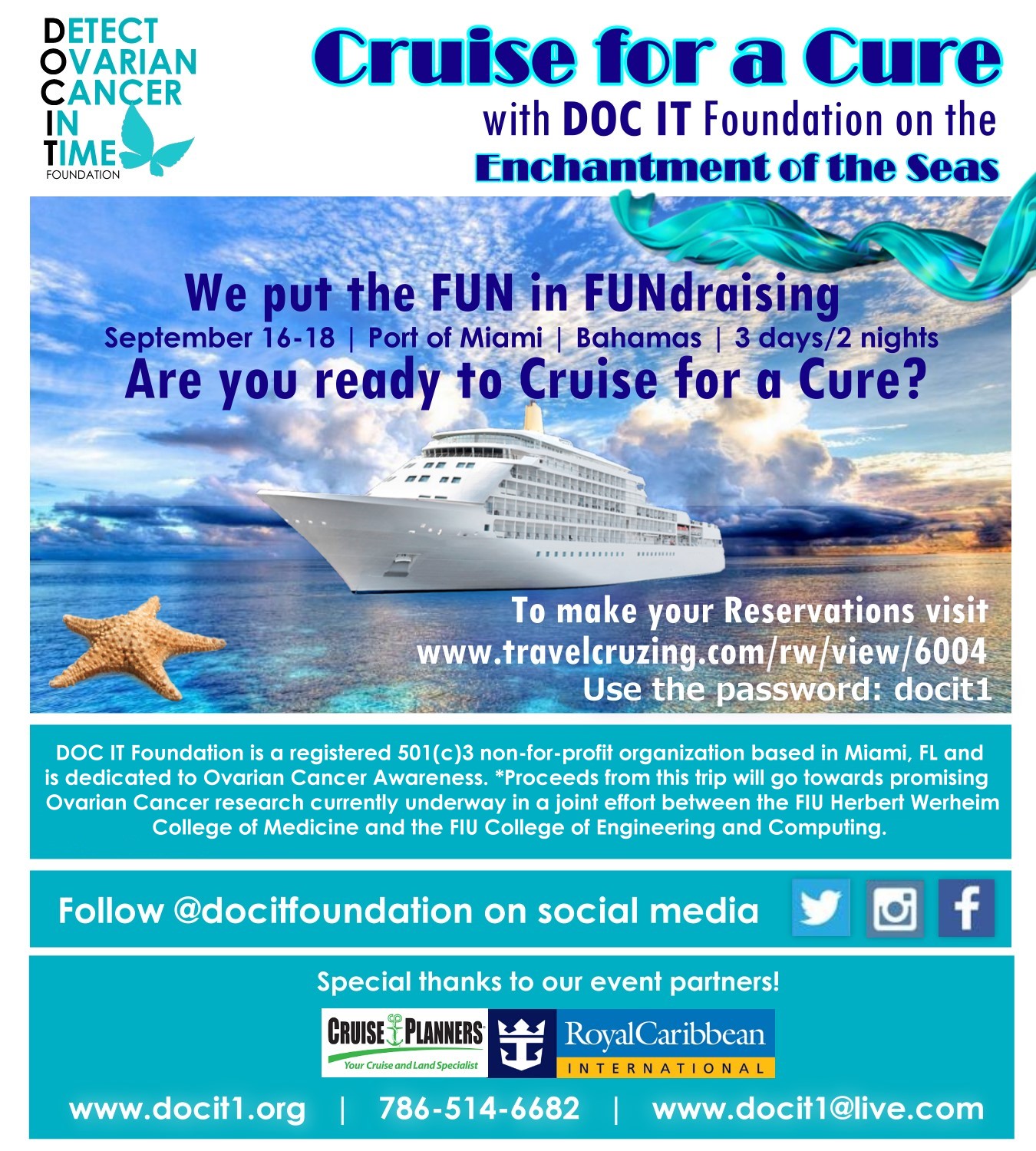 Supporting DOC IT Foundation + Ovarian Cancer Research is as easy as booking your 2016 Dream Vacation! The Royal Caribbean Cruise Ship - "Enchantment of the Seas" - emerged from her makeover with exciting new features and venues: poolside movie screen, Complimentary Park Café, where you can grab gourmet sandwiches, salads and more, Royal Babies and Tots NurserySM with specially designed Fisher-Price® activities and R Bar, a retro-inspired bar with a personable mixologist.
What a great opportunity to support a good cause while making lasting memories with your family. Don't forget to pack your hat, selfie-stick, sunblock and sunnies!
ITINERARY

DOC IT Foundation was founded by sisters Martha Casado & Susie Casado in 2006, after Martha was diagnosed with stage 4 ovarian cancer. Martha fought until the end not just physically through chemotherapy treatments, but also emotionally. She might have lost her hair but she never lost her glow, her smile or her infectious enthusiasm for life. She adored her children & her family and fought with all her might to remain by their side, but it was that very battle that made her determined to educate women about Ovarian Cancer, it's "whispering" symptons and hopefully help other women avoid having to go through what she was enduring. Simply put.... she wanted to make a difference in the lives of women. Martha passed away on November 4, 2008, but her passion and her will to live inspired everybody that met her.
The way we choose to carry on Martha's wish is by supporting promising Ovarian Cancer research. By doing so, we are bringing HOPE to ALL Women and helping them to #DOCIT
Among cancers specific to women, Ovarian Cancer is the leading cause of death in the United States, according to the Ovarian Cancer National Alliance. More than 22,000 new cases of ovarian cancer are diagnosed annually. Ovarian cancer is often diagnosed in late stages, due to vague symptoms that mimic gastrointestinal disorders. However, patients have a greater than 90 percent survival rate if the disease is detected either in Stage 1 or Stage 2A. Thankfully, there are TWO Groundbreaking research projects currently underway that have the potential to save millions of lives.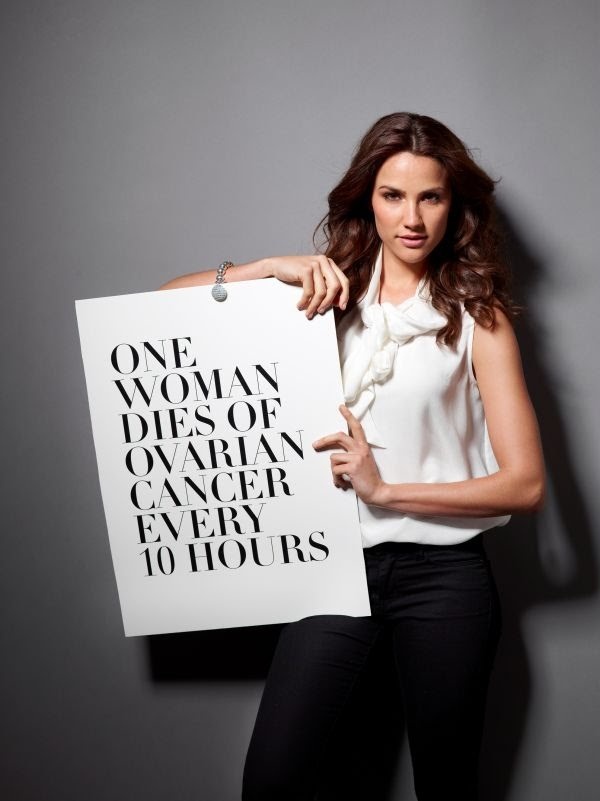 #1 - The use of Nanotechnology to deliver the chemotherapy drug Taxol directly to ONLY the Ovarian Cancer Cells while sparing damage to overall healthy cells in the body and avoids having the drug diluted as it passes through the body which will increase the effectiveness of the medicine; discovered by the FIU School of Medicine in Collaboration with the FIU School of Technology. This new approach, once approved can be used to treat OTHER Cancers as well.
#2 - The groundbreaking procedure that Detects Ovarian Cancer In Time! "We are extremely optimistic that our findings will lead to a highly accurate, non-invasive clinical procedure to detect ovarian cancer very early in its development," said John McDonald, Chief Research Officer at the Ovarian Cancer Institute. "By detecting cancer before symptoms even manifest, more women will be able to seek treatment before the cancer spreads. This, in turn, increases survival rates significantly and these patients can go on to live healthy lives." Georgia Institute of Technology in collaboration with the Ovarian Cancer Institute, announced it has developed a method to Detect Ovarian cancer that is highly accurate in patients with Stage 1 disease.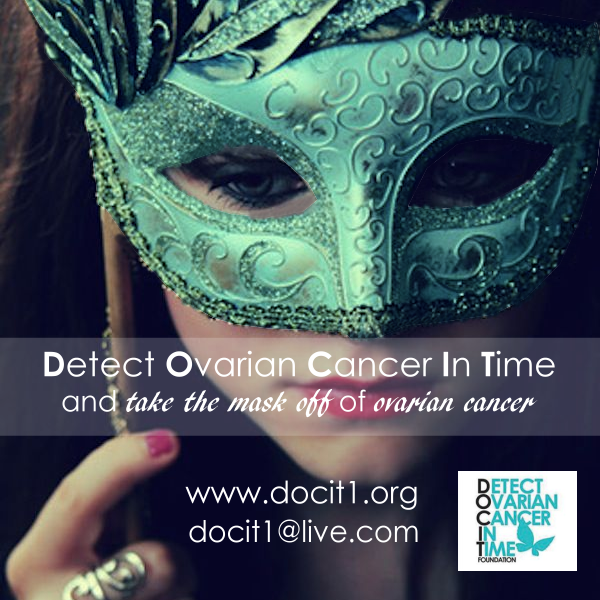 Thank You for helping us Detect Ovarian Cancer In Time!
Visit www.docit1.org / write to docit1@live.com / or call 786-514-6682