Description
Our 2020 Sponsors



Hosted by

Who should attend? Anyone that loves all things travel or is interested in traveling the world!
Is this a Myrtle Beach tourism show? No it is not. It is for locals, tourists, and nearby residents that want to travel everywhere. But we love Myrtle Beach, that's why we are here!
What will I see? Dozens of Cruise Lines, River Cruise Lines, Land Operators, All-Inclusives, Resorts, Escorted Tour companies, and so on. Each will have their own booth with gorgeous brochures, show specials, and the latest deals and promotions. Global Entry will be there from Dept. of Homeland Security - you can apply in advance and have your interview right there! Or just stop by the booth and learn more about Global Entry and TSA Pre-check! Update: Due to the government shutdown in January of 2019, Global Entry was not given travel authority and will not be there unfortunately. For those that booked appointments, Global Entry will be in touch about rescheduling after the shutdown is resolved. TBA if they will be at the 2020 CTE.
Must be present to win cruise.
In addition to our sponsors and exhibitors being onsite to meet with you personally, there will be a live stage with travel talks through out the day.
Such as? Travel seminars, Q&A on-stage presentations with industry experts on travel, and of course the giveaways!
How much does it cost to attend? Tickets at the door are only $10. However currently we have an Early Bird Special for advance purchase tickets!
Check out our exhibitor list from 2019...and we expect most all to be back in 2020!
Tickets
Advance Purchase Tickets (EARLY BIRD) for only $5
ADVANCE PURCHASE tickets not only save $, they have more value - including:
1 $20 gift certificate for travel*

1 entry to win a cruise for 2 (given away during the expo - must be present to win)

1 access to all on-stage presentations
Limited tickets may be available at the door for $10 per person. All tickets are non-refundable.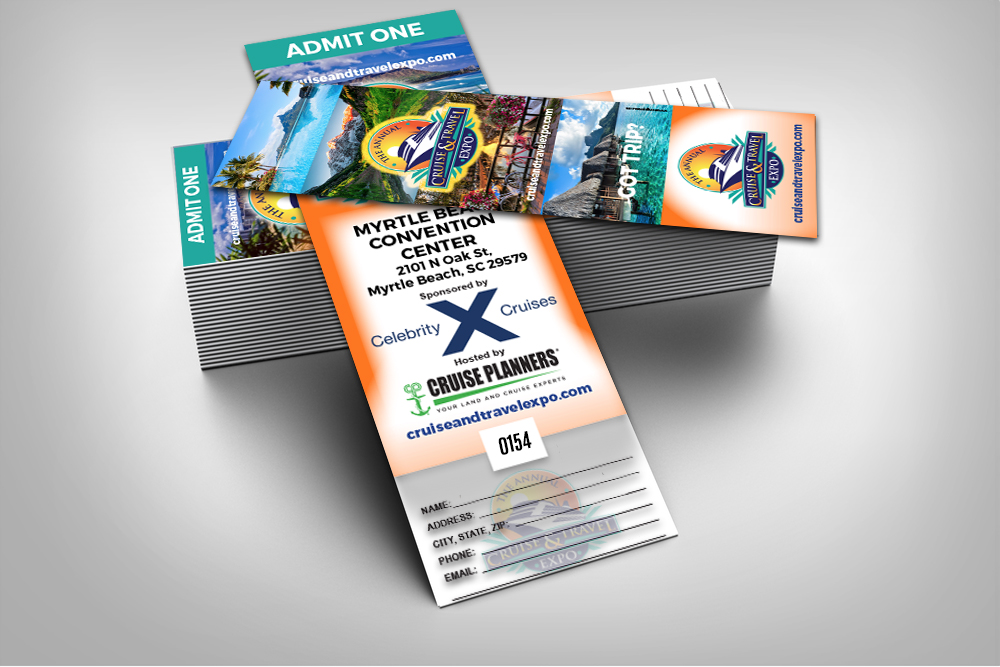 Terms and Conditions apply please call 843-732-2582 for details. Offer subject to change at any time.
Please note that parking at the convention center for a fee charged by the convention center. Tickets may not be available at the door due to attendance limitations.
*Every ticket includes one entry into the drawing. Paid tickets double as $20 gift certificate, limit 1 per person. Any complimentary tickets do not double as a gift certificate, but they still grant admission and free cruise entry. All prizes, including the cruise, you must be present to win.
Exhibitors please see the Exhibitor link on www.CruiseandTravelexpo.com