Past Distillers
About the Van Brunt Stillhouse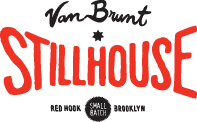 In the pioneering spirit of Cornelius Van Brunt, who was a farmer in the Dutch Colony of Bruecklein, the husband and wife team Daric Schlesselman and Sarah Ludington founded Van Brunt Stillhouse, driven by a love of Craft. The Stillhouse has been producing farmhouse style whiskeys in the heart of modern day Brooklyn since 2012.As master distiller, Daric brings a creativity to his recipes while working within the traditions of distilling fine spirits. He has developed a line of spirits that establishes his unique voice within traditional spirit categories, as well as our American Whiskey, which is unlike any other on the market.
These whiskeys are celebrations of small batch spirits that showcase the flavorful essence of the grains.
Van Brunt Stillhouse takes a time honored traditional approach to distilling.  Sourcing wheat, rye and corn directly from upstate New York farmers.  Making every spirit from scratch in the waterfront neighborhood of Red Hook in Brooklyn.  Our family of whiskeys give a nod to classic styles while remaining innovative, creating bold and flavorful spirits.