International Women's Day Celebration.
About this event
Ladies and gentlemen, you are cordially invited to honor your mother, sisters, wife, or the daughters in your life. "Crowns and Heels" is one of the most beautiful ways to express our admiration for lovely ladies on International Women's Day!
If you're a woman, you have a royal highness in you, so let this event inspire you to keep your head held high and make others take notice. Put on a crown, throw on a pair of heels and remind everyone of the huge role you play in shaping the world!
Sometimes even women who are strong, courageous and a natural born leaders need to be reminded of just how amazing they are. It's time we treated all women with the respect that QUEENS deserve. Let's celebrate women with style and sophistication as Ella Promotions is known for high-profile, one-of-a-kind events. "Crowns and Heels" is a multi-layered international event with dinner, bar, live music, Dj, and multiple performers. Come and experience a unique, memorable and distinctive experience like no other, at the most beautiful and desirable new venue in Houston! We guarantee that you will get a taste of the REAL Women's Day celebration!
Photographers and media will be present.
Dress code: Formal, Crowns/tiaras for women.
For questions and table reservations call 713-516-2050
All sales are final. Prices are subject to change while supplies last.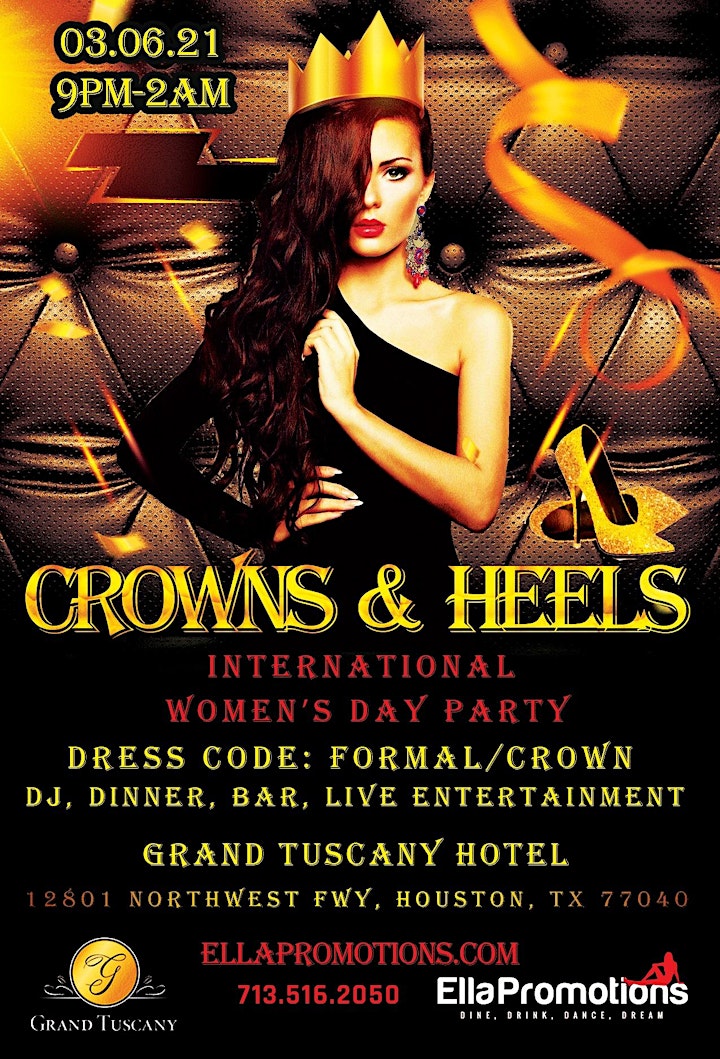 Organizer of Crowns and Heels Ball