Crowdsourcing in Drug Development: Panel with industry leaders

Thursday, June 26, 2014 from 6:00 PM to 9:00 PM (EDT)
Event Details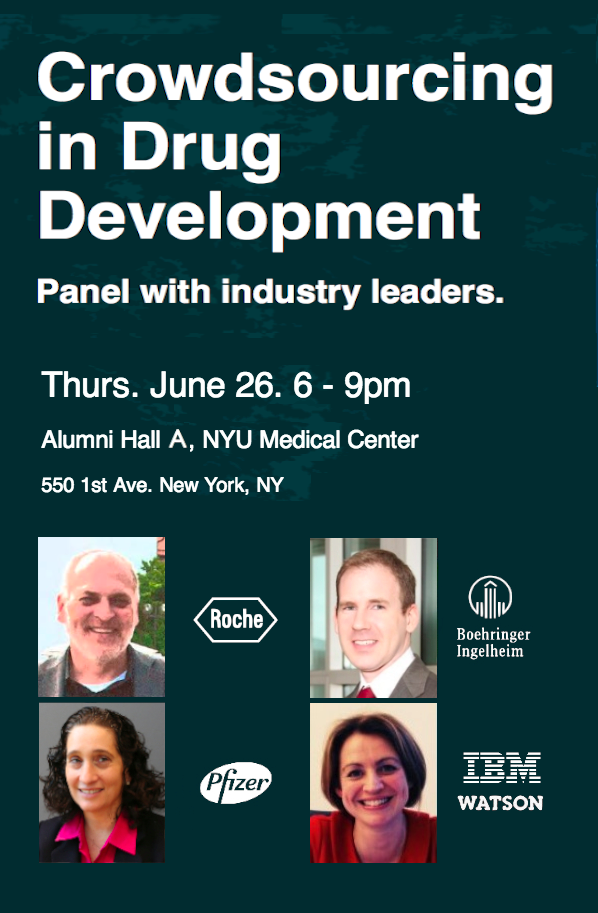 Event Description:
Please join us June 26th at 6 p.m. at The NYU Langone Center for our latest event entitled: Crowdsourcing in Drug Development: A Panel with Industry Leaders. Representatives from Boehringer Ingelheim, Pfizer, and Roche will present some of the Pharmaceutical Industry's most innovative open-source big data projects.
As the pharmaceutical industry continues to transform it's R&D model towards one of outsourcing specific challenges and rewarding the solutions with cash prizes, grants and collaborations, crowdsourcing has the potential to propel drug development into a new and innovative age. During this event, we will learn best practices from the people that lead pharma crowdsourcing and open innovation projects.
A networking reception will be hosted after.
Speakers include:
Michael Braxenthaler, PhD, Pharma Research and Early Development Informatics at Roche. Michael joined Roche in 1996 as a bioinformatics scientist after brief university appointments at the University of Salzburg and the University of Maryland. Currently, he serves as VP of Industry Relations at tranSMART Foundation, a non-profit that promotes translational biomedical research. He is also President at Pistoia Alliance, Inc., a not-for-profit, precompetitive alliance that aims to lower barriers to innovation by improving the interoperability of R&D business processes. He received his Ph.D. from Universität Tübingen.
Jeanne Magram, PhD, Site Head: Centers for Therapeutic Innovation (CTI) at New York Pfizer. Before becoming Site head of CTI, Jeanne was Vice President of Immunology and Inflammation at Boehringer Ingelheim Pharmaceuticals, overseeing a department committed to drug discovery that addresses unmet medical needs in autoimmune disease and delivered candidates into clinical testing. Jeanne received her PhD in Genetics and Development from Columbia University and Post doctoral training in Oncology from the University of California-San Francisco.
David Thompson, PhD, Director, Organizational Engagement at Boehringer Ingelheim. David Thompson made science and then tools that made science. David now works in social business. Along the way he discovered that he is a fierce opponent of organizational skeuomorphs, and is a passionate advocate of diversity in all things. David has a master's degree in Chemical Physics from University College London, and a PhD in Theoretical Chemistry from the University of Cambridge. You can follow David on twitter where he refrains from speaking about himself in the third person. You can follow David on twitter where he refrains from speaking about himself in the third person.
Louisa Roberts, Watson Associate Partner - Life Sciences. has focussed her career in the pharmaceutical industry, both in house at AstraZeneca and GSK and as an external consultant.  Louisa has a Masters in Chemistry from Edinburgh University (but please don't ask her any organic chemistry questions) and MBA from Dartmouth.  Louisa has worked in all business critical functions (R&D, Manufacturing, New Product Development, Marketing, Managed Markets and Sales) to develop strategy and improve decision making to top 20 pharma / biotech companies. As an Associate Partner within the Watson Transformation team, Louisa works with clients to identify areas where Watson (advanced analytics and natural language processing) can be used to solve complex challenges within Healthcare & Life Sciences. 

Sign up immediately; space is very limited!
Have questions about Crowdsourcing in Drug Development: Panel with industry leaders?
Contact NYC Bio
When & Where

NYU Langone Medical Center
550 1st Ave, New York, NY 10016
Alumni Hall A (Directions will be provided at the site of the event)
New York, NY 10016


Thursday, June 26, 2014 from 6:00 PM to 9:00 PM (EDT)
Add to my calendar