Crowd//Sessions: Crowdfunding Day
About this event
December 9th, 2021 | 11AM - 5PM CET - European
Whether you are an entrepreneur, inventor, or investor, Crowdfunding Day will inspire you with new ideas, insights, and skills to harness the massive opportunities in crowdfunding.
We brought in only the MOST INNOVATIVE MINDS of Crowdfunding for you
Our speakers are top crowdfunding global practitioners, enterprise leaders, and disruptive innovators who understand the fundamental shift towards the new crowd economy and powering breakthroughs together.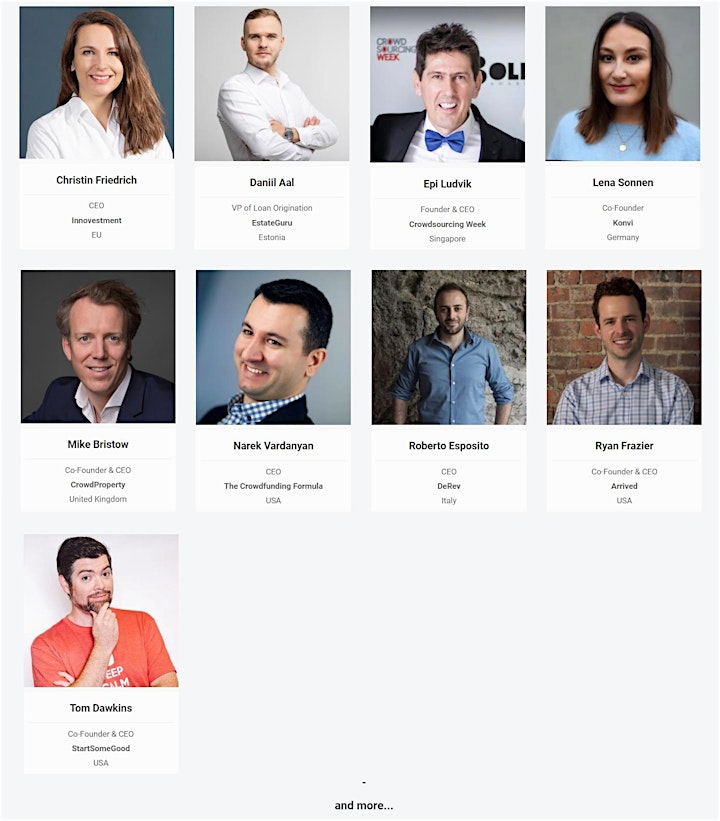 By taking a deep-dive into Crowdfunding 2.0 applications, we have the opportunity to help lead new generations of entrepreneurs and innovators to success, and we're only just getting started.
Event Agenda
Reward Crowdfunding for Innovation | Part I: 11:00 AM – 12:30 PM CET (European)
Crowdfunding for Startups | Part II: 1:30 PM – 3:00 PM CET (European)
Crowdfunding for Real Estate| Part III: 3:30 PM – 5:00 PM CET (European)
Organizer of Crowd//Sessions: Crowdfunding Day
Crowdsourcing Week (CSW) is a global forum committed to educating decision makers on the power of the crowdsourcing ecosystem and the positive impact it can have on the brand and its stakeholders. We catalyze discussion and learning among enterprise-level executives, entrepreneurs, and financiers on best practices in the new crowd-driven era of business.