About this Event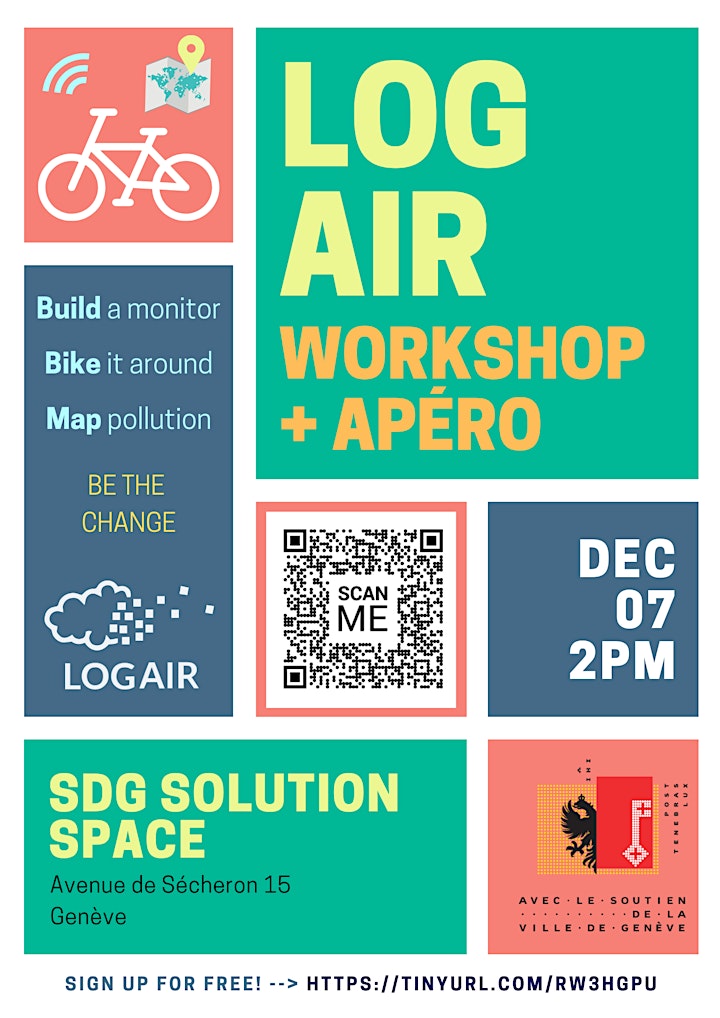 --ENGLISH BELOW--
Rejoignez l'équipe de LogAir et ses bénévoles en décembre et apprenez à lutter contre la pollution de l'air.
Dans cet atelier (14h-17h):
Nous vous guiderons à travers votre propre moniteur de pollution atmosphérique à partir de zéro
Nous allons le tester près du Solution Space
Nous analyserons les données en direct et nous obtiendrons une carte de la qualité de l'air à venir
De 17h à 19h, nous célébrerons avec des boissons et des collations tout en écoutant les étudiants du Centre Universitaire d'Informatique (UNIGE) qui ont participé au projet.Veuillez réserver votre billet GRATUIT pour assister à l'atelier, à l'apéritif ou aux deux. Nous avons des places limitées pour l'atelier!
* LogAir est un projet soutenu par G'Innove, le programme d'innovation de la Ville de Genève *
Nous avons une annonce surprise à faire, à bientôt!
--------------
Come join LogAir team and volunteers next December, and learn how you can contribute to tackle air pollution.
In this workshop (2-5pm):
We will walk you through building your own air pollution monitor from scratch
We will test it in the surroundings of Solution Space
We'll analyze the data live, to get a map of air quality around the venue
From 5-7pm we'll celebrate with some drinks and snacks while we listen to the ideas that students from Centre Universitaire d'Informatique (UNIGE) have been designing for LogAir.
We have a surprise announcement to make, see you all there!
Please book your FREE ticket to attend either the workshop, the apéro or both. We have limited places for the workshop!
*LogAir is a project supported by G'Innove, the innovation program from the city of Geneva*