Location
Spiegel Sohmer
1255 Peel Street
Montreal, QC H3B 2T9
Canada
Description
A unique workshop to gain extensive knowldege about crowdfunding and apply it to your project.
Looking to raise funds for your project, but find it a daunting task?
Crowdfunding is really just classic community fundraising meeting new technology tools and is a great way to boost your project budget and profile. Yet, too many doers & makers don't reach their funding goals due to lack of planning and attention to making the campaign successful.
This workshop based on Seeding Factory's methodology will help you:
- Understand the crowdfunding space,
- Identify how and why your project can benefit from a crowdfunding campaign,
- Learn psychologic, financial and social triggers behind successful campaigns and bypass major mistakes.

Who should attend?
This workshop is for entrepreneurs, creatives, artists (filmmakers, musicians), hackers & makers, activists, inventors, designers, small business owners, and anyone who wants to make their idea a reality.
>> Limited Capacity: 20 people <<
---
This workshop is a perfect preliminary to the "Advanced Workshop".
---
Workshop Outline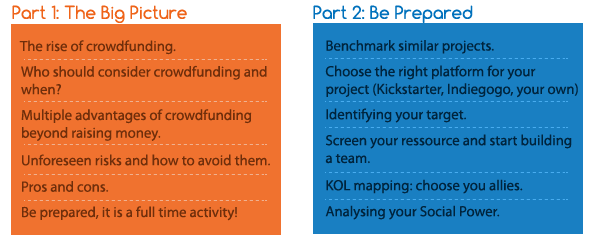 You will walk away with a clear vision to start crafting your own campaign and the confidence to know how & why crowdfunding works.
About Seeding Factory
Bruno Rakotozafy & Heri Rakotomalala are crowdfunding experts, founders of Montreal-based Seeding Factory. They've helped raised more than $100,000 last year for various projects (Build Notman House, J'accorde,...). They are also active evangelists with the critically acclaimed Crowdfund Night event series hosted every 4 months in Montreal.
About Spiegel Sohmer
Founded in 1967, Spiegel Sohmer is a firm of attorneys offering state-of-the-art expertise to a diversified business clientele seeking solutions that are innovative, concrete, and pragmatic.