Location
Spiegel Sohmer
1255 Peel Street
Montreal, QC H3B 2T9
Canada
Description
An interactive workshop to learn step by step how to prepare, launch and manage a triumphant campaign.
You've decided you will do a crowdfunding campaign to fund your project or launch your new great product and you are wondering how to practically doing it.
You want to learn a methodology that will maximize your chances of success, and avoid to be one of the 50% campaigns that fail.
This interactive workshop based on Seeding Factory's methodology will help you:
- Craft a Pitch, create a Video, design relevant Perks & plan your PR effort,
- Discover great tools to facilitate the launch, management and fulfilment,
- Generate a one pager summarizing your project and your strategy(to be used as a roadbook).

Who should attend?
This workshop is for entrepreneurs, creatives, artists (filmmakers, musicians), hackers & makers, activists, inventors, designers, small business owners, and anyone who wants to make their idea a reality.
>> Limited Capacity: 20 people <<
---
This workshop is a perfect add-on to the "Basic Workshop".
---
Workshop Outline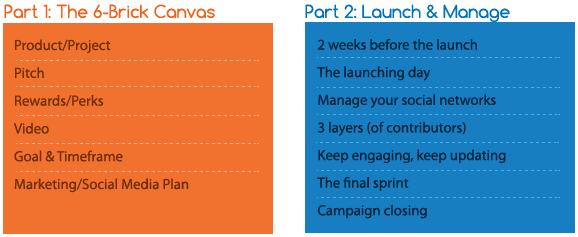 With a maximum of 20 people in the room we'll focus on qualitative activities during which every participant will have the opportunity to generate a plan customized to its project.
About Seeding Factory
Bruno Rakotozafy & Heri Rakotomalala are crowdfunding experts, founders of Montreal-based Seeding Factory. They've helped raised more than $100,000 last year for various projects (Build Notman House, J'accorde,...). They are also active evangelists with the critically acclaimed Crowdfund Night event series hosted every 4 months in Montreal.
About Spiegel Sohmer
Founded in 1967, Spiegel Sohmer is a firm of attorneys offering state-of-the-art expertise to a diversified business clientele seeking solutions that are innovative, concrete, and pragmatic.