Crowdfunding vs. Raising Capital - with Berny Dohrmann

Wednesday, September 23, 2015 from 6:00 PM to 9:00 PM (MDT)
Event Details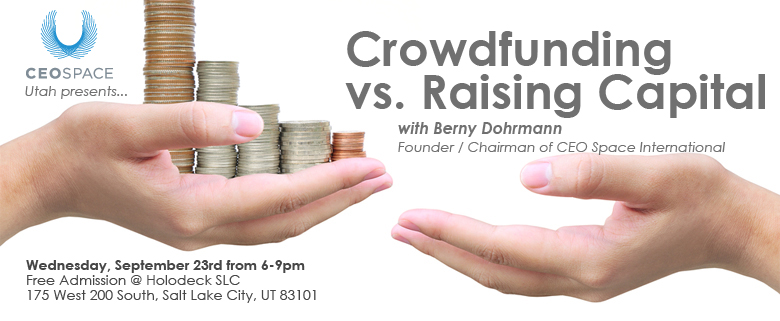 Dear fellow Utah region Inventor and Entrepreneurs, 
We are happy and excited to announce that the Founder and Chairman of CEO Space – Berny Dohrmann will be visiting Salt Lake City from Tampa, Florida and to do a complimentary session for our local entrepreneurs on the topic of Crowdfunding vs. Raising Capital. Berny will be giving us the latest updates on 2015 new Crowdfunding rules and regulations that will really help improve the way entrepreneurs raise capital. If you are looking to raise capital or do a crowdfunding campaign, this is a not to be missed learning and networking event!
Join us for a highly educational and inspiring evening to learn from one of the most sought after capital-raising coach and mentor for entrepreneurs.
Berny will be addressing common questions and concerns such as:
When to use Crowdfunding vs. Capital?

When can you raise capital as Crowdfunding?

The latest update on 2015 rules and regulations regarding Raising Capital and how it'll make your life easier

What are the tax ramifications for Crowdfunding?

When should you start a Funding Program?
We will also open up for Q&A for those who might be looking for more specific answers for your particular project(s). ONE-ON-ONE Coaching will be available for scheduling after the session.


ABOUT BERNY DOHRMANN
 Berny Dohrmann is an internationally recognized capital strategist, revenue accelerator, and economic innovator. He is the Founder and Chairman of CEO Space International, the world's leading business incubator having touched over 300,000 business owners in more than 100 countires. Under Dohrmann's leadership, CEO Space has grown into a mega week-long intensive and trade show that services hundreds to thousands of small business owners at each conference five times a year; utilizing proprietary networking and teaching techniques that accelerates attendees' abilities to grow their business through capital raising strategies, business growth intensives, and exercising the power of collaboration.
Dohrmann is one of the early adopters and prominent practitioners of cooperative capitalism.  A belief system he's helped to mold which focuses on highlighting the most positive aspects of capitalism, eliminating the hyper emphasis on the competitive nature of it, and infusing a social conscious approach in developing economic systems.  Dohrmann believes that by getting CEO's to collaborate the economy will grow faster, more jobs will be created, and America's best days will be ahead.  While the CEO Space International community has been the main laboratory for this trending economic philosophy; recently, Dohrmann has become very active in shaping legislation through the Jobs Act, specifically looking at crowd funding for small businesses. 
Mr. Dohrmann operated for many years as Chairman of publically traded investment banking firms conducting billions of dollars of business in over fourteen countries. He is the author of several books and a key influence on his life was his father Alan Dohrmann a renowned curriculum developer who worked with the likes of Walt Disney and Napoleon Hill. From his father's life Dohrmann learned if you can dream it, then you CAN do it. 
To learn more about CEO Space International please visit: www.ceospaceinternational.com
Watch this video to help you learn more: https://youtu.be/Ms5YoEs-R5U
Questions? Please contact your organizer Sandra Fan at sfan@ceospaceinternational.com or 801-580-9041
When & Where

Holodeck
175 200 South
#100 (Garden Level)
Salt Lake City, UT 84101


Wednesday, September 23, 2015 from 6:00 PM to 9:00 PM (MDT)
Add to my calendar
Organizer
CEO Space Utah
About CEO Space Utah
Are you a Business Owner, Entrepreneur, Innovative Leader, Inventor or Visionary Investor - looking for your next level of accelerated venture?
Do you have a message, product, service, project or simply a dream or "an idea on a napkin" that you want to take it out to the world?
Are you looking for the right community, environment, support and platform where you can Learn, Earn and Return?
CEO Space is the world's largest and oldest Entrepreneurial Free Enterprise Organization. With a ONE-TIME Lifetime Membership Investment that allows you to attend our National Business Growth Conference FIVE TIMES A YEAR in Orlando, Florida.
CEO Space Utah is one of the biggest and richest chapters in the country. Lead by Sandra Fan - the Super Networker and Master Connector that is dedicated to serving and "spoiling" her members. 
Our very popular monthly mixer luncheon events are not to be missed. If you are a Business Owner, Entrepreneur, Executive or Visionary Investor that are looking to network with high quality people - please sign-up to receive notifications of our events.
We also have special guest speaker events happens a few times a year with great content and information to be shared to boost your business and ventures. For more information regarding CEO Space International, please contact Sandra Fan - our Utah State Director for CEO Space for additional information.
You can reach Sandra Fan via email at SFan@ceospaceinternational.com
or call 801-580-9041.
Please also visit: www.ceospaceinternational.com
Crowdfunding vs. Raising Capital - with Berny Dohrmann