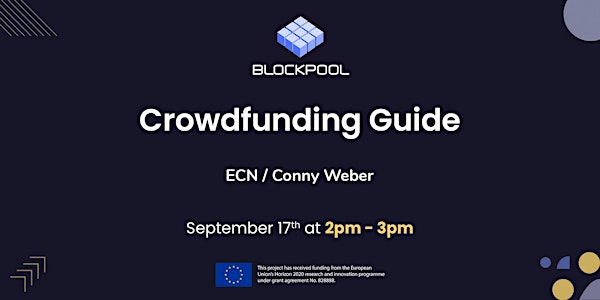 Crowdfunding Guide
This presentation is part of the Blockpool online Bootcamp on September 17 -18, 2020.
About this event
Crowdfunding is a collective effort of many individuals who network and pool their resources to support efforts initiated by other people or organizations. This is usually done via or with the help of the Internet. Individual projects and businesses are financed with small contributions from a large number of individuals, allowing innovators, entrepreneurs, and business owners to utilize their social networks to raise capital. Entrepreneurs and businesses can now utilize the crowd to obtain ideas, collect money, and solicit input on the product, overall fostering an environment of collective decision-making and allowing businesses to connect with potential customers. The main advantage of crowdfunding is that the funders are also potential customers and ambassadors of the project or business they support and that they will help to promote it through their own networks.
This course will provide an overview of the different types of crowdfunding including:
• Donation crowdfunding
• Equity crowdfunding
• Reward crowdfunding
• Lending crowdfunding
Speakers
Dr. Conny Weber (European Crowdfunding Network, ECN)
Bootcamp agenda
Tap on the links for more information about other events within the framework of the Blockpool Bootcamp: https://bit.ly/338Dwn9
Details
Location: Zoom (access data will be emailed shortly before the start of the event)
Language: English
Registration required via Eventbrite; dial-in via zoom (installation required); maximum number of participants: 300.
Disclaimer: This project has received funding from the European Union's Horizon 2020 research and innovation programme under grant agreement No 828888.