Description
The CrowdfundingHub, Kisskissbankbank and ECN Invite you to a CrowdTuesday on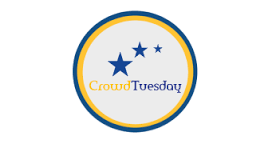 'Crowdfunding for the cultural and creative sector'
Taking place at

The Cinema Gallery, Brussels
Wednesday 17th of february
16.00 - 19.00


This event is open to
crowdfunding professionals,
cultural and creative professionals, artists, film makers, designers, architects, policy makers and foundations, that want to know more about the benefits and challenges of crowdfunding, the do's and don'ts of launching campaigns
Speakers include among others:
- In-Soo Radstake, CEO CineCrowd

- Willem Schrijver en Edouard Meier, Kisskissbankbank (Brussel)

- Ronald Kleverlaan, CEO CrowdfundingHub
- Emilie Tack,Project Manager ECN
- Jan van den Bossche, Kunstenloket
This is the second event the CrowdfundingHub organizes this year. Our first will be in Amsterdam on 11-2. We will organize several events throughout Europe about the impact of crowdfunding across Industries.
We keep you posted! Follow us on twitter and facebook !
About CrowdTuesday
CrowdTuesday is a small to medium sized event bringing together the crowdfunding industry at local level. Characterized by an informal and welcoming atmosphere, CrowdTuesday is a perfect occasion for anybody interested in crowdfunding to do some networking or to listen to an interesting presentation, while having an after work drink. Participation is free of charge.
About KisskissBankBank

KissKissBankBank is a crowdfunding plateform which helps you raise funds to realize your ideas and projects.
Our first interest is to create an alternative space dedicated to creativity, innovation, solidarity and entrepreneurship. If you have a vision and courage, if you are creative, artist, humanist, inventor, explorer, filmmaker, journalist, designer, athlete, environmentalist, your project will find its place on KissKissBankBank.
About CrowdfundingHub
The CrowdfundingHub is the European knowledge center on crowdfunding and alternative finance. With a core team in Amsterdam and local experts in all countries in Europe, we conduct independent research on trends in the industry and provide transparency together with universities, governments and associations. We train and certify finance professionals and crowdfunding consultants and implement an alternative finance quality mark for finance professionals and provide toolkits for proper education of entrepreneurs and investors. We support governments, corporates and non-profit organisations to learn more about the proper use of these new ways of finance.