Description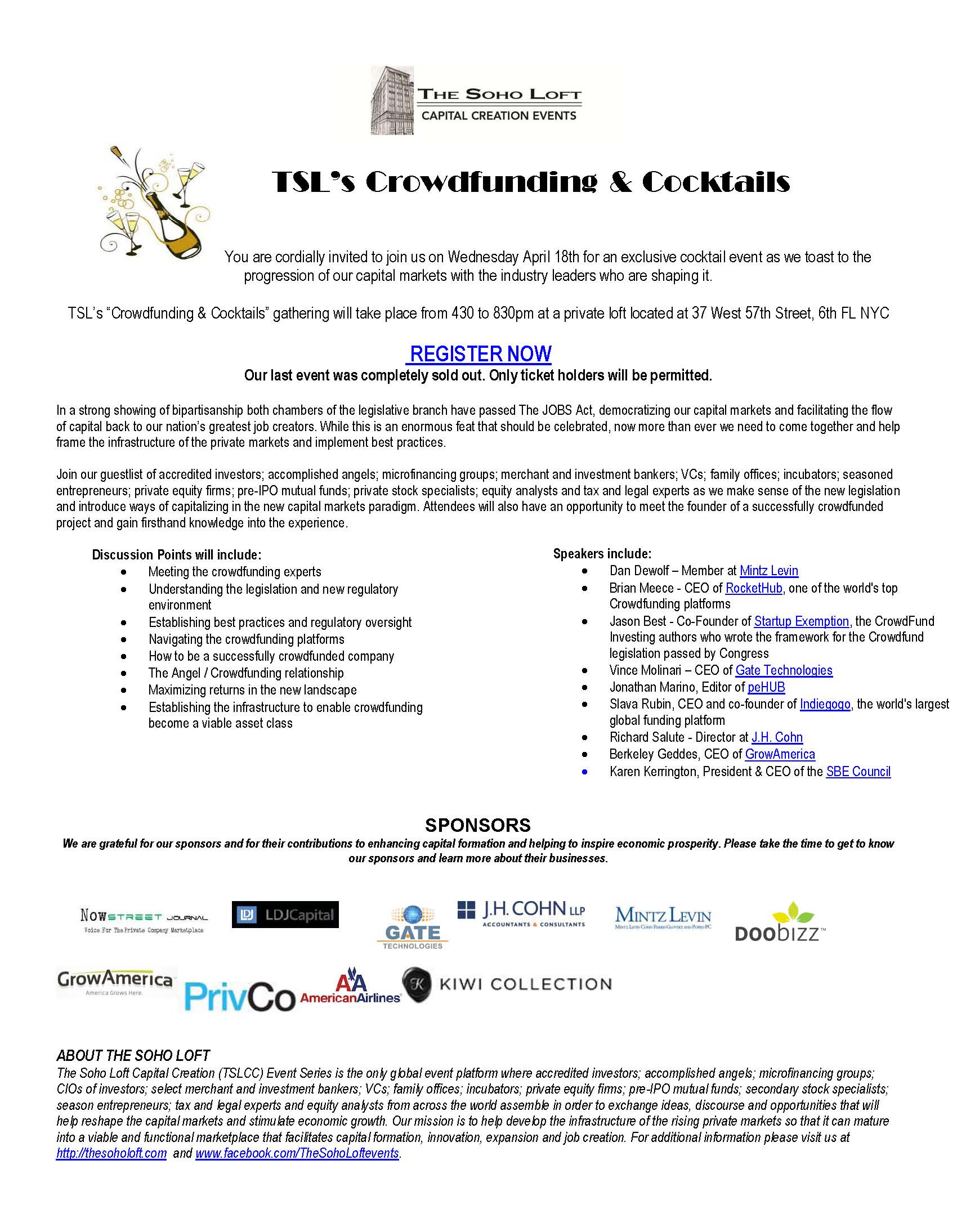 AGENDA
· 430pm – Registration & pre-networking
· 5pm - Opening Remarks and Introduction by Dara Albright, Founder of NowStreet Journal & Co-Founder of The SoHo Loft Capital Creation Events
o A special thanks to our industry pioneers
o Meet our Speakers
o Meet our Sponsors
o Grow America video – introduced by Berkeley Geddes, CEO of Grow America
o "The New Regulatory Environment – How We Got Here" by Karen Kerrigan, President & CEO of the Small Business & Entrepreneurship Council and chairperson of the Center for International Private Enterprise (CIPE).
· 545 to 645pm Panel: Incorporating the Legislative Changes and Developing A New Asset Class
o Panel Moderator: Jonathan Marino, Editor of peHUB
§ Panelists include:
· Dan DeWolf – Member at Mintz Levin
· Brian Meece - CEO of RocketHub
· Jason Best - Co-Founder of Startup Exemption
· Vince Molinari – CEO of Gate Technologies
· Slava Rubin is CEO and co-founder of Indiegogo
· Richard Salute - Director at J.H. Cohn
· 645pm - Crowdfunding Success Story: The Presidential Game. Presented by Regina Glocker
· 7pm – Announce Raffle Winner, Cocktail Party, Extensive Networking
Organizer of Crowdfunding & Cocktails
Since 2011, Dara Albright has been helping set the direction of the crowdfinance industry through leading-edge industry articles, white papers, acclaimed conferences, exclusive cocktail events and webinars that introduce crowd-driven asset classes such as crowdfunding and p2p lending to the financial community. She produced the very first crowdfunding conference in January 2012 which was headlined by key JOBS Act architects: Congressman Patrick McHenry and Dave Weild. That event birthed the crowdfinance movement and led to the initiation of the crowdfund industry's trade and leadership organizations of which Albright co-founded. In 2013 she co-founded LendIt, the largest and most recognized global p2p & online lending conference organization. In 2015 she co-founded FinFair, Wall Street's inaugural conference featuring the leadership, products and technologies that are driving the crowd-centric retail alternatives market. Some of the most prominent figures in the financial industry as well as the legislature continue to participate in Dara Albright events.