"CROWD EXTRA" BOLLYWOOD - THIS SUNDAY, PLEASE ARRIVE 08.30AM:)!

Sunday, 25 November 2012 from 08:30 to 19:00 (GMT)
Event Details
WELCOME TO BOLLYWOOD we look forward to seeing you at 08.30am Sunday morning on 25th November, that's THIS Sunday!
Who do we want? Males and Females aged 18+ / Any ethnicity / Must be well dressed (dress as if you were going on a night out) as it will be a nightclub scene

*!*IMPORTANT*!* Please click the register button for your ticket to grant you access to join us on set for the filming of Yamla Pagla Deewana 2!
Where? Gatecrasher, 182 Upper Broad Street, Birmingham,UK. B15 1DA
When? Sunday 25th November 2012
What time? 08.30 AM – 19.00*
Only those with a ticket will be admitted, please print your ticket.
 
 FAQs

1. Will I get paid?

As a "crowd extra"** unfortunately we can't pay for your time or expenses as you will only do one day with us and through agreeing to appear as an extra you agree to this and the waiver in section 9.
However, when you show your ticket at the entrance of Gatecrasher this Sunday, you will receive a CROWD EXTRA WRISTBAND and you will receive an exclusive Yamla Pagla Deewana 2 t-shirt and signed photograph of the Bollywood stars  and some extra surprise goodies (so make sure you have your ticket)! As you will be with us all day we will feed you lunch. Your t-shirt and signed photo will be dispensed when you have finished your time slot and on your way out of Gatecrasher.
***Please note that we are expecting hundreds of people to turn up this exciting shoot on Sunday, amongst these are different types of Bollywood continuity extras, stunt men, actors, dancers etc belonging to different agencies, they will be required to be with us for more than one day for continuity. If you are interested in being a crowd extra for more than one day then contact one of the team at the end of the day! But as a "crowd extra" you are only required for Sunday 25th November 2012.
Only those with a CROWD EXTRA WRISTBAND will get the goodies, so print your ticket to make sure you get your wristband at the door! 
2. When should I arrive?
Please arrive at 08.30am sharp and ready to be on set ASAP. The time slot* stated above is a strict time slot allocated for you, late comers or those without a ticket may be turned away as this could delay filming. As you will be an extra for the day we expect you to follow the professional protocol expected on a film set, we will have team leaders in hi-visibility jackets to instruct you. 
3.When do I leave?
Continuity is very important on a film, therefore we will require you to please stay with us on set all day, until 7pm please. We will feed you lunch. Your t-shirt and signed photograph will be dispensed as you leave and upon presenting your wrist band and/or ticket.
4. What are my transport/parking options getting to the event?

Directions from the M42 - Exit M42 for the M6 north. Exit at Junction 6 following A38M into the city centre. Go under the first tunnel and just before the second tunnel exit on to adjacent dual-carriageway. Follow this to the island and take the third exit for Broad Street.t
Parking perfectly located in the heart of Birmingham, we have over 1500 parking spaces in car parks adjacent and behind the venue on Bishopsgate Street and Tennant Street. As your safety is paramount to us, we have over 50  to put you at ease.
5. How will I know what to do?
As you are now a Bollywood extra, it is important that you listen to the direction from a member of the production crew. We will be wearing hi-visibility jackets and will be telling you exactly what to do and where you can go. There will also be a team of choreographers telling you exactly what they want you to do whilst on set and it's very important that you listen to instructions.
6. What should I wear?
Please dress as though you are going out clubbing to a night club! Although, please wear comfortable shoes as you will standing around a lot (not as glamorous as you may think)!!
7. What can/can't I bring to the event?
Might be a good idea to bring a bottle of water, being an extra can be thirsty work! Please avoid bringing any bags or loose items with you. Although we will have high levels of security at this event, we will not be held responsible for any loss or theft of any items, so please carefully consider what you bring with you. Please switch off phones whilst we are filming (standard professional film set etiquette).
8. Can I take photos or videos?
Taking photos or video footage is not allowed. Now that you are part of our team, we ask that you please follow and respect these rules that our Film Production Crew and Cast members follow too.
9. Will I definitely appear in the film?
It is 99% certain that you will be in! That's why you will have turned up! Through applying to be a Bollywood extra and registering your details for this ticket, you give permission for us to take still or moving images of you and agree to the following:
BY AGREEING TO APPEAR AS AN EXTRA IN THE FILM "YAMLA PAGLA DEEWANA 2", YOU AGREE AND ACKNOWLEDGE THAT YOU ARE CONSENTING TO OUR INCLUDING YOU IN OUR RECORDING OF THE FILM AND YOU FURTHER IRREVOCABLY AND UNCONDITIONALLY GRANT TO US ALL CONSENTS WHICH MAY BE REQUIRED FOR OUR EXPLOITATION OF YOUR PERFORMANCE BY ALL MEANS AND IN ALL MEDIA WHETHER NOW KNOWN OR HEREAFTER DEVISED THROUGHOUT THE WORLD FOR THE FULL PERIOD OF COPYRIGHT (INCLUDING ALL EXTENSIONS, REVIVALS, REVERSIONS AND/OR RENEWALS) IN PERPETUITY
10. Where can I contact the organizer with any questions?
Due to the large amount of extras invited to this event, we are unable to answer individual questions before the event. On the day there will be a team of helpful and friendly Assistant Directors wearing hi-visibility jackets and we will aim to answer any questions you might have on the day, but please be patient with us as there is a lot of extras!
11. Is my registration/ticket transferable?
Only one ticket is available per person. If more than one person or a family have applied through the same e-mail address, please make sure that each individual registers their name to attend the event and has their own individual ticket. Otherwise you will not be on the all important guest list!
12. Do I have to bring my printed ticket to the event? 

Yes please! 

Your printed ticket will act as your access to the set. Without it you will not get access to the set! Alternatively, you can show us your ticket on your smartphone. In exchange for your ticket, you will receive a wristband for the day.
13. The name on the registration/ticket doesn't match the attendee. Is that okay? 

Each ticket is individually numbered, so every individual applicant must have their own ticket.
14. When do I get to see the film?

Due for release in Spring 2013. Be sure to follow the Yamla Pagla Deewana Facebook and Twitter pages to follow our progress and keep updated with the latest news.
Finally and most importantly, we want you to be safe and have fun!
This will be a memorable and exciting day, you will never forget being a Bollywood Movie extra! You are one of the team now and we all need to work together to make something you can be proud to say you worked on.

Thank you for your application and we sincerely look forward to working with you on Yamla Pagla Deewana 2!
See you at 08.30am on Sunday Morning!
When & Where

Gatecrasher Night Club Birmingham
182 Broad St
B15 1DA Birmingham
United Kingdom


Sunday, 25 November 2012 from 08:30 to 19:00 (GMT)
Add to my calendar
Organiser
YPD FILMS LTD. (U.K.) "YAMLA PAGLA DEEWANA 2"
Hooray for Bollywood - here's your chance to star on the silver screen!
New film starring the cream of Indian movie talent launches a casting call for extras in Birmingham.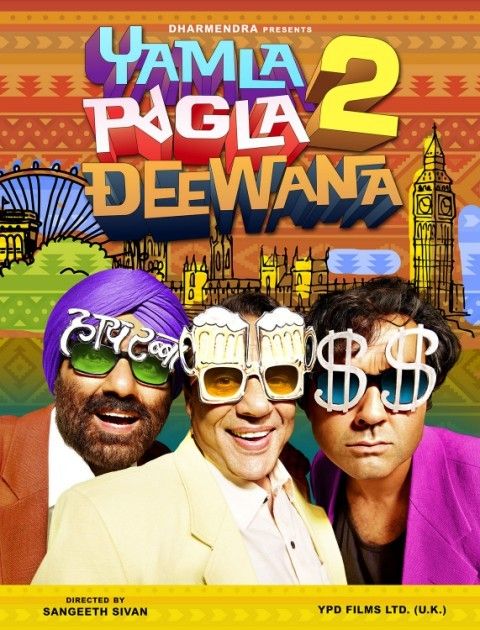 Hundreds of extras are needed to star in a Bollywood film called Yamla Pagla Deewana 2 shooting at Birmingham's Gatecrasher Night Club on Broad Street.
The film's Birmingham-born production manager Andrew Cooke, said: "This a great opportunity for local people aged 18 - 25 to come and star in a Bollywood film.
"Featured actors include Sunny and Bobby Deol, Anupam Kher, Neha Sharma and Dharmendra, the veteran 'action king' of Hindi cinema.
"The cast members are like 'Bollywood royalty' stars, equivalent to Tom Cruise, Johnny Depp and Angelina Jolie in Hollywood," said Mr Cooke.
"We need extras for a spectacular song sequence, along with a kung-fu fight featuring 20 Chinese wire-working stuntmen."
"CROWD EXTRA" BOLLYWOOD - THIS SUNDAY, PLEASE ARRIVE 08.30AM:)!