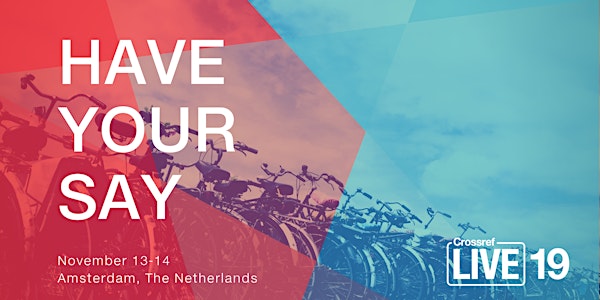 Crossref LIVE19: Have your say
Date and time
November 13, 2019 · 12:30pm - November 14, 2019 · 5pm CET
Location
TOBACCO Theater 75-87 Nes 1012 KD Amsterdam Netherlands
Description
"There is only one way to avoid criticism: do nothing, say nothing, and be nothing." - Aristotle
Crossref strives for balance. Different people want different things from us. As we prepare to turn 20, please join this unique meeting to help shape the future of Crossref.
With a smaller group than usual, we're dedicating this year's annual meeting to hear what you value about Crossref. Which initiatives would you put first and/or last? Where would you have us draw the line between mission and ambition? What is "core" for you? How could/should we adapt for the future in order to meet your needs?
There won't be any plenary talks about trends in scholarly communications, but instead workshop-style activities to help hone our strategy, do some scenario planning, and prioritize goals together, as a community.
Research is global, and supporting a diverse global community is a challenge. Come and have your say.
---
Agenda, Wednesday, November 13
12:30 Registration (no lunch but 'power bars' and refreshments available)
13:45 Welcome & objectives (Ed Pentz)

14:00 The perceived value of Crossref
14:20 Strategic scene-setting
14:45 Break
15:15 "In their own words" talks:
Large publisher (Todd Toler, Wiley)
Medium publisher (Catriona MacCallum, Hindawi)
Small publisher (Anna Danilova, Ukrinformnauka)
Research funder (Christian Gutkneckt, Swiss National Science Foundation)
Academic group (Ludo Waltman, CWTS, University of Leiden)
Wrap-up: Striving for balance
16:30 Governance & board election
16:30 Introduction to workshops

17:00 Reception: Chat over drinks and canapes
Agenda, Thursday, November 14
08:45 Grab a coffee & find your assigned roundtable.
09:00 Workshop 1: What is our mission and who do we serve?
10:00 Report back & discussion
11:00 Break
11:30 Workshop 2: How are we sustained?
12:15 Report back & discussion
13:15 Lunch
14:15 Workshop 3: How should our priorities change?
15:15 Report back & discussion
16:15 Next steps & follow-up
17:00 Close
About the organizer
Crossref makes research outputs easy to find, cite, link, and assess.
We're a not-for-profit membership organization that exists to make scholarly communications better. We rally the community; tag and share metadata; run an open infrastructure; play with technology; and make tools and services—all to help put scholarly content in context.
It's as simple—and as complicated—as that.