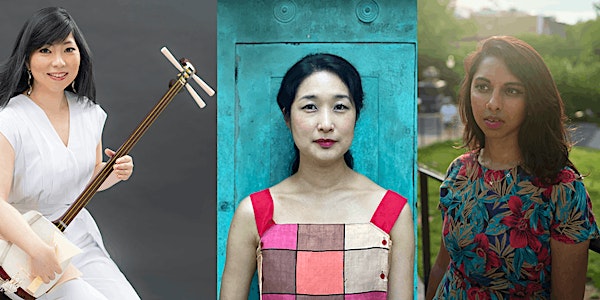 Crossing Boundaries Concert Series Vol. 16: FOCUSING ON HER
Location
Tenri Cultural Institute
43A West 13th Street
New York, NY 10011
Refund policy
Contact the organizer to request a refund.
Eventbrite's fee is nonrefundable.
Musicians Yoko Reikano Kimura, gamin, and Amirtha Kidambi perform music composed by female AAPI composers + Q&A about women in music.
About this event
CRS (Center for Remembering & Sharing) and Tenri Cultural Institute of NY present Crossing Boundaries Concert Series Vol. 16: FOCUSING ON HER on Saturday, December 10, 2022 at 7 pm at Tenri Cultural Institute.
Originally scheduled to take place on March 12, FOCUSING ON HER features three AAPI female musicians — Amirtha Kidambi (Indian-American, voice/saxophone), Yoko Reikano Kimura (Japan, shamisen), and gamin (Korea, saenghwang) — improvising and performing music by AAPI female composers: Amirtha Kidambi (Indian-American), Yoko Sato (Japan), and Yoon-Ji Lee (Korea), with visual projection designed by Bang Geul Han (Korea). Each of the compositions is a prayer or elegy for those who endure or have endured trauma.
Curated by multi-Instrumentalist gamin, this fifth season of Crossing Boundaries consists of three concerts exploring the theme of WOMEN IN MUSIC performed by female and female-identifying musicians. There will be a Q&A following each performance.
Crossing Boundaries Vol. 17: EYES FROM HER will take place on June 24 at CRS. Crossing Boundaries Vol. 18: FREEDOM will be held on July 16 in Marc A. Scorca Hall at the National Opera Center.
Tickets are available on eventbrite.com for $10 – $50 or for cash at the door.
Due to the difficulty of predicting the course of the pandemic, please note that all patrons might be required to wear masks and/or show proof of vaccination/booster to be admitted. Please check back close to the event date to learn if these requirements will still be in place.
THE PROGRAM
"Untitled after Kim Myung Soon"
composed by Yoon Ji Lee 이윤지 in 2019
performed by gamin 가민 / saenghwang solo
visual art by Bang Geul Han 한방글
https://yoon-jilee.bandcamp.com/track/untitled-after-myung-soon-kim
"The Road"
composed by Yoko Sato 佐藤容子 in 2007
performed by Yoko Reikano Kimura 木村伶香能 / shamisen solo
https://www.youtube.com/watch?v=SpUrL-b7CjM&list=PL0TlIyuAyt-y6Z-1BcWRTt3rzyU3vdYiK
"Swim Fast (2021) for Ellen O"
composed by Amirtha Kidambi in 2021
performed by Amirtha Kidambi / vocal & saxophone
https://vimeo.com/411258851
Improvisation
performed by gamin, Yoko Reikano Kimura, and Amirtha Kidambi
ABOUT CROSSING BOUNDARIES CONCERT SERIES
CROSSING BOUNDARIES is a concert series devoted to dissolving boundaries between performers and audiences, the traditional and contemporary, classical and experimental, and the culturally specific and the global. Series curators are given the opportunity to create unique performance events in collaboration with musical, visual, and/or movement artists of their choosing. Crossing Boundaries is made possible in part with public funds from Creative Engagement, supported by the New York City Department of Cultural Affairs in partnership with the City Council and the New York State Council on the Arts with the support of Governor Andrew Cuomo and administered by LMCC. LMCC empowers artists by providing them with networks, resources, and support, to create vibrant, sustainable communities in Manhattan and beyond.
ABOUT THE ARTISTS
AMIRTHA KIDAMBI is invested in the creation and performance of subversive music, from free improvisation and avant-jazz, to experimental bands and new music. She is an educator, activist and organizer, informed by anti-racism, decolonization and anti-capitalism. As a bandleader, she is the creative force behind Elder Ones and Lines of Light vocal ensemble and has received critical praise from the New York Times, Pitchfork, Downbeat and WIRE magazine. Kidambi is a key collaborator in Mary Halvorson's latest sextet Code Girl, the duo Angels & Demons with Darius Jones, a new project with Luke Stewart and in various collaborations with William Parker. She also had the honor of working with the late composers Muhal Richard Abrams and Robert Ashley. Amirtha is the co-founder of South Asian Artists in Diaspora collective and co-organizer of Musicians Against Police Brutality with Matana Roberts. http://www.amirthakidambi.com/audiovisual
BANG GEUL HAN is an interdisciplinary artist working across video, performance, text, and code. Born and raised in Seoul, Korea and based in the US since 2003, her work has been shown in venues including The Bronx Museum of the Arts, Queens Museum, DOOSAN Gallery New York, NURTUREart, A.I.R. Gallery, Cuchifritos Gallery in New York City, Galerie Les Territories and Projét Pangée in Montreal, and Centro Internazionale per l'Arte Contemporanea in Rome. Her work has been reviewed in The New Yorker, The New York Times, Brooklyn Rail, and Art Papers. She lives in Brooklyn, NY. http://whatbunny.org/web/
GAMIN is a Korean-born NYC-based multi-instrumentalist specializing in traditional Korean wind instruments. She tours the world performing both traditional Korean music and cross-disciplinary collaborations. She is a scholar and designated Yisuja, official holder of Korea's Important Intangible Cultural Asset No. 46. From 2000 to 2010, gamin was the principal player at the National Gugak Orchestra. gamin has received several cultural exchange program grants, including Artist-in-Residence at the Asian Cultural Council, and has collaborated in cross-cultural improvisation with world-acclaimed musicians, presenting premieres at Roulette Theater, New School, and Metropolitan Museum. gamin was featured artist at the Silkroad concert, Seoul, 2018, performing on-stage with the founder, Yo-Yo Ma. For 2020, gamin was selected as artist-in-residency at the HERE Arts Center, NYC, and her album "Nong" was released by Innova Records. gamin's Carnegie Hall solo début, accompanied by Nangye Gugak Orchestra, scheduled for March 2020, was postponed by Covid 19. http://gaminmusic.com
Based in Tokyo, composer YOKO SATO's creative activities are focused on exploring intercultural musical elements and aesthetics while expanding the repertoire of contemporary music for traditional Japanese instruments. She has collaborated with many of Japan's most prominent hōgaku (Japanese traditional music) musicians and ensembles and maintains an active career with a steady stream of commissions and performances from an extensive network of colleagues located throughout the globe. A prolific composer of music for the theater, she has composed several operettas commissioned by regional governments to promote musical activities for local Japanese communities. She received her Ph.D. in Music with an emphasis in composition from the University of Hawai'i, Manoa in 2014, where she was the recipient of the East-West Center Graduate Degree Fellowship. She is currently working for the Lifelong Learning Division of Fujisawa City Hall to promote educational and cultural activities in the community. https://yokosatomusic.com
YOKO REIKANO KIMURA is one of the most captivating artistic voices of Japanese koto and shamisen consistently praised by critics for her musical elegance and versatile repertoire. Based in New York and Japan, Kimura has concertized around the world including prestigious venues such as the Warsaw Autumn Festival, Israel Festival, The University of Cambridge, John F. Kennedy Center, Carnegie Hall, Lincoln Center, Metropolitan Museum, Kabuki-za and various World Heritage Sites. Kimura has also performed Daron Hagen's Koto Concerto: Genji with the Wintergreen Music Festival Orchestra conducted by Mei-Ann Chen and worked with renowned artists and organizations such as Heiner Goebbels, Wiener Solisten Trio, American Symphony Orchestra, and Basil Twist. Her awards include the First prize at the prestigious 10th Kenjun Memorial National Koto Competition, the Kyoto Aoyama Barocksaal Award, and a scholarship from the Agency of Cultural Affairs of Japan. Kimura is a founder of Duo YUMENO, with cellist Hikaru Tamaki. http://yokoreikanokimura.com
YOON-JI LEE is a Korean composer based in Boston and New York. She has been creating music based on non-linear structure with a powerful focus on quickly juxtaposing disparate elements through the rapid transformation in both acoustic and electroacoustic mediums. Her works have been engaged with visual arts, dance, literature and intercultural influences. Lee's chamber and electronic music have been performed in Korea and around the U.S., by ensembles including JACK Quartet, MIVOS Quartet, Argento Ensemble, International Contemporary Ensemble, Kammerensemble Neue Musik Berlin, Talea Ensemble, ensemble mise-en, and many others. Lee received Mass Cultural Council's Artist Fellowship, the Jane Geuting Camp Fellowship from Virginia Center for the Creative Arts, the Patsy Lu Award from International Alliance of Women in Music, and the Henry M. MacCracken Fellowship from NYU. Lee has participated in artist residencies at National Sawdust, Atlantic Center for the Arts, the Virginia Center for the Creative Arts, and Brush Creek Foundation for the Arts. Lee earned her PhD at NYU and did her Masters/GD at New England Conservatory. Lee is Currently Assistant Professor at Berklee College of Music. http://www.yoonjilee.org
ABOUT THE PRESENTERS
CRS (CENTER FOR REMEMBERING & SHARING) is a spiritual healing and art center founded in 2004 by the writer/lecturer/spiritual counselor Yasuko Kasaki and artist Christopher Pelham. Our mission is guided by A Course in Miracles (ACIM). ACIM says that recognizing that you and your brother are actually one is the only way to experience peace. The mission of CRS is to promote the awareness that limitless creativity lives within each of us. We train minds to recognize the light in themselves and others and provide them opportunities to share their inner vision through the healing and creative arts. Since its founding CRS has provided numerous residencies and performance and exhibition opportunities to artists from all over the world. Currently, CRS is a lead sponsor of M³ (Mutual Mentorship for Musicians), a platform created to empower, elevate, normalize and give visibility to women, non-binary musicians and those of other historically underrepresented gender identities in intersection with race, sexuality, or ability across generations in the US and worldwide, through a radical model of mentorship and musical collaborative commissions. https://crsny.org
TENRI CULTURAL INSTITUTE is a non-profit organization with a mission to promote the study of Japanese language and the appreciation of international art forms. The Institute hosts a variety of traditional and contemporary cultural programs in our modern, spacious educational facility, performing arts and exhibition space. Conveniently located in the heart of Greenwich Village, the center of New York City's educational and artistic communities, Tenri Cultural Institute is a beautiful cultural oasis amidst the hustle and bustle that is New York City. Tenri Cultural Institute has a 30-year history in the celebration of Japanese and Western culture. By providing our audience with a traditional and unique point of view to the understanding of culture and the arts, we fulfill our mission: To foster cultural understanding, harmony and community. https://tenri.org