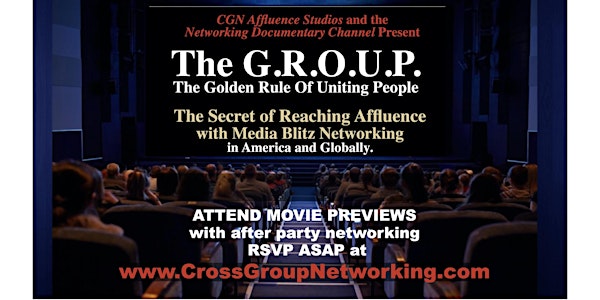 CrossGroup Networking Documentary Channel & eTV Blitz Media Networking
We create and promote TV Documentaries about The Secret of The Golden Rule of Networking and Networkers for Networking and Networkers.
About this event
Note: Find more of my Bob Proctor Media Manifests Money interview below.
WELCOME TO AFFLUENCE STUDIOS the online home of CrossGroup Networking eTV Documentary Channel.
We are super excited and grateful that we can Host our CrossGroup Networking eTV Documentary Channel here on Eventbrite: It's The #1 Event Search Engine in The World.
Eventbrite helped me grow BIG Networking Events and Now We are Launching Our Media Blitz Networking Events and Documentary Channel on Eventbrite.
Watch My Bob Proctor Interviews below about The Launch of The Worldwide Phenomena Known as "The Secret."
Suggestion: Enjoy the Wisdom of Bob Proctor first, then watch a short video of interviews I'm doing right now for my ongoing interviews for The Secret of The Golden Rule will Reveal How to Reach Affluence.
SCROLL DOWN NEAR THE BOTTOM TO LEAR FROM BOB PROCTOR ABOUT THE SECRET.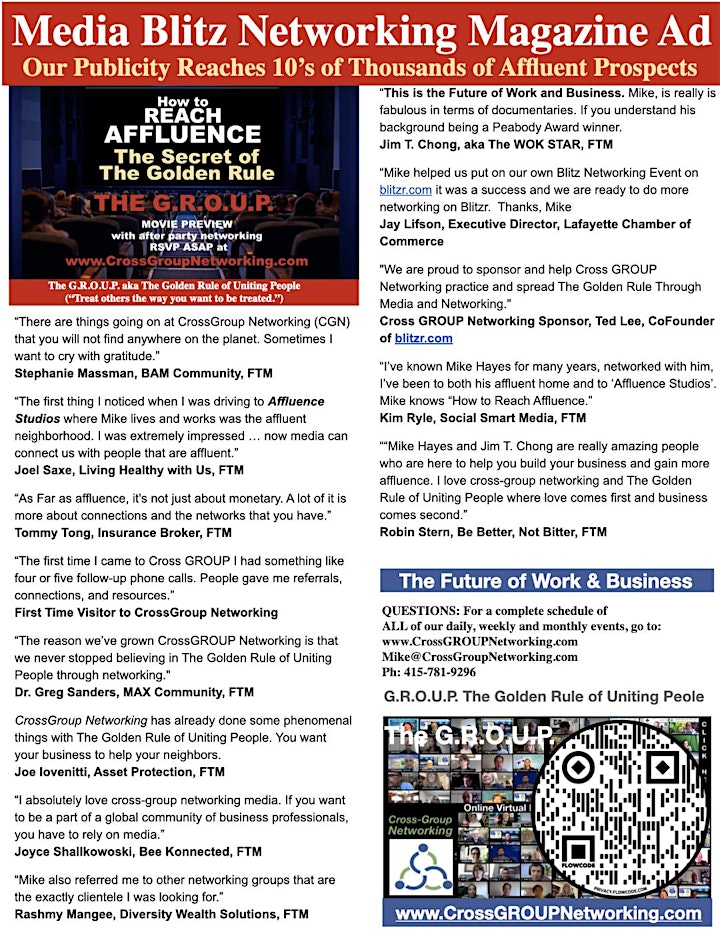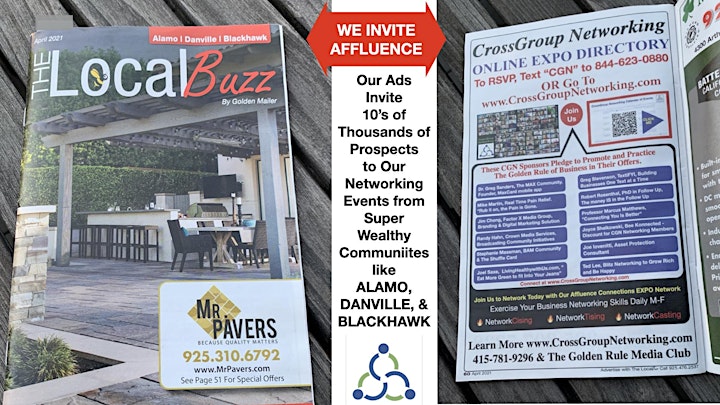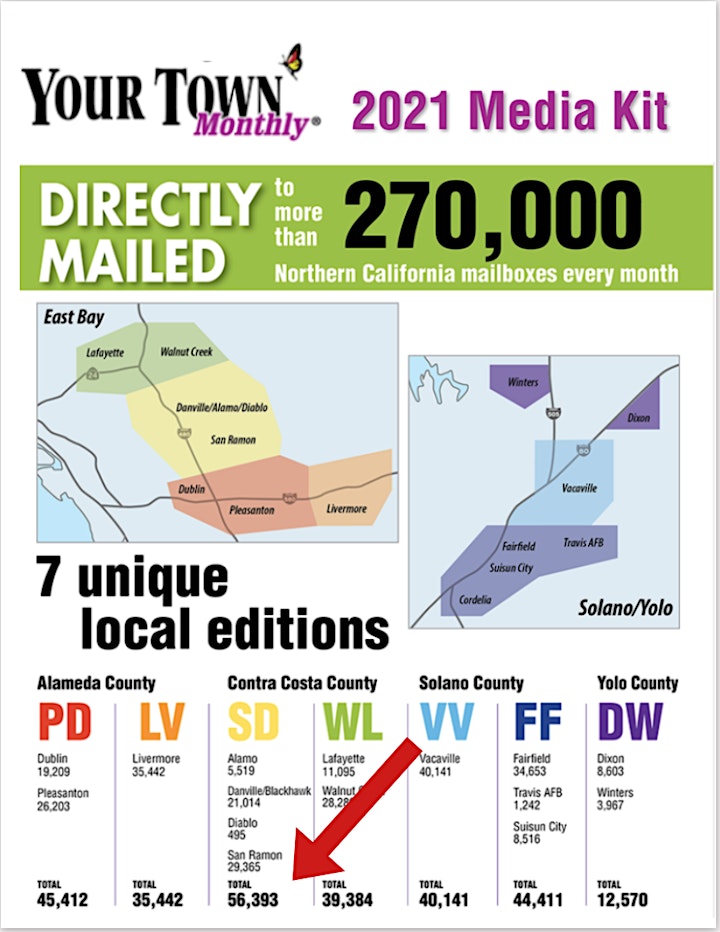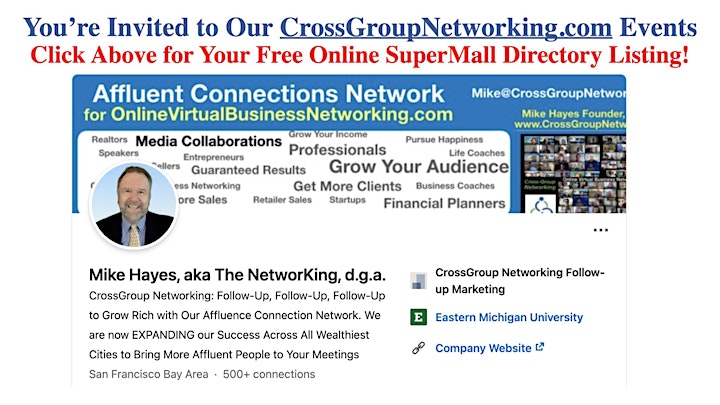 CrossGroup Networking Markets Networkers & "GroupsOnMedia" (Like Groupon for Media Marketing).
Your Online Super Mall for Collective Media Marketing Online GROUP DISCOUNTS!
Our Networking SuperMall is Designed to Promote Networkers to Our Super Affluent Media Audience Attendees.
I'd love your help growing The CrossGroup Networking Super Mall. "
Mike Hayes, Creator, Chairman
Please ignore below:
---------------------------------For SEO Only-------------------------
Online Virtual Business Networking, Networking Events, Online Networking, CrossGroup networking events, networking, business networking, professional networking, online networking, networking online, networking opportunities, networking, business networking, San Francisco networking, b2b networking, business growth, grow my business, networking, networking events, business events, online networking, business networking, Cross Group Networking Lafayette, CA, networking, Networking, Professional networking, Business networking events, business networking, cross-group, East Bay networking, Bay Area networking, Networking, Professional networking, Business networking events, CrossGroup, cross-group network, business events, networking opportunities, Networking, Networking Events, Denver networking, Networking, Professional networking, Business networking events, CrossGroup network
Business Networking News and Information
BE PREPARED
We want you to become 100% prepared to Make
More money from networking starting at our next big
Networking event on May 20 th. at 10 am PST
Both are FREE.
Our CrossGroup Networking EXPO Speed Networking
Events will now focus on all attendees and RSVP registrants
On Our CrossGroup Networking Shopping Mall Online
As You Automated Pipeline to Networking Cash.
ONCE YOU LEARN OUR NETWORKING MONEY PIPELINE
SYSTEM - IT MAY SERVE YOU FOR DECADES (as it has me).
Click here to join us every weekday at 9 am PST on Zoom: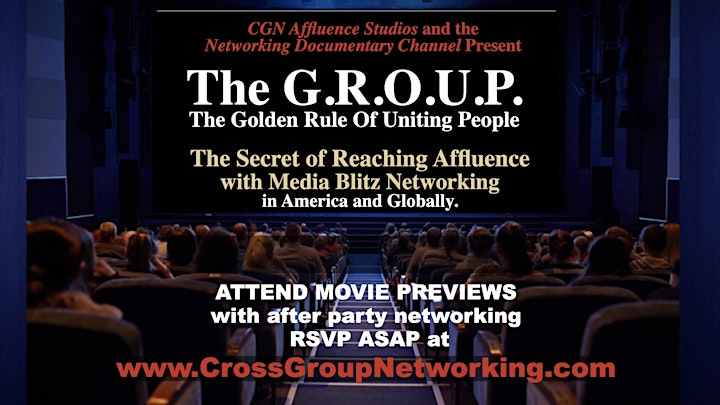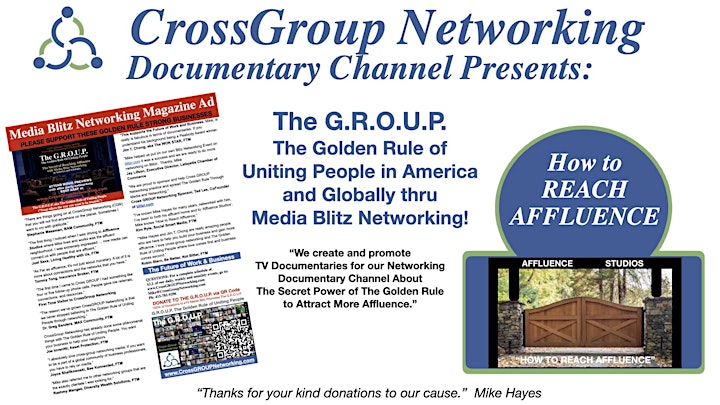 Would you like to be a featured interview in our documentary as a proponent of The Secret of The Golden Rule: Do for others and groups as you would have them do to you?
After an ethical pre-interview interview process with Mike Hayes please agree to donate to our G.R.O.U.P's Golden Rule Media CROWDFUNDING CAMPAIGN. The rewards for supporting us are like no other.
Two-time Peabody Award-Winning Documentary Director, Mike Hayes, will produce and direct the documentary series by doing interviews with business networkers about the future of work and the new normal reality of business.
Mike also solves the problem of the traditional cost of TV Air time
by promoting his documentaries the way Bob Proctor revealed how
The Secret documentary on the Law of Attraction became a worldwide bestseller. It's been said that the documentary "The Secret" reached half a billion people with media and when the internet was new.
Now online virtual business networking is new so in order to showcase our Networking Documentary Channel Media Blitz Networking FUND to raise money to promote the documentary and the people stories in it.
We want to promote the documentary stories of networkers, speakers, authors, professionals, group organizers, & non-profits to buy more and more G.R.O.U.P. Ads locally, nationally, and globally.
Help us, help you and others cross-pollinate groups like networking bees simply by practicing The Golden Rule Of Uniting People in America and Globally.
Click to Talk to Mike about being interviewed and about gaining Crowdfunding Donation Rewards: Have an "Ethical Conversation" 1:1 with Mike Hayes about the specific documentary and media rewards for our sliding scale of donations.
Notice: Any size donation will help materialize our vision of America as The Country of Brotherly and Sisterly Love to achieve The ReUnited States
GUARANTEE: 100% of Donations and contributions to our CROWDFUNDING CAMPAIGN will go to media adverting, productions, and publicity promotions for THE G.R.O.U.P. Documentary and our Networking Documentary Channel.
Ask Mike Hayes How to Make More Money Networking with Unsold Media Joint Fentures and Free Publicity.
Buy or earn your own Affluent Magazine Spot.
Join Dynamic Networkers with Our Affluent Advertising Media Joint Ventures and "GroupsOnMedia" Discount Coupons.
Mike Hayes, Creator, Chairman
★Simply schedule a convenient time to chat on my calendar:
Mike@CrossGroupNetworking.com
Phone: 415-781-9296
WATCH THIS SHORT DOCUMENTARY CLIP
BELOW:
Organizer of CrossGroup Networking Documentary Channel & eTV Blitz Media Networking
GrossGroup Networking is much more than the name of our company or group. Rather it is a powerful new Online Virtual Business Networking Strategy to Use the Combination of Events and Training to Fill the Needs of the One Billion 300 Thousand people who have Googled the term: "Online Virtual Business Networking."
This coming week after Labor Day, I'm having the Grand Opening of both www.VirtualNetworkingEXPO.com (still under construction today). plus the Virtual TV Network News and Information report about cross group networking.
My vision is to grow our Virtual TV Network Audience to 100 Million viewers without venture capital but rather with Human Capital Partners who share my passion to create a business TV network like Bloomberg but for the little guy.
Our next BIG networking event on the third Thursday of each Month between 10 am and 12 noon and then every third Thursday of each month after that. RSVP ASAP TO ALL OUR EVENTS IN THE UPPER RIGHT.
Our group hosts networking events on Zoom with professional networking experts in each breakout room to ensure a spirit of fair play (no Talk Hogs) where everyone get the chance to share what they do, what they are looking for, or what they are asking for develop new business.
This is for people who hate traditional networking or have had bad networking experiences so we strive as a group to create nearly perfect networking experiences (and get a 97% Satisfaction rating in our public exit polls).
Professional Business Networking Tips:
1) You cannot learn the professional level networking strategies that your competition is using when you join a networking event; you must learn professional-level networking before your next networking event so you are fully prepared to compete for new business.
Learn how valuable Business Networking can be to you and your business so that you become as highly motivated as your competitors are to pursue the networking wealth right under your feet.
Learn the skills and tools of communication needed to create multiple touch-points with prospects before, during, and, after networking events: the fortune is in the follow-up.
People who attend networking events all have one thing in common; an interest in networking. So inviting another person you meet to a different networking event is s sure-fire conversation opener.
Attend multiple free CrossGroup Networking events to practice and develop new networking skills and please share this link with as many people as you wish to begin the networking process even before our next big event in the upper right-hand corner.
Make every day a wonderful day of networking online, offline, and combined.