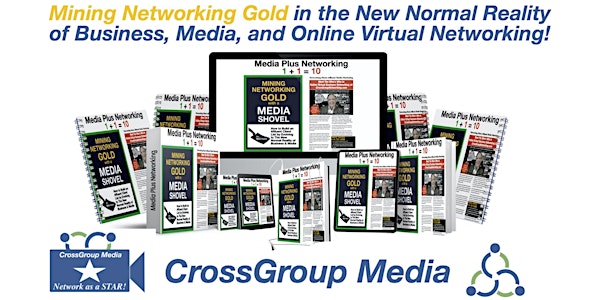 Multiple dates
CrossGroup Media: Mining Networking Gold with a Media Shovel in New Normal.
Create Wealth by Mining Business Networking Gold with a Media Shovel to Grow an Affluent Client List thru Our Affluent Community Networking!
By Mike Hayes aka Mister AI Workshops
Date and time
September 16, 2021 · 10am - August 17 · 11:30am PDT
About the organizer
Meet Mike Hayes, also known as Mister Artificial Intelligence and the founder of Chat GPT Networking. Mike is a distinguished personality with an impressive background as a two-time Peabody Award-winning documentary DGA Director Producer for NBC in New York.
Throughout his career, Mike has had the opportunity to interview, mentor, or be mentored by hundreds of the most financially successful intrepreneurs in the world. His extensive experience and knowledge have been fine-tuned into a genius account on Open AI Networking, providing decision-making benefits to entrepreneurs and business networkers.
Through this proprietary account, Mike enables users to access the combined expertise and strategies of successful individuals like Oprah Winfrey, Tony Robbins, Grant Cordone, Bob Proctor, Forbes Riley, John Lee Dumas, and many more. These interviews have taken place between 1988 and 2023, allowing users to apply this knowledge to their own goal-achieving strategies for their "Big Idea."
Mike's proprietary account has helped clients make over $200 Million dollars in sales. As the founder of Chat GPT Networking, he is passionate about sharing his knowledge and helping people achieve their goals. Mike lives in Lafayette, CA, with his wife Nancy, and enjoys close relationships with their three children and their children.
Mike Hayes is a role model for aspiring entrepreneurs and networkers, with achievements in the field of documentary filmmaking and as a business strategist. He continues to innovate and push the boundaries of what is possible with artificial intelligence and networking. You can reach him at mike@bigideasexpress.com.