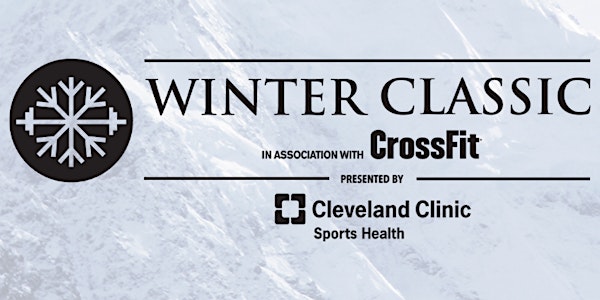 CrossFit Winter Classic presented by Cleveland Clinic Sports Health
CELEBRATION OF FITNESS, WELLNESS AND LEARNING!
When and where
Location
Huntington Convention Center of Cleveland 300 Lakeside Avenue East Cleveland, OH 44113
Refund Policy
Contact the organizer to request a refund.
Eventbrite's fee is nonrefundable.
About this event
Grounded around a team fitness competition for every athlete, the Winter Classic showcases functional fitness and sound nutrition in an exciting display of interactive exhibits, elite athletes, highly skilled medical professionals, educational sessions, hands-on training courses and more.
The Winter Classic pays tribute to military heroes and event proceeds are donated to the Adam S. Hamilton Foundation.
RX and Scaled Divisions, Programmed by Scott Panchik
Saturday, December 7: 8 AM - 6 PM
Sunday, December 8: 8 AM - 4 PM
ATTENDEE TICKETS:
$15 EACH (Good any ONE day - access to competition, vendors, obstacle course and chalk talk sessions, CrossFit games athletes)
CHILDREN 10 AND UNDER ARE FREE
DOORS OPEN AT 8 AM EACH DAY
CrossFit Games Athletes:
Scott Panchik, Margaux Alvarez, Graham Holmberg, Amanda Barnhart, Fee Saghafi, Kristi Eramo, Saxon Panchik, Spencer Panchik, Logan Aldridge
Event Partners:
Cleveland Clinic Sports Health, Rogue Fitness, Functional Endurance, Make Wods Great Again
Event Sponsors:
Caffeine & Kilos, Concept 2, FITAID, Rehband, RX Smart Gear, Stay Classy Meats, TrueForm Runner, Ultima Replenisher
Competition Schedule
Saturday, December 7
Event 1: 3 Girls - Heats beginning at 9 AM, Awards at 1:05 PM
Event 2: Elevated Snatches - Heats beginning at 2 PM, Awards at 5:45 PM
Full Chalk Talk Series Schedule - Click Here (FREE to attend for all registered athletes and attendees)
9 AM: Whole Body Vibration, What is it and applications in PT and Rehabilitation -Dr. Harold Schubert DC, Sidney Chiropractic
10 AM: Managing Stress to Maximize Health & Performance - Dani Urcuyo MD, Family and Functional Medicine, CrossFit Physician, MDL1
11 AM: Neck Strengthening Protocol for Concussion Injury Prevention - Mark Asanovich, 14 year NFL Strength & Conditioning Coach
2 PM: Nutrition Coaching & Business Workshop presented by Precision Nutrition & HSN Mentoring - Nicole Aucoin, Registered Dietitian, CF-L2 Trainer, Founder of Healthy Steps Nutrition, CF HSN & HSN Mentoring, Scott Gillin MD, The Warrior Clinic, Jason Welch CNRA, Affiliate Owner, Winter Classic Owner, Dominic Matteo, PN2, HHC, Level 2 MasterClass Instruction, Precision Nutrition
Sunday, December 8
Event 3: Move the Bar Move your Body - Heats beginning at 9 AM, Awards at 1:05 PM
Event 4: Winter's Ball - Heats beginning at 2 PM, Awards at 5:45 PM
Full Chalk Talk Series Schedule - Click Here (FREE to attend for all registered athletes and attendees)
9 AM: Neck Strengthening Protocol for Concussion Injury Prevention - Mark Asanovich, 14 year NFL Strength & Conditioning Coach
10 AM: CrossFit for Special Populations (Kids, Elderly, Adaptive, etc.) - Amy West MD, EdM, CF-L1, PM&R Medicine
11 AM: Chronic Disease: Screening and Practical Applications - Scott Gillin MD, The Warrior Clinic