About this Event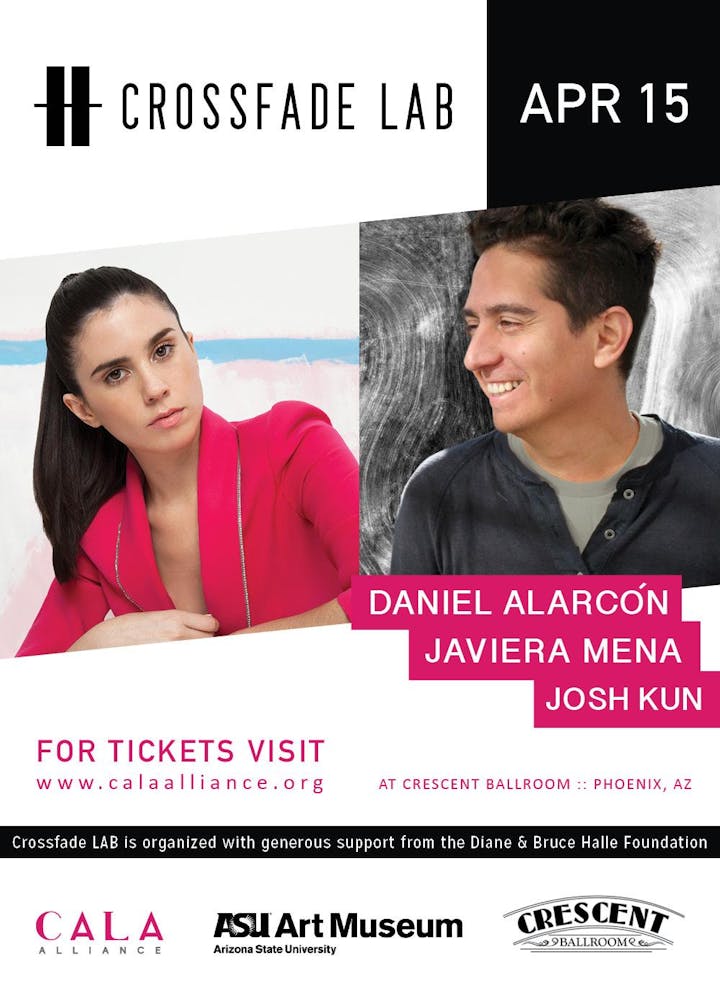 The seventh edition of Crossfade LAB will stage an intimate dialogue between beloved Chilean musician and recording artist Javiera Mena and acclaimed Peruvian-American novelist and Radio Ambulante founder Daniel Alarcón. Moderated by CALA Crossfade Lab co-curator and MacArthur Fellow Josh Kun, our evening will move across the U.S. and Latin America, mixing fiction with reporting, songs with stories, and podcasting with synth pop.
Crossfade LAB is an event series organized by CALA Alliance that presents thought-provoking conversations and performances with internationally known Latinx and Latin American artists. It takes its name from a DJing technique of crossing and merging two music tracks into one new "mixed track." Crossfade LAB presents the works of artists who crossfade –that is, who work at the intersection of multiple identities, cultures, politics, languages and art forms– and whose artistic practice is in dialogue with Arizona and the social issues of our times.
Crossfade LAB is organized with generous support from the Diane & Bruce Halle Foundation and in collaboration with Crescent Ballroom and ASU Art Museum.
For more event information, visit: www.calaalliance.org
Daniel Alarcón is author of several books, including the novel At Night We Walk in Circles and the story collection The King is Always Above the People. He's written about soccer, prisons, politics, migration and natural disasters across the U.S. and Latin America. He is co-founder and Executive Producer of Radio Ambulante, NPR's only Spanish language podcast, covering Latin America and U.S. Latino communities.
Javiera Mena is a Chilean indie electropop musician who first burst onto the musical scene in 2006 with her acclaimed album Esquemas Juveniles. Revolutionary and transgressive in her sound, and offering a new aesthetic, the singer, songwriter and producer has continued to consolidate her career with four albums that have become electro pop essentials, including her most recent work Espejo (2018). In 2015, her album Otra Era was nominated for a Latin Grammy award. Javiera Mena has performed at important music festivals in Europe, Latin America and the U.S, including Coachella in 2019.
Josh Kun is Director of the Annenberg School of Communication at the University of Southern California, where he is Chair in Cross-Cultural Communication and Professor of Communication, Journalism, and American Studies and Ethnicity. A cultural historian, curator, journalist, and MacArthur Fellow, he writes and researches about music and the politics of cultural connection. He is the winner of an American Book Award (2005) and a Berlin Prize (2018). He is an author and editor of several books, anthologies, and artist monographs and as a curator of music and public humanities projects he has worked with SFMOMA, The California African American Museum, The Grammy Museum, The Getty Foundation and the Los Angeles Public Library. He co-edits the book series Refiguring American Music for Duke University Press.