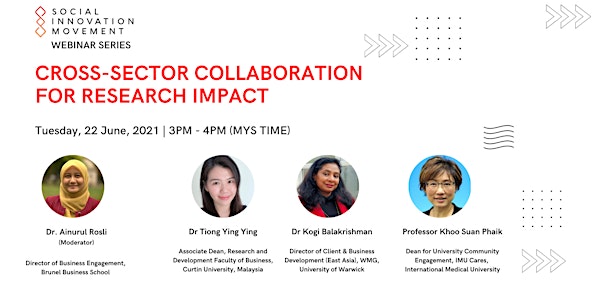 Cross-Sector Collaboration For Research Impact
Join us in exploring the research agenda that can satisfy both industry/community and academic requirements!
About this event
Partnerships between university and industry/community are instrumental to advancing knowledge and contributing towards research impact. Researchers have been made aware of the benefits of such partnerships, mainly how it benefits themselves, students, companies and local communities. But how can researchers leverage both the university and their personal network to create valuable and impactful research? This session aims to share some insights on developing and maximising cross-sector collaborations in this uncertain funding environment. Can we establish a research agenda that can satisfy both industry/community and academic requirements?
Panelists:
Dr Kogi Balakrishman
Director of Client & Business Development (East Asia), WMG, University of Warwick
Dr Kogila Balakrishnan is currently the Director for Client and Business Development at WMG, University of Warwick. Her primary role at WMG is to engage with industries and academia in developing collaborative research and education programmes. Kogi is also one of the few leading experts who has a combination of academic-industry-government experience in the field of offsets and industrial collaboration and provides policy advice to governments and businesses globally . Kogi was previously part of the Malaysian Administrative and Diplomatic core and served as the Under Secretary for Department of Defence Industry at the Ministry of Defence, Malaysia where she was responsible for developing strategies, policies and overseeing implementation of the Malaysian defence industry growth. Dr Kogi obtained her PhD in defence technology and industrial policy from the Defence College of Management and Technology, Cranfield University, UK Defence Academy. She obtained her first degree from University Malaya and then read law at the University of London. She obtained her Masters degree in Strategy and Diplomacy from the Malaysian National University.
Dr Tiong Ying Ying
Associate Dean, Research and Development, Faculty of Business, Curtin University, Malaysia
Tiong Ying Ying is a lecturer and Associate Dean of Research and Development at the Faculty of Business, Curtin University Malaysia. She is also the Director of Graduate Studies and Chair of the faculty's Research and Development Committee. She obtained her PhD in green marketing strategy from the Universiti Sabah Malaysia and had started her journey with Curtin University in 2019. Her research interest includes environmental studies, marketing strategy, branding, competitive advantage and firm performance. She is active in local researches and also involving in international research such as Indian Ocean Tourism Project. At the same time, she is also a fellow with the UK Higher Education Academy. Prior to that, she worked in sales and marketing for about a decade, dealing with national and international brands. Therefore, she is particularly concerned with market demands, and she emphasizes the importance of what drives competitive employees and market players.
Professor Khoo Suan Phaik
Dean for University Community Engagement, IMU Cares, International Medical University
Professor Khoo Suan Phaik is a Professor of Oral Pathology & Oral Medicine at the School of Dentistry, International Medical University (IMU). She holds the position of Dean for Community Engagement for the university. From the start of her career after returning from the UK with her postgraduate qualifications in 1989 to date, she has been in the academia for almost 3 decades of which the last decade was in IMU as the pioneer team setting up the School of Dentistry. Prof Khoo has published widely and is an invited speaker in her field of specialty to many regional and international countries including the UK, Japan, China, Myanmar, Mongolia, Fiji and others. Her passion lies in empowerment not only her students but also the community at large. She had been a regular invited speaker for BFM radio for a few years. In her personal capacity as well as through the institution she finds her passion and endeavours in creating sustainability, empowerment and resilience for communities.