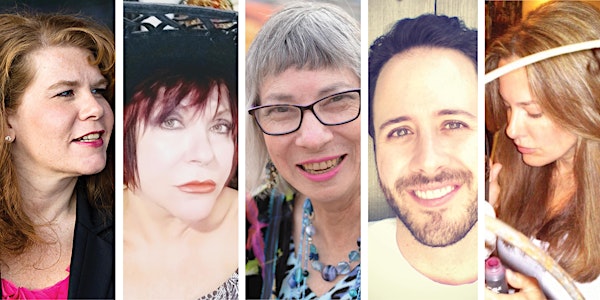 Cross-disciplinarity with Catherine Coan and friends
When and where
Location
Annenberg Community Beach House 415 Pacific Coast Hwy at Beach House Way Santa Monica, CA 90402
Description
Left to right: Sheree Winslow, Leslie Brown, Cindy Rinne, Mathieu Callier and Catherine Coan
Note: No need to print out your ticket, just mention your last name when checking in.
Join us for Writer-in-Residence Catherine Coan's second event at the Annenberg Community Beach House. In "Cross-disciplinarity," Coan moderates a conversation with artists working between worlds, across disciplines or genres. Guests: Mathieu Callier, poetry, prose, and children's book writer; Cindy Rinne, sculptor and poet; Sheree Winslow, author of memoir and flash fiction; Leslie Wood-Brown, oil painter, printmaker and poet.
Mathieu Cailler's poetry and prose have been widely featured in numerous national and international publications, including the Los Angeles Times and The Saturday Evening Post. A graduate of the Vermont College of Fine Arts, he is the winner of a Short Story America Prize and a Shakespeare Award. He is the author of the short-story collection Loss Angeles (Short Story America Press), which has been honored by the Hollywood, New York, London, Paris, Best Book, and International Book Awards; the poetry collection May I Have This Dance? (About Editions), winner of the 2017 New England Book Festival Poetry Prize; and the children's book The (Underappreciated) Life of Humphrey Hawley (About Editions).
Catherine Coan is a poet, professor, and hybrid taxidermist living in Los Angeles. Her poems have appeared in journals such as Poetry, Poetry Northwest, the Seattle Review, and Terrain. Her first book of poems, Aviation, was published by Blue Begonia Press (Yakima, WA) in 2000. Catherine grew up in Montana, went to school in the Pacific Northwest, and has lived in L.A. for eighteen years. She is deeply interested in the wisdom and humor that can be discovered at the intersections of the human and animal worlds, and her hybrid taxidermy can be found at fine art galleries in Los Angeles and nationally. catherinecoan.com
Sheree Winslow, named "Many Trails Many Roads Woman" by her Northern Cheyenne tribe's medicine man, has published journalism in the Orange County Register, advice columns for Savvy Auntie, and conference reports for Assay: A Journal of Nonfiction Studies. Her literary work is published or forthcoming in Midway Journal, *82 Review, Linea, Storm Cellar, Memoir Magazine, Past Ten, Beecher's and Wanderlust: A Narrative Map. She is the 2018 recipient of the submittable.com Eliza So Fellowship. She is currently completing a memoir about her relationship with her body and recovery from food addiction as well as a collection of literary travel reflections. She holds an M.F.A. from Vermont College of Fine Arts.
Leslie Wood-Brown studied at Carnegie Mellon and the University of New Mexico. While attending CMU, she was awarded the John L. Porter Award for proficiency in painting and was granted membership in the Associated Artists of Pittsburgh. At UNM, she was awarded a fellowship to study at Tamarind Printmaking Institute. She is a Dorland Mountain Artists Colony fellow and a member of Women Artists of the West. She shows regularly throughout Southern California, and her work is included in private, public, and corporate collections throughout the United States. She is a professor and gallery director at Riverside City College and has been an artist in residence since 2001 at Corona Heritage Foundation.
Cindy Rinne's artwork incorporates thread, paint, stamps, fabric, and often, her own poetry. She is a guest author for Saint Julian Press and a founding member of PoetrIE, an Inland Empire-based literary community. Her books include Breathe in Daisy, Breathe out Stones (Future Cycle Press), Quiet Lantern (Turning Point), and spider with wings (Jamii Publishing). She was a finalist for the 2016 Hillary Gravendyk Prize. Individual poems have appeared in Blue Heron Review, Gulf Stream Literary Magazine, and Driftwood Press, among many other publications. She recently completed a new book of poems, The Feather Ladder. Her artwork has appeared at Lancaster MOAH, Chaffey Community Museum of art, the Inland Empire Museum of Art, LAX, and in international exhibitions.
This is the second of three public events presented by Beach House Fall 2018 Writer-in-Residence Catherine Coan. During her tenure, Coan is working on a new collection of poetry. Coan is onsite working from an office in the Marion Davies Guest House, October 17 through December 19, 2018. The public is invited to chat with her about her practice during public office hours 11am-2pm on 10/22, 10/29, 11/5, 11/14, 11/19, 11/26, 12/3, 12/10, and 12/17. Her public programs explore various themes of her work and take place 10/17/18, 11/27/18 and 12/11/18. From mid-October you can follow her progress on the Beach House Artist-in-Residence blog at beachhouseair.blogspot.com.
Beach=Culture programs are made possible by Santa Monica Cultural Affairs. smgov.net/arts #ArtSaMo
---
By registering for this program via this eventbrite page, you consent to receiving occasional email about Beach House events from beachhouse@smgov,net. You can unsubscribe, or change your preferences at any time using the "unsubscribe" or "manage preferences" links on these emails.
Stop by early to save your seat and check out the historic site. Picnickers welcome (no pets, alcohol or glass permitted onsite.)
Tickets are free but space is limited and reservations are required. Arrive by 15 min before start time to retain your reservation. Late seating, even for reservation-holders, is not guaranteed. To adjust or cancel your reservation for this event, email culture@smgov.net. We appreciate your keeping in touch!
Getting Here: The Beach House is located at 415 Pacific Coast Highway, Santa Monica, CA 90402 on the west side of Pacific Coast Highway. Enter off PCH at the Beach House Way traffic light.
Parking: The parking rate is Apr - Oct: $12/day or $3/hour; Nov - Mar: $8/day or $3/hour, payable at the park and pay machines in three areas of the ACBH parking lot. Credit cards or exact change only. Handicapped placards and Senior Beach Permits are accepted. For other parking info and lot hours, please check the website for details.
Other events: To view & make reservations for future free Beach=Culture events, check annenbergbeachhouse.com/beachculture.
General Info: For hours, events and more, visit annenbergbeachhouse.com, or call (310) 458-4904. Back on the Beach Café hours are subject to change but are generally through 8pm in the summer and 3pm in the off season, call (310) 393-8282 to confirm.