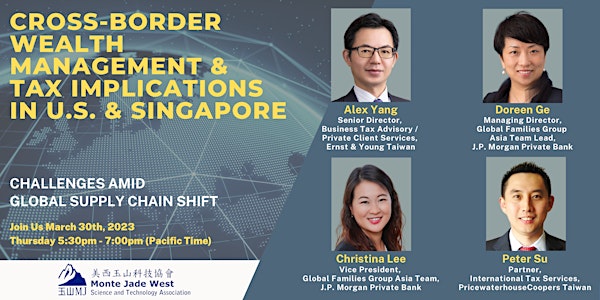 Cross-Border Wealth Management and Tax Implications in U.S. and Singapore
Hosted by J.P. Morgan and Monte Jade West *Webinar will be conducted in Mandarin, with simultaneous translation in English.
By Monte Jade West Science and Technology Association
Date and time
Thursday, March 30 · 5:30 - 7pm PDT
About this event
1 hour 30 minutes

Mobile eTicket
Amid the trend of global supply chain shift, increasing number of companies are strategically diversifying their manufacturing bases to U.S. and South-East Asia rapidly. Human talent and investment capital are moving cross-border following the repositioning of companies' multiple supply chains. Hence, cross-border wealth management and tax implications in U.S. and Singapore have become some of the critical issues many entrepreneurs and executives are currently facing. Issues to consider include incentives and cost of immigration, tax implications on wages, investment income, and capital gains. Given that there are pros and cons from the differing national policies, appropriate planning becomes important to personal wealth allocation.
J.P. Morgan and Monte Jade West cordially invite you to join us in this upcoming webinar where our panel of wealth management and tax experts will share their insights and experience on these timely topics.
Please REGISTER here for the online event!
Doreen Ge, Managing Director, Global Families Group Asia Team Lead, J.P. Morgan Private Bank
Doreen Ge is a Managing Director and the Team Lead of the Global Families Group Asia Team at J.P. Morgan, with current total assets of US$16.8 billion. Ms. Ge advises J.P. Morgan's most sophisticated and multi-jurisdictional clients.
Global Families Group Asia provides world-class services in multi-asset class investing, customized lending solutions, cross border wealth planning, fiduciary services, banking, and philanthropic advisory, for ultra-high-net- worth clients throughout Asia and the United States.
Ms. Ge has over 15 years of experience in complex cross-border wealth management advisory. Prior to moving to San Francisco, Ms. Ge was a Managing Director at J.P. Morgan Hong Kong where she was instrumental in building J.P. Morgan's China team from the ground up. Before joining J.P. Morgan in 2011, Doreen was an Executive Director at Goldman Sachs Private Wealth Management. Previous to her experiences in global wealth management, Ms. Ge was a financial journalist for TVB Hong Kong.
Ms. Ge holds a CFA designation and a TEP designation. She graduated from University of Southern California with an MBA in Finance. Ms. Ge holds a Master's degree and a Bachelor's degree from Fudan University in China. Ms. Ge is fluent in English, Mandarin, Cantonese, and Shanghainese. Ms. Ge is also a wine enthusiast and collector. She holds the Wine & Spirit Education Trust Advanced Certificate qualification.
Christina Lee, Vice President, Global Families Group Asia Team, J.P. Morgan Private Bank
Christina Lee is a Banker in the Global Families Group Asia Team at J.P. Morgan Private Bank based in San Francisco. The Global Families Group serves J.P. Morgan's most sophisticated international and multi jurisdictional clients. Miss Lee advises clients who are predominantly based in Asia on a variety of matters including asset allocation and investment portfolio construction, capital and liquidity strategies, and wealth transfer opportunities and implementation.
Prior to J.P. Morgan, Christina spent 9 years in private wealth management (PWM) sector, including Morgan Stanley SF and Credit Suisse HK. Ms. Lee has been dedicated in providing investment proposal and portfolio management to UHNW clients in Greater China region before relocating back to US. Now, Ms. Lee focuses on leveraging J.P. Morgan's global platform and resources to prepare holistic plans for cross border wealth management and transfer between Asia and United States. Ms. Lee engaged in equity research analyst and covered Taiwan technology sector for 5 years before pivoting her career to PWM field.Christina holds a Master of Business Administration (M.B.A.) degree from University of Chicago Booth School of Business, where she chose concentration in entrepreneur, finance, and accounting. Ms. Lee also holds a B.A. in Economics from National Taiwan University. Ms. Lee is a native Mandarin speaker and is fluent in English and Taiwanese dialect.
Peter Su, Partner, International Tax Services, PricewaterhouseCoopers (PwC) Taiwan
Peter has combined over twenty years of legal and public accounting experience providing domestic and international tax consulting and compliance services to multinational corporations.
Prior to joining PricewaterhouseCoopers Taiwan, Peter worked at PricewaterhouseCoopers LLP's Houston Office and Andrews Kurth LLP, a multinational law firm headquartered in Houston, Texas. During his tenure at PricewaterhouseCoopers LLP Houston Office and Andrews Kurth, Peter's principal area of practice is international income tax law with an emphasis on domestic and international business transaction planning. He also advised numerous public corporations and partnerships on capital formation and acquisition activities and served as tax counsel to both issuers and underwriters in connection with numerous equity and debt offerings. Peter graduated from the University of Houston Law Center and also holds a Bachelor's in Accounting from San Diego State University.
Alex Yang, Senior Director, Business Tax Advisory / Private Client Services, Ernst & Young (EY) Taiwan
Alex is a professional tax advisor for full services of estate planning, succession planning, and family office in Ultra High Net Worth (UHNW) families. He has extensive experiences in fields of offshore trust advisory planning, cross-border investment structure planning, cross-border family office structure planning, and offshore PE fund structure planning.
He serviced for the Taipei branch of an international private bank and provided various types of family wealth succession and estate planning solutions to private banking high-net-worth individuals (HNWIs). He also serviced for the Private Wealth Management Dept. of a global bank, providing cross-border wealth planning and offshore investment planning to HNWIs.
For three consecutive years since 2014, Alex was invited to conduct professional training on HNWI wealth planning for the heads of private banking centers in the top 10 banks in China. Alex has collaborated with a large trust company in China to design the China's initial standardized family trust products and presented "Chinese Family Trust Planning" and "Offshore/Onshore Wealth Planning Solution" to each elite law firm.
He serviced as a Managing Director of a global trust groups in Taiwan and provided offshore family trust planning training courses to private banking division of the largest finance holding companies in Taiwan. Alex is one of the few Trust Professionals with Taiwan, China and offshore areas (e.g. Singapore, New Zealand, Cayman Islands, BVI and etc.) family trust planning experience.
Kai Chen, Founder and CEO, Ocean IQ Capital; Board Member, Monte Jade West
Kai is the founder and CEO of OceanIQ Capital, an investment advisory firm that he started in 2013. OceanIQ invests in public equities, private equity funds, technology start-ups, and crypto-currency projects on behalf of its client families. Kai is actively involved in venture capital and has invested into over 25 technology and biotechnology start-ups. He is also a governor of LiquidityDAO, a joint venture between layer one blockchain Harmony and decentralized market maker Hummingbot.
Kai began his investment management career at Goldman Sachs and followed by 12 years at Credit Suisse. His investment advisory teams had overseen multi-billion dollars of client assets. He also focuses on cross-border investment advisory, working with clients across US and greater China. He has worked extensively with prominent families on investment management, trust & estate planning, with corporate founders on pre-immigration and pre-IPO planning. He is active in non-profits including spending 6 years on the board of FLY, an organization that focuses on at risk youth. Immigrated to US from Taiwan as a teenager, Kai graduated from UCLA with a BA in Business Economics. He is a CFA Institute Charterholder since 2002.
About the organizer
Monte Jade West was founded by high tech professionals from Taiwan and has the mission to promote the cooperation and mutual flow of innovation and investment globally. It is a platform for professionals and enterprises to network and share valuable experience and opportunities in business, investment, management, innovations, and career development. This non-profit organization is operated by dedicated volunteers and supported by sponsors in various industries.