Description
THE TIME IS NOW
57% of venture capital is deployed outside of the US and that number increases every quarter. 47% of unicorns are headquartered outside of the US. The largest IPO in history came from China. Now more than ever, investors must have a strategy that goes beyond the 30-mile radius of Silicon Valley in order to not miss fund returning investments.
CROSS-BORDER VENTURE SUMMIT
Cross-Border Venture Summit is an invitation-only summit for the venture capitalists, angel investors and limited partners that are investing in the world's most disruptive companies. The Cross-Border Summit will feature deep, candid discussions with world-leading investors on the tech trends, investing theses and strategies that they execute to manage risk and build high-performing, global startup portfolios.
THE WORLD'S MOST ANTICIPATED STARTUP COMPETITION
At the heart of the Summit is the G-Startup Worldwide Global Finals, where startups chosen by investors from thousands of startups in Bangalore, Tel Aviv, Beijing, Jakarta, Seoul, Sao Paulo and Silicon Valley will pitch top Silicon Valley VC's for a $250,000 investment. G-Startup Worldwide alumni have collectively raised over $17.2 billion.
This summit is for VC's, LP's, CVC's and startup ecosystem builders. We reserve the right to refund tickets based on audience criteria.
SPEAKERS
Jeffrey Housenbold, Managing Partner, Softbank Vision Fund
Saurabh Gupta, Managing Partner, DST Global
David Bohigian, EVP, OPIC
Nikunj Jinsi, Global Head of Venture Capital, IFC
Barrett Parkman, Managing Partner, GWC Innovator Fund
Veronica Wu, Founder, Hone Capital (CSC Group)
Jack Lee, Founding Partner, Foxconn/HCM Capital
Dinesh Katiyar, Partner, Accel Partners
Glenn Solomon, Managing Partner, GGV Capital
Charles Moldow, General Capital, Foundation Capital
Jalak Jobanputra, Founder, Future/Perfect Ventures
Shoucheng Zhang, Founder, Danhua Capital
Dmitry Grishin, Founder, Grishin Robotics
Andrew Chung, Founder, 1955 Capital
Cat Zakrzewski, Venture Capital Reporter, WSJ
Ryan Baird, Global Manager, G-Startup Worldwide
Chris Lavery, COO, Blockchain
Christopher Calicott, MD, Trammell Venture Partners
Salil Pitroda, Founder, Trinity Lane Capital
Olivia Zaleski, Technology Reporter, Bloomberg
Igor Tabor, Managing Director, Intel Capital
Andy Zain, Founding Partner, Kejora
Mohanjit Jolly, Partner, Iron Pillar
Anna Shen, Journalist, Huffington Post
John Dougery, Managing Director, Inventus Capital
Ilya Kirnos, Founder, SingalFire
Jean Baptiste Su, Technology Columnist, Forbes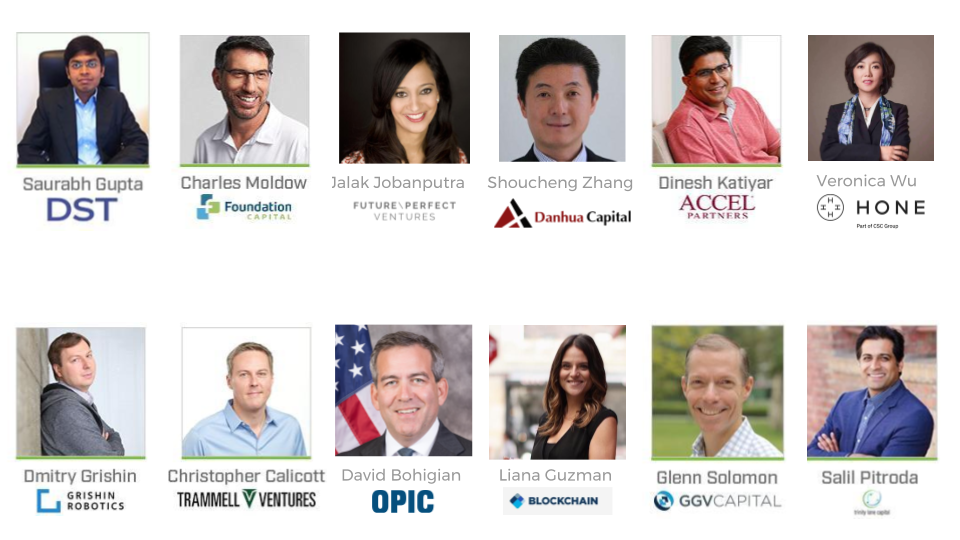 AGENDA
12:00 PM - 7:00 PM
Registration (12:00 PM - 1:00 PM)
Cross-Border Venture Summit Opening Speech
Key Note: Why the US Government is Funding Emerging Market VC with $22B (OPIC)
Introduction of Midas List Judges & Panel - Is It the Right Time to Invest Outside of Silicon Valley? (DST, GGV, Foundation Capital, GWC Innovator Fund)
G-Startup Global Finals Pitches
China Panel - What Investors Should Know About China? (Danhua Capital, 1955 Capital)
LP Panel - An LP's View of Cross-Border Investing and Managing Risk in Emerging Markets (IFC)
Silicon Valley Panel - Disrupting Silicon Valley Venture Capital: ICO's, AI, Investment Platforms (Trammell, Future/Perfect, Hone/CSC)
Spotlight on India:

Picking Winners in India (Accel, Iron Pillar, Inventus)

Indonesia Fireside chat -

Lessons from 35 Investments in Indonesia (Kejora)

Fintech Panel - Cryto-Capitalism: Investing in Blockchain (HCM Capital/Foxconn, Trinity, Blockchain)

AI Panel - Is AI Hyped or Undervalued? (Grishin Robotics, Intel Cap, SingalFire)
Softbank Vision Fund Talk - Enabling the New Age of Innovation (Softbank Vison Fund)

Global Winner Announcement and Conclusion
Happy Hour
Speaker Dinner - AMA with Jeff Housenbold, Managing Partner, Softbank Vision Fund


* Speaker Dinner Pass is Reuqired to attend Speaker Dinner (Attendees are 45 LPs, VCs, and winning startups).
SELECT ATTENDEES
To ensure a high-quality experience for each attendee, Cross-Border Venture Summit is designed for 200 VC's, LP, CVC's, LP's and startup ecosystem builders. Attendees include:
Nikunj Jinsi, IFC
Matt Spence, Andreessen Horowitz
Saurabh Gupta, DST Global
Jess Xu, BlackRock
David Bohigian, OPIC
Jason Zhang, Sequoia Capital
Zain Gulamali, Venture Investor, Amazon Alexa Fund
Sergio Monsalve, Norwest Venture Partners
Li Sun, Bessemer Venture Partners
Dinesh Katiyar, Accel Partners
Gus Gostyla, Google
Jack Lee, HCM Capital/Foxconn
Raghu Madabushi, GE Ventures
Glenn Solomon, GGV Capital
Edward Wenrick, Bernstein Private Wealth Management
Chris Lavery, Blockchain
Ben Yu, Sierra Ventures
Frat Turgeman, Silicon Valley Bank
Shoucheng Zhang, Danhua Capital
Charles Moldow, Foundation Capital
Omar Valle, Amazon
David Lam, Atlantic Bridge
Rob Fernandez, Kappa Family Office
Veronica Wu, Hone Capital (CSC Group)
Harry Singh, Intel Capital
Michael Nathan, IBM Ventures
Jules Walker, KPMG
Jayne Li, HSBC
Cat Zakrzewski, WSJ
Brad McManus, Motorola Solutions Venture Capital


---


ATTENDEES WILL:
-Meet top-tier VC's investing both in Silicon Valley and globally. Past attendees include partners from DST, Andreessen Horowitz, Sequoia, AME Cloud Ventures, KPCB, Nokia Growth Ventures, DFJ, Samsung Ventures, Intel Capital, 500 Startups and SOS Ventures.
-Gain insights from leading VC's on how they manage risk across geographies and build high-performing global portfolios.
-Learn the strengths, weaknesses, and risks of globally strategic startup ecosystems including Beijing, Bangalore, Tel Aviv, Sao Paulo, Jakarta, & Silicon Valley
-See the final pitches of 8 innovative startups that won our regional startup competitions in Bangalore, Tel Aviv, Beijing, Seoul, Jakarta, Sao Paulo and Silicon Valley. The global winner will receive $250,000 investment.
-Discover how the smart money is investing in AI, eCommerce, Consumer and frontier tech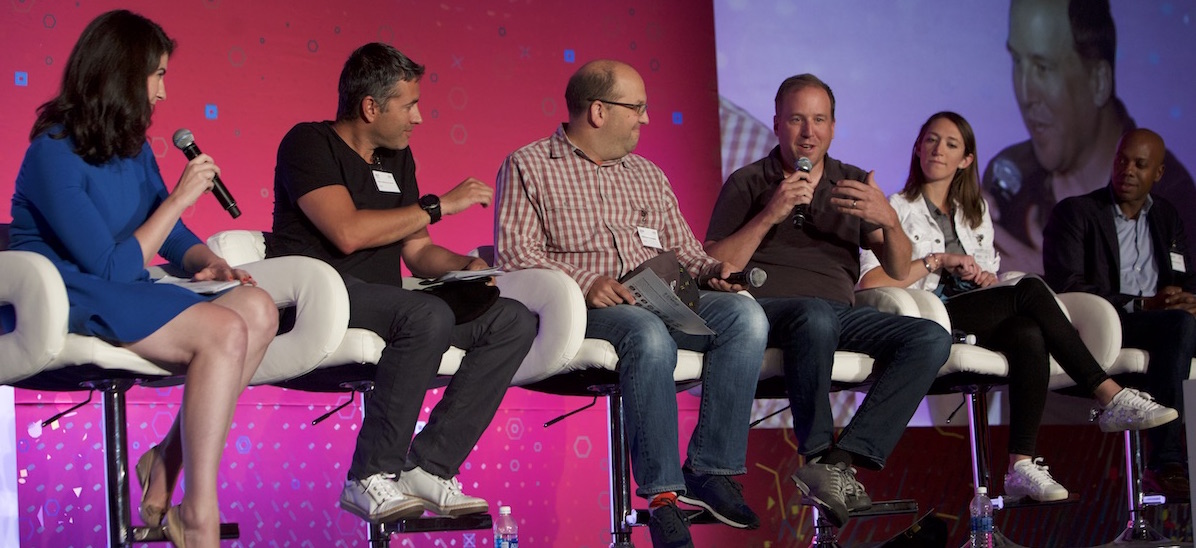 ---
STARTUPS

StockViews - A platform for equity research | sandeep@stockviews.com
Outernets - Interactive digital displays using machine learning | omer@outernets.co
Donde - AI-empowered SaaS platform for online shopping | liat@dondesearch.com
ZionChina - AI- enabled, personalized care for diabetes | vincent.yang@zionchina.com
Papumba - Play-based pre-school education | gonzalo@papumba.com
OhmniLabs - Building the robotics economy of the future | thuc@ohmnilabs.com
Growpal - An aquaculture investment platform | paundranoorbaskoro@yahoo.co.id
Regional G-Startup Winners Competing to Become Global Winner and Receive a $250,000 Investment
G-Startup Worldwide is a global startup competition held around the world to find high-potential, early stage startups and invests over $1,000,000 in them annually. Since 2010, G-Startup alumni have raised $17.2 Billion. Our alumni get acquired by companies like Google, Amazon, Alibaba, Apple and Pinterest.
We received over 4,800 applications from 78 countries for our 2017 Global competitions. Our amazing Evaluation Committee of over 250 VCs from firms including Sequoia Capital, Greylock, GGV Capital, 500 Startups, Accel, GWC Innovator Fund, Lightspeed, Baidu Ventures, Matrix Partners, NFX, Translink, GDP Venture, Kae Capital, Zhen Fund has selected seven regional winners.


OUR GLOBAL STARTUP ENABLERS

Interested in partnering with us? APPLY HERE!
STAY UPDATED
View Pictures from Previous G-Startup Worldwide Events and Like us on Facebook

REFUND AND TRANSFERS POLICY
There are no refunds accommodated. If requested, we will gladly transfer your ticket to another person or to a future GMIC or G-Startup event.
CONTACT
g-startupworldwide@gwc.net

Press - Leading media, investing and technology writers - PRESS APPLICATION
Last year's confirmed press include Wall Street Journal, Huffington Post, Techcrunch, Forbes, Venturebeat, SF Chronicle, Inc, Fast Company, InformationWeek