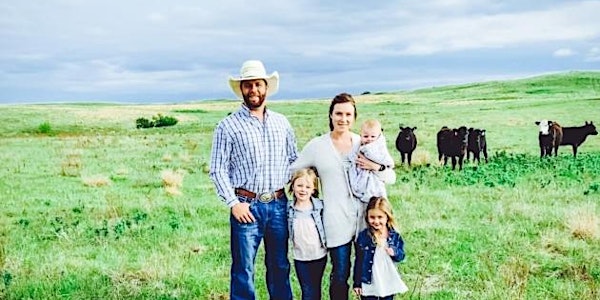 Crops, Covers and Cows
Menoken Farm Crop, Cover Crop & Grazing Tour
When and where
Location
Menoken Farm 1107 171st Street Northeast Menoken, ND 58558
About this event
Featured speakers
Greg Judy: Greg and his wife, Jan, own Green Pastures Farm in Missouri. He is a permaculture practitioner and educator who specializes in mob grazing. He has written three books
Cody Kologi: Regenerative farmers at Prairie Hills Ranch near Moffit, N.D., Cody and his wife, Medora (pictured above), look to mimic the conditions of their livestock's natural living environment
Jerry Doan: Jerry, along with his wife Renae and family, uses holistic management to regenerate the grassland and cropland that makes up Black Leg Ranch near McKenzie, N.D.
Agenda
8 to 9 a.m. Registration and coffee at Menoken Farm
9 to 9:30 a.m. Opening presentation by Greg Judy, Green Pastures Farm
9:30 a.m. to noon Menoken Farm field tours: Highlights include soybean planted green, oat, 60" corn/covers, and a soil pit
Noon to 1 p.m. Boxed lunch and Q&A with Greg Judy
1 to 1:30 p.m. Participants drive to Prairie Hills Ranch, 11150 262nd St. S.E., Moffit, N.D.
1:30 to 4:30 p.m. Field tours at Prairie Hills Ranch: Highlights include grazing systems, cover crops, and wells/tanks/pipelines
4:30 to 5 p.m. Participants drive to Black Leg Ranch, 24750 62nd Ave. S.E., McKenzie, N.D.
5 to 6:30 p.m. Social and dinner at Black Leg Ranch, featuring Black Leg Ranch Meats
6:30 to 8 p.m. Presentations by Jerry Doan, Black Leg Ranch, and Greg Judy
Tour hosts
Jay Fuhrer
Darrell Oswald
Seth Boechler
Jaden Deckert
Sponsors
Burleigh County Soil Conservation District
Morton County Soil Conservation District
Natural Resources Conservation Service
North Dakota Grazing Lands Coalition