Description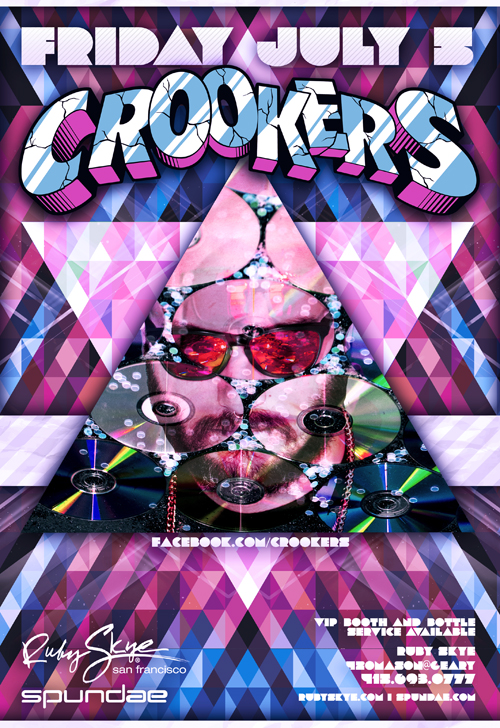 Phra and Bot aka Crookers, The first born and raised in Omegna, a picturesque town of Lake Orta, the second in Milan. Together they are the young italian duo who, for some years now, have been travelling on and on in every continent known to man, setting dance floors and millions of people's eardrums on fire.
Let's take a step backward: In 2007 the first overpowering mixtape signed Crookers emerges from the lake's darkness: A deep house and rap based experiment that brakes every sound barrier, slipping into genius.
This first challenge doesn't pass unnoticed and throws the duo out to an endless series of guesting in the best italian and european underground clubs. From the beginning, their style is characterized by an apparently impossibile but fully functional musical constellation: street style, rap, house, fidget and trance.
In 2008 Crookers' range choice goes off with "Day 'n' Nite", a remix of, at the time unknown, Kid Cudi. The hit enters the U.K. charts at 2# (giving way to Lady Gaga) and guarantees Crookers a place in world's dance Hall of Fame.
They are asked to remix for Armand Van Helden and Chemical Brothers, who state, "The Italians are something to look out for". Praises from Black Eyed Peas' Will I Am and Norman Cook, otherwise known as Fat Boy Slim, will soon be added to those of the two londoner fake brothers. Hereafter it's a non stop rising. Interscopes Jimmy Iovine (on his son's request, a fierce fan of the duo) asks them to remix U2, followed by Britney Spears and Lady Gaga & Beyonce who just want Crookers to lay a hand on "Telephone".
Finally in 2010 the album, "Tons of Friends". As the title recites it summons up Crookers' friends: Kelis, Wil I Am, Roisin Murphy, Soul Wax, Major Lazer, Sepultura's Igor Cavalera, Rye Rye and many others. Once again Crookers mix at every musical latitude passing through house, dubstep, reggae, rap and melodic grime. "Tons of Friends" takes rap and centrifuges it with Crookers's distinctive filter, achieving to hit both american hip-hop standard-educated ears and those looking for a cutting-edge and electronic sound (i.e. the dubstep track sang by Kelis). To quote Rye Rye herself in "Hip Hop Changed": They say hip hop changed, but you know we still talk that language / it's just another twist in the shit that we bring / hip hop saved my life so I framed it. Crookers make no compromises but can carry away the most popular names of today's musical landscape to the dephts of the underground sound. This way they clear "the eternal fight between commercial music and making sense music" (Marcus Downling – TGRI, Mishka Blogin). 20 tracks, 25 guests. Crookers do have tons of friends.
Terms and Conditions:
This event is 21 and over. Any Ticket holder unable to present valid identification indicating that they are at least 21 years of age will not be admitted to this event, and will not be eligible for a refund.
Support lineup subject to change. No refunds will be issued for lack of identification or invalid identification.
Fashionable Attire is required, no sneakers, shorts, tank tops, baseball hats or gym clothes.
By purchasing a ticket, you will also receive weekly email blasts from Ruby Skye about upcoming events, guest lists and more.
Ruby Skye is San Francisco's premiere Nightclub and Special Event Venue. It is conveniently located in the heart of downtown San Francisco just off of Union Square and the famed theatre district. Whether you are a seasoned nightclub enthusiast, looking to go out for the memorable evening, or wish to host a private event, Ruby Skye is available for all your entertaining needs.